He was brutally beaten to death with his own nightstick back in 1917 while helping a woman in distress, but Patrolman John Patrick Flood, originally from Co Cavan, will never be forgotten by the New York Police Department which hosted a street naming ceremony in his honor last Friday, May 12 outside the East 77th Street building in Manhattan where he was murdered all those years ago. 
Flood's granddaughter Maureen O'Grady and several great-grandchildren were on hand to watch as the southeast corner of East 77th Street and York Avenue became known as Patrolman John Patrick Flood Way.
The ceremony was organized by local City Council Member Julie Menin and members of the NYPD's 19th Precinct which Flood belonged to when it was known as the 31st. He was a member of the NYPD for 15 years. 
Today we're honored to unveil Patrolman John Patrick Flood Way during a street co-naming ceremony.

Named in memory of 19th Precinct Patrolman Flood, killed in the line of duty in 1917. This street will now serve as a reminder of his legacy & fulfill our promise to never forget. pic.twitter.com/D2txKTgPOO

— NYPD 19th Precinct (@NYPD19Pct) May 12, 2023
Flood was only 37 years old when he was killed in the line of duty on July 3, 1917. He was nearly finished with his tour for the day when a woman told him a man was in her tenement threatening to murder her.  
When Flood entered the apartment at 502 East 77th Street, he was punched by Milton Bleier, a boxer, and then beaten to death with his own nightstick. He left behind his wife, Mary, and three children, Mary, Alice, and John.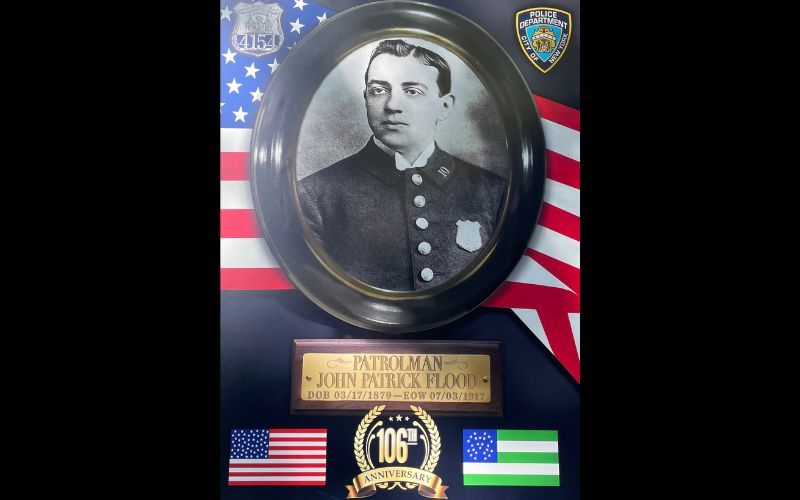 2
"Patrolman Flood's selflessness and courage in the face of danger to help the victim of domestic violence is finally recognized today. It was an honor to host this ceremonial street co-naming in his memory, celebrating a person who gave his life while serving this city. New York City must always remember his sacrifice and inspire others to serve their communities with the same dedication and bravery," said Menin. 
Today, I attended the street naming in honor of the Flood family in memory of Patrolman John Patrick Flood, an officer killed in the line of duty on July 3rd, 1917 helping resolve a domestic violence dispute. pic.twitter.com/JIwmcBsE8n

— Julie Menin (@JulieMenin) May 12, 2023
"John Patrick Flood gave his life in defense of the people of this neighborhood," said Deputy Inspector of the 19th Precinct William Gallagher, who noted that the Flood family still has the cap device from his NYPD hat which is similar to what current day members of the force wear. 
O'Grady, whose mother was Flood's daughter Mary, told guests at the ceremony that "it means so much to be part of the large NYPD family."
She noted that the NYPD's motto is "faithful unto death," and that "those are not merely words. That takes place every day in the precincts and the hearts of all the members of the department." 
Speaking to the Irish Voice, sister publication to IrishCentral, after the ceremony, O'Grady said she was "moved beyond words" by the continued embrace of the NYPD.
"When they say never forget, that's exactly what they mean," she added. 
After the murder of John Patrick, Mary continued to raise her three children in their West 51st Street apartment. But times were tough, so much so that Mary couldn't afford a headstone for her husband at Calvary Cemetery in Woodside, Queens.
Detective Anthony Nuccio of the 19th Precinct was appalled to discover, back in 2016, that a member of the NYPD was laid to rest in an unmarked grave. He had met O'Grady at a dedication ceremony for fallen members of the 19th, and he quickly set about raising funds for a headstone.
"That was just shocking to us," Nuccio told the Irish Voice in 2021. "To think that could happen back then. It would never, ever happen now." 
A ceremony in September of 2021 at Calvary righted that wrong, and now Flood's grave, which also includes his wife and his mother-in-law, is properly marked.
"He was a wonderful man, a well-known cop in the precinct who was also known as being like a parish priest. He was well-spoken, didn't like hearing curse words. People looked up to him for guidance," said Nuccio. 
Patrolman John P. Flood was killed in the line of duty in 1917. For over a century he lay in an unmarked grave in Calvary Cemetery.

Today, we gather w/ family & friends to bless his new gravestone, recently donated by active & retired @NYPD19Pct cops.

We will #NeverForget John. pic.twitter.com/yTxSvYnViI

— Commissioner Sewell (@NYPDPC) September 20, 2021
Flood, says his granddaughter, used to give his children hot dogs at the end of his tours. "And my grandma would always tell him to stop it," she laughed.
Though she only knows of her grandfather through stories, O'Grady is certain that he would shy away from attention. 
"I can't help but think that I hear Grandpa whispering in my ear, 'What's all the fuss about? I was just doing my job,'" O'Grady said. 
"And that's the epitome of every police officer I've come to know. That is what makes you all unique." 
*This column first appeared in the May 17 edition of the weekly Irish Voice newspaper, sister publication to IrishCentral.