Bono loves Leo and Leo hearts Bono…that's the takeaway from some letters the U2 frontman wrote to the Irish Prime Minister – Leo Varadkar, of course – in the past few months.
An Irish entertainment news website obtained the correspondence from the Department of the Taoiseach which showed that Bono and Varadkar, together with other Irish gov officials including Foreign Minister Simon Coveney, met for dinner on December 15.  The gathering was a big success…at least that's what Bono thought.
"Dear Taoiseach, Leo," Bono's December 20 letter began. "What an inspiring, brilliant evening and conversation. Makes me feel unutterably proud…our country entrusted to three wise men and their 21st century leader.
'This note may risk overloading you with thoughts just before the Christmas holidays, but I wanted to put them down while fresh in my mind…some things we can do right away to nudge along, if helpful, and some to mull on for the new year." Much of the remaining contents were redacted by the department because they were "not relevant" and related "security, defense and international" issues as well as "economic and financial interests of the state and public bodies," Extra.ie reported.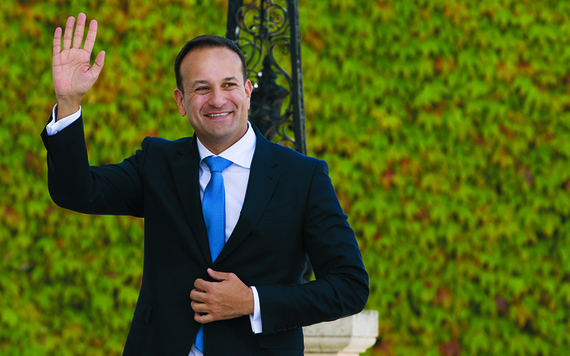 2
In a January 30 letter to Leo, Bono praised the taoiseach's presence at the annual economic pow-wow in Davos, writing that "by all accounts you made your presence felt and Ireland proud over there."
Read more: The most famous Irish person of all time
Bono added, "I hear also there may be an Irish doubling on the cards for the Global Partnership for Education, which would be great… a good down payment for the road to 0.7 and that doubling of Ireland's footprint.  Let's stay in touch on the steps ahead and if you have time do check out our intervention at the Grammys… All the best, Bono."
The "intervention" was U2's musical response on the awards broadcast to President Trump's "s***hole" countries remark.  And Bono, wearing his advocacy for the Third World hat, would naturally be pleased by an increased financial contribution from his home country.
Though we haven't seen any published correspondence from Leo to Bono, Extra.ie asked the taoiseach last week how he feels about the rock star/activist.
"I think he is somebody who is a musical genius and a real rock star," Varadkar said.
"And also more importantly than that, somebody who uses his fame and celebrity to try to do good in the world. Particularly around development issues in Africa."
Read more: Irish dancing NFL star Alex Collins is really loving his trip to Ireland