What uniquely happened in Killaloe on the edge of our winter solstice was that one of you loyal longtime readers rang the doorbell to make a flying visit.
We'd not physically met before, but the decent man has been in frequent contact via email for years and was very welcome indeed. The same applies to any of you too. Cead Mile Failte in advance of it being yourself that arrives on the doorstep!
At any rate over our Irish coffees in the kitchen, I was surprised when my friend asked if he could see how Donald Trump and Hillary Clinton were faring on top of our garden fence since I'd mentioned them last, a couple of years ago now, and he recalled that our own Caty had illustrated them vividly at the time as the wooden whirligigs flew on their perches in every wind that blew across the Shannon and Lough Derg, good weather and bad alike.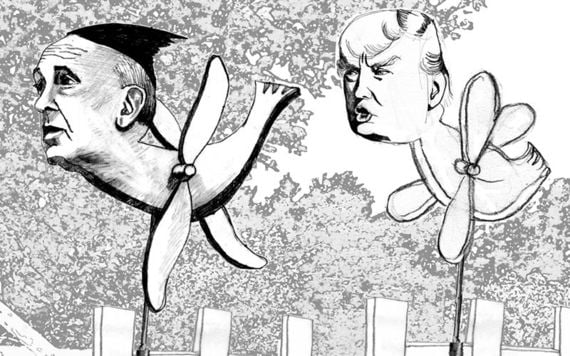 3
And dammit I'd quite forgotten about Trump and Hillary because I'm not a great gardener. So we went outside to check on their current status even as the climate and global warming images were flashing across the media screens from the big conference on your side of the Wild Atlantic Way.
Boy was I not surprised by what we discovered on the top of my fence. Mother Nature maybe has a way of transmitting her messages in a fashion that is both climactic and political.
Essentially the situation we viewed was quite striking. The whirligig I had named Donald Trump was still operating in his own fashion, which I'll describe factually in a moment, but Hillary, the smaller of the two models, had been captured entirely by a profusion of rose briars, wild woodbine plants, and was lost entirely in the greenery, not flying at all.
3
The larger Trump model, on the other hand, was operating quite vigorously as we watched, but he had entirely lost his left-wing and was depending solely on his right-wing, which was lashing down all the plants on that side even as we stood there in some shock and awe. It was quite a sight to see for sure.
My new friend, a Democrat all his life since emigrating from Cork decades ago, was struck dumb by the sight. He wanted me to get my pruners so he could clear away the greenery and, as he remarked, "make herself great again," but I told him not to interfere with Mother Nature's message in any way and we left it at that. Anyway, my pruner has gone missing in recent times through lack of use by a bad gardener.
Was there any more profound message being transmitted by Mother Nature to us as we stood there beside the roses? I don't have the answer to that one.
I can only record factually what we saw atop the fence as the TV screen inside the conservatory behind us crackled with all the messages from the UN conference dominated by tidings of doom about what we are doing to our planet and the atmosphere above us on a daily basis.
Fathom that one out for yourselves and let me know what conclusion you come up with via email if that way inclined. Or ring my doorbell if your vacation takes you into Killaloe during your vacation.
And, be you Republican or Democrat, if I'm at home, as usual, you can view the drama atop the garden fence yourself and take from it what you will. Okay?
My friend's son was with him on his vacation and was doing the driving back to West Cork, so we were able to wet our whistles with another Irish coffee before he departed with the promise he would call again before returning home to New York at the end of the month.
We talked about Irish weather conditions in recent seasons, rather than global climate changes, and he was interesting in his viewpoint on the stunning Irish rugby side's hammering of our Celtic cousins from Scotland in their opening battle at the Rugby World Cup in Japan on Sunday. The rainy conditions, he said, suited the Irish because we grew up under constant rainfalls.
If, as likely enough at the time of writing, we come through the early group games to reach a quarterfinal epic clash with the All Blacks we should all be praying for the game to take place on another rainy day! I liked that one!
We could all be doing an Irish version of the Hakka before the World Cup is over. Stranger things have happened, especially in the world of sport.
There's a moon rising above the Shannon, it is beginning to rain again over Killaloe and the linked heritage town of Ballina in Tipperary.
Donald Trump is flying furiously on his right-wing atop my fence, Hillary Clinton is buried silently beneath the roses and briars, my pruners are still missing and, anyway, I think I've done enough work for the day that is in it so I'm stopping here and now.
I'll talk to ye later and, meantime, promise to answer the doorbell as long as you don't ring it too early in the morning. Slan for now.