Irish Arts Center in New York threw one heck of a party last Friday night at Cipriani 42nd Street, a star-studded, jam-packed gala dinner which raised a record $1.5 million for the new IAC which will break ground next spring.
The highlight of the evening – and there were many – was without question Steve Martin, the beloved comedian/musician/actor/writer who was one of three award recipients.  What a coup to get him, and what a treat it was to listen to him speak and play his banjo.
"This celebration has a special meaning for me, because my heritage is Irish and a mix of other, less-important cultures not honoring me tonight.    The excitement of this night reminds me of the birth of my child. The only difference is, I showed up for this," Martin deadpanned.
It was one joke after another from Martin, who had the audience in stitches.  "It's so nice to see Liam Neeson, who told me if I didn't show up tonight he would track me down and kill me.  And my dear friend Gabriel Byrne, who's not only an amazing actor but also my Tinder photo," he said.
"By the way, for those of you not in show business, 'my dear friend' is a Hollywood term meaning we worked together once over 20 years ago and haven't spoken since."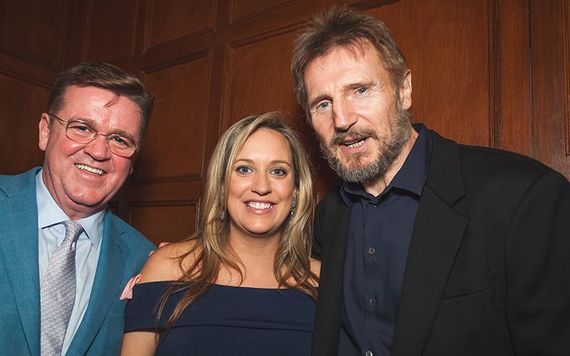 2
Steve got serious when talking about his decades-long love of Celtic music and his favorite Irish artists.
"When I was in my teens, I was mysteriously attracted to Irish and Celtic music and all its branches. I didn't really realize that it was running in my blood. When I was on the road as a comedian in the 1970s, I soothed the lonely hours by listening to mournful Irish songs from the Bothy Band and Planxty," he said.
"I fell in love with the Irish Rovers, Christy Moore, Mary Black, Sean Keene and many more. I incorporated their music into films I did, and wrote songs in the Celtic vernacular for the five string banjo."
Then he proceeded to play one of them with accompanist Alex Hargreaves, called "The Dance at the Wedding." It was masterful.
The IAC has raised $57.5 million of the $62 million needed for its new home.  More nights like last Friday and they'll easily surpass that goal.