Pierce Brosnan's son Sean on losing his mother at eight, high school tragedy, and his battle with opioid drug and alcohol abuse
Pierce Brosnan's son Sean, who his late wife Cassandra gave birth to in 1983, eight years before her death from ovarian cancer, recently opened up about his life as a reformed drug addict.   The poor kid lost his mom when he was only eight, and remembers clearly how it was he who comforted his grief-stricken dad Pierce.
"I remember the day my dad told me she passed, and it was a few days after Christmas," Sean recently said on the Inner Space with Dr. Barbara Van Dahlen podcast. "He started to cry, but I didn't cry. I was comforting him at eight.
"It wasn't until maybe six months later where I was in school and realized while I was walking to class, she is never coming back.  That is when it transitioned into anger."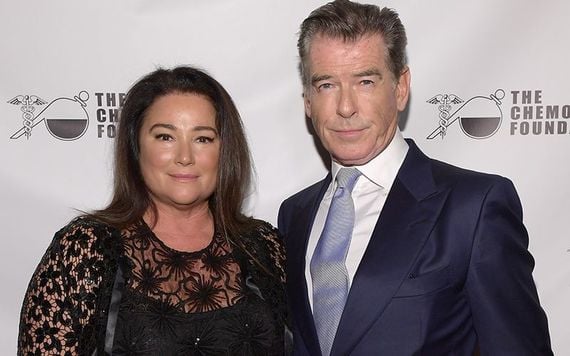 2
His understandable emotions led to drug experimentation in middle school; his sad story turned even more tragic when he was an 18-year-old passenger in a car crash.
"I was not driving. We were partying and the driver went to prison for a year because he was 18. He had a couple of beers and was just over the limit. I broke my back and shattered my tailbone, my pelvis in five places, my left femur," Sean recalled.
"I pretty much had to learn how to walk again. I tasted opioids for the first time in the hospital."
Read more: "Ireland's greatest living musician" talks about the joy he has found in sobriety
Drug and alcohol abuse continued into his twenties, and he also attempted suicide.  He followed in his dad's career and had some okay roles come his way, but the 2013 death of his big sister Charlotte from ovarian cancer – Charlotte and her brother Christopher came from his mom's first marriage, and Pierce adopted them – sent him spiraling down again.
"I had a bit of time before my sister passed, about a year and a half of sobriety," Brosnan told Van Dahlen.
"After she died, I drank on the plane on the way there. The insidious part of the disease was that I almost used it as an excuse. I was like, 'Oh good.' Which sounds terrible to say but that is my addict in me saying 'Yes, I can drink, and no one can blame me.'"
Thankfully, Sean's life took a turn for the better in 2014 when he met his wife Sanja. They married, traveled across America and had a daughter.  These days, Sean is working in the mental health field.
"I started as a residence advisor at a treatment center and realized I want to become a clinician and psychologist. That is what I want to do. I don't know what area — right now I am in addiction but I kind of want to do grief and loss," he said.
You can listen to the whole Dr. Barbara Van Dahlen podcast episode here: 
Read more: Pierce Brosnan looks back on James Bond role