As the victim numbers of September 11th, 2001's terrorist attacks continues to rise we can only hope that United States Congress has now been shamed into acting
Last week Jon Stewart reminded us all that the evil wrought on September 11 continues to this day.  We cannot shirk our responsibility to those brave first responders still in need.
The victims continue to die, many hit by cancers such as lung and bone which incubates for as long as 20 years.  The gaunt face of Luis Alvares, a stricken NYPD responder who has undergone 69 chemotherapy sessions, spoke volumes when he and Stewart were among those at a sparsely attended Congressional hearing last week.
Stewart's accusatory words said the rest.
"Behind me, a filled room of 9/11 first responders. And in front of me, a nearly empty Congress," Stewart told the committee.
"Sick and dying, they brought themselves down here to speak — to no one. It's shameful.  It's an embarrassment to the country and it's a stain on this institution."
"Behind me, a filled room of 9/11 first responders. And in front of me a nearly empty Congress. Sick and dying, they brought themselves down here to speak to no one. Shameful." An emotional Jon Stewart at a hearing on renewing funding for the healthcare of 9/11 first responders pic.twitter.com/zbyGr4aII0

— RTÉ News (@rtenews) June 12, 2019
Looking at the faces of the first responders, there is no doubt that the profound suffering continues 18 years after the dreadful event.  
We remember the bald-faced, weasel word lie -- "the air is safe" -- made by EPA Administrator Christine Whitman. We will never know how many reassured by those words wore no protection at the site.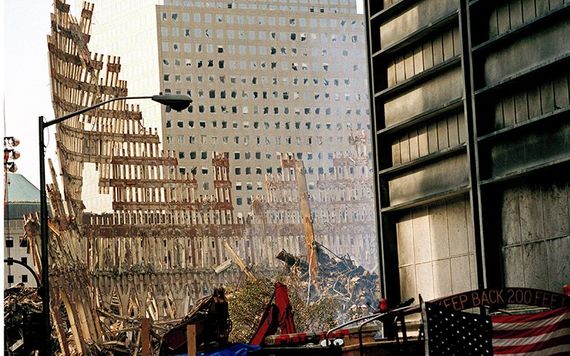 3
Looking at the faces of the victims and the families, it was hard not to feel outraged that only half of the congressional sub-committee showed up to listen.
It appears heroes are easily fobbed off, until the once a year platitudes about never forgetting which should really be changed to "We will never remember enough."
For many families, the word closure is meaningless as Stewart made crystal clear. Knowing loved ones died in an inferno will forever haunt them.
For those who are ill, 9/11 might well have happened yesterday. The families face great travail and pain ahead.
The original families continue to suffer. There are no graves for over 1,000 of the 3,000 or so who perished. 
Remains are being identified at the glacial rate of one per year. The families of the unidentified know the prospects of a decent burial for their loved one grows smaller every day.
It was the root of all evil, September 11, 2001.  The Irish American community with its massive fire and police presence lost over 1,000, Irish-born among them.  Their voices call to us each year, and we should never forget their bravery and their ultimate sacrifice.
For our continued inspiration we should remember official victim number one, Father Mychal Judge, who stands for everything good about a priestly life despite all the dreadful actions of other men of the cloth.
3
Read more: The Irish Americans we lost in the 9/11 attacks
Judge was among the first into the burning buildings, praying and comforting his beloved firefighters even as they went on that dreadful journey up the steep stairs to death.
He died doing what was most needed, giving help and succor to those in need. Even now, his iconic photograph being borne by two firemen away from the blaze lingers in the memory. 
In the enormous silence of the years that have passed since, somehow Father Judge, still stands out.
But let us hope that sacrifice and bravery is the lesson of 9/11. Starting wars like the one in Iraq was a foolish mistake that did nothing for the sacrifice of the men and women in the Twin Towers.
A safer world for all mankind is what we seek.  We will be lucky to get it.
Meanwhile, the number of victims continues to climb. And Congress has to be shamed to act.  It's a travesty.