Cork 3-14. St. Raymond's 5-8 Sunday's curtain-raiser in Gaelic Park saw a thrilling encounter between St. Raymond's and Cork in Junior A action
It was a game that featured seemingly everything -- goals, penalties, super point taking, awful defending, questionable refereeing, and of course the occasional dust-up.
It held enough to keep the neutral spectator on the edge of their seat and had just enough to give players, coaches, and fans of each club heart palpitations.
It didn't take long for the fireworks to start as both teams saw a victory as a key to their playoff aspirations. First blood to St. Raymond's, with referee Peter McCormack throwing the ball in and seconds later Shane Slattery was tickling the twine of the Cork net.
Read more: Longford hold off Donegal 
Lorcan Grall had it out of the back of his net and out the pitch and seconds after Slattery put Ray's up a goal, David Grear had his to get Cork theirs, and deservedly so. However, his shot packed full of mustard rang off the crossbar.
Cork stayed with the play long enough before Alan Raftery smartly took his point to get Cork off the mark. A minute later Cork would get that goal after a quickly taken free caught St. Raymond's napping, and Conor Hunter slotted while being dragged down inside the square.
In the fifth minute, Ger McCullagh could've easily given Cork their second goal of the opening minutes, but John Kilkenny was there to deny the point-blank effort.
Raftery got his second score of the day in the sixth minute after Cork worked a give and go to perfection. He bought a few extra yards from the short 45 after playing the 1-2 with Fergal Horan.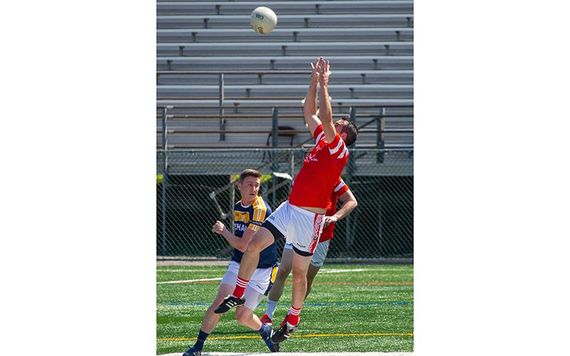 2
Slattery got Ray's back to within a point in the seventh minute to make it 1-2 to 1-1. Cork, however, continued to crash the St. Raymond's net, and when Kilkenny was there again to deny Phillip O'Sullivan, Sean Lorda was there to tap over the rebound for a 1-3 to 1-1 Cork advantage.
After Cork concerted a free in the 10th minute, O'Sullivan took his point after another quickly taken free from Raftery. Ray's manager Pat Ryan couldn't have been happy to see his backs so slack during Cork frees.
Keep up-to-date with IrishCentral's GAA news here
At 1-5 to 1-1, Cork held most of the possession and momentum. Even after Ciaran O'Dowd made it 1-2 for St. Ray's in the 12th minute, the ball stayed up in the Raymond's half until McCullagh grabbed his second of the game for Cork.
But Raymond's were given a gift in the 17th minute when a short dropping ball was awkwardly punched away by Grall in the Cork net.  The ball remained in the danger area and Stephen Curley was Johnny on the spot to slap home Raymond's second goal of the day.
Slattery continued his fine first half with a point in the 20th minute, working nicely with Curley to pass around several Cork defenders to make it 1-7 to 2-3.  Lorda grabbed his second point of the afternoon in the 21st minute when he intercepted a wayward ball out of Raymond's backline. Slight chance at goal, but Lorda just couldn't keep his shot down.
Heading into the final five minutes of the half, Cork held onto a two-point advantage. Slattery got Raymond's back to within one after he did well to make something out of nearly nothing.  A wayward ball into the corner, Slattery maneuvered himself out of the vicinity of the corner flag and pointed to make it 1-8 to 2-4.
Cork then went back up the pitch and grabbed their second goal of the half. Quick frees were becoming a painful theme for Raymond's, and when Conor Hunter stayed open long enough to get the quick free from Raftery, he made no mistake to make it 2-8 to 2-4.
Raymond's, however, responded well and O'Dowd made sure his side went into halftime on a positive note, striking goal just before the interval, Slattery again the provider. At halftime it was Cork 2-8, St. Raymond's 3-4, a point the difference in a back and forth half.
It didn't take long for Raymond's to put the sides on level terms seconds into the second half.  Slattery hit a shot high and over the bar to make it 2-8 to 3-5. Tom O'Sullivan put over a free for Cork in the 37th minute, but seconds later it was Slattery once again hitting goal with a super finish from the impossible angle. He worked around his marker, tipping tapping his way toward the side of goal -- surely he wouldn't attempt a goal but that he did and rattled the upper corner netting with ferocious velocity.
Cork was happy to respond a minute later with a Tom O'Sullivan point.  The Cork corner-forward might have thought about going for glory, but just got enough power to send over rather under.
WATCH: New York GAA has successful run at 2019 GAA World Games
As the middle of the half went back and forth neither team seemed to want to defend, and neither team seemed willing to keep hold of the ball either. Another goal from the big number 14 in blue -- Slattery in the 41st minute made it 2-10 to 5-5.  Slattery has it all to do -- corralling the high ball in from Kilkenny before turning and burying the ball past keeper Grall.
Cork again would've been pleased with the response a minute later when McCullagh seemed to split the Red Sea to grab his second and Cork's third goal of the game.
Hunter quickly made it 3-11 to 5-5 before McCullagh again jumped up and picked off a woeful ball out of the Raymond's backline to make it 3-12 to 5-5. Cork seemed willing to hold the momentum this time and had a great chance to grab their fourth goal of the match when Hunter was allowed the space and time to catch, turn and shoot.
But Kilkenny brilliantly denied another Cork goal to maintain the scoreline. The resulting 45 was played short once again.  Lorda made sure to point to make it 3-13 to 5-5.
In the 47th minute, Conor Bowden got Raymond's back to within one after Slattery was fouled in front of the Cork bench. Curley has the sides level with 10 minutes to go with a clinical finish to make it 3-13 to 5-7.
Both teams had given blood, sweat, and tears and when referee McCormack cleared the penalty area in front of Kilkenny five minutes from time, surely Cork would finally grab hold of this game.
Hunter stepped up and when the referee blew his whistle he drove a hard, low shot toward Kilkenny's right bottom corner. The big number one for Raymond's had to get down quick and brilliantly denied the shot, and just got a toe to the rebound to kick away from the sliding Hunter.
Frustration boiled over and after some extracurriculars in the corner, Kilkenny had held the fort from the advancing Rebels. Two minutes later Tom O'Sullivan made sure to point his free and with the clock ticking down to zero, Raymond's would get one last chance.
Slattery was fouled in and around the middle of the field. His quick free found Bowden who frantically got the ball to O'Dowd.  The big number nine rushed through the heart of the Cork backline found himself just enough space and pointed with seconds remaining on the clock.
The horn would go with a thrilling draw on the board.
A game for the ages, the game of the season -- Cork 3-14, St. Raymond's 5-8.
Cork: 1 LGrall, 2 D O'Sullivan, 3 P O'Connor, 4 C Sullivan, 5 F Horan, 6 S McNamee, 7 J McInerney, 8 A Raftery, 9 D Grear, 10 C Hunter, 11 G McCullagh, 12 J Levin, 13 S Lorda, 14 P O'Sullivan, 15 T O'Sullivan. Subs: L McSweeney, B McMahon, D McCarthy, G Hanley, G McCarthy, L Hanley.
St. Raymond's: 1 J Kilkenny, 2 P Crawley, 3 S Corridon, 4 T Enright, 5 A Mooney, 6 N Bowden, 7 S O'Connell, 8 C O'Dowd, 9 C Bowden, 10 S Curley, 11 S Kilkenny, 12 C Henry, 13 S Tierney, 14 S Slattery, 15 S Cunningham. Subs: D Nolan, F O'Rourke, M Enright, E McGurk.
Man of the Match: John Kilkenny (St. Raymond's).
* Photos by Chris Clarke.
WATCH: This American's reaction to hurling and camogie is the funniest thing online this week