Longford 1-19. Donegal 3-5. Longford gave their payoff ambitions a huge boost on Sunday after downing an underwhelming Donegal side 1-19 to 3-5 in Senior Football action.
Both sides were guilty of missing a chance after chance while referee John Fitzpatrick had to oversee a few flashpoints off the ball and after the whistle.
The opening minutes saw lots of intensity and testosterone going in all sorts of directions, and none of them toward anyone wanting to take control of the match.
David Freeman's free in the fourth minute was canceled out by Paudie Clifford in the seventh after he and Niall McFeeley linked up. Freeman hit his second free in the 12th minute after a few Longford players were seemingly mauled by Donegal backs.
Read more: St Raymond's and Cork draw in thriller Junior A action
Russell Brady made it 0-3 to 0-1 for Longford in the 13th minute after John Comerford forced a Donegal turnover. Donegal got back on the ball in the 15th minute when Clifford worked his way through the Longford backline to finish past keeper Alan O'Mara to make it 0-3 to 1-1.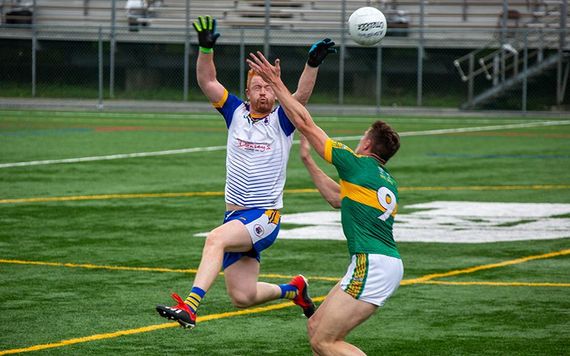 3
Dessie Reynolds answered immediately for Longford before Freeman made it 0-5 to 1-1 with a sweet side swipe that just made its way around the right side of the posts.
Brian Kavanaugh and Paddy Kieran added two more points in the 17th and 23rd minutes as Donegal just could not get their kick-outs sorted.
Clifford had a glorious chance to get his second goal of the half, but after he did all the hard work the dynamic forward blasted wide when the goal was there for the taking.
Keep up-to-date with IrishCentral's GAA news here
Gary Maguire smartly took his point after Dessie Reynolds rattled the crossbar for close range just before Keith Beirne got Donegal a free just before halftime.
Longford looked the more confident on the ball and coming out of their backline as Donegal keeper Conor Tinney has trouble finding men in the green and gold. At halftime, Longford held a 0-8 to 1-2 advantage.
 Kavanagh would start the second half with an early point to make it 0-9 to 1-2.  His high bomb-dropping just on the other side of the crossbar started a run for Longford that would give them a 1-12 to 1-2 lead.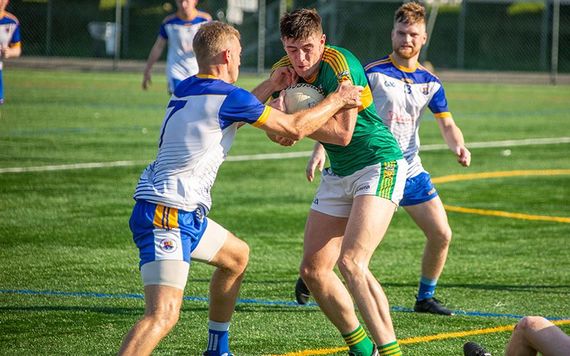 3
Paddy Kiernan and JJ Matthews grabbed the points while Dalton McDonagh powered forward from his midfield position to blast Longford into a 10 point lead.
Donegal didn't come back from the halftime break until six minutes after referee Fitzpatrick threw the ball in. Donegal had a chance at goal in the 36th minute but Clifford just couldn't find the opening to get it over the Longford line.
Beirne would grab two points in the 36th and 38th minutes from frees to make it 1-12 to 1-4. In the 39th minute, Donegal went goal hunting and after keeper O'Mara kept Donegal at bay, they worked the quick 45 in for a goal. It would be Beirne to get the credit after some discussion between the referee and his umpire.
Heading into the final 10 minutes of the half, Longford held their 1-13 to 2-5 advantage. Donegal continued to have trouble with kick-outs, and two quick points in the 51st minute put Longford up 1-15 to 2-5.
Donegal were given a lifeline eight minutes from time when a high ball was sent into the square and Donegal forward was deemed to have been fouled. An undisciplined foul by Longford that Beirne was all too happy to dispatch into the back of the net. The goal, however, was just a little too late to charge a comeback and Longford held out to win 1-18 to 3-5.
Donegal: 1 C Tinney, 2 C Finan, 3 J Brennan, 4 M Dowds, 5 C Reilly, 6 R Shanahan, 7 O McLean, 8 D McDermott, 9 M Rennie, 10 P Devlin, 11 P Clifford, 12 N McFeeley, 13 P Hatzer, 14 K Beirne, 15 C Devlin. Subs: B Cullinan, S Murrin, C Regan, J Mullan.
Longford: 1 A O'Mara, 2 L Hughes, 3 K Scally, 4 A Long, 5 R Brady, 6 D Culhane, 7 D Carrick, 8 D McDonagh, 9 D Reynolds, 10 JJ Mathews, 11 D Freeman, 12 B Kavanagh, 13 P Kiernan, 14 J Comerford, 15 G Maguire. Sub: K Swords.
Man of the Match: Dessie Reynolds (Longford).
WATCH: New York GAA has successful run at 2019 GAA World Games