A new survey has found that most of the 44 percent of the Northern Ireland people who voted to leave the European Union are prepared to see the peace process collapse to deliver their Brexit wish.
The research also found that 75 percent of English Conservatives would support the collapse of the North's peace process as long as Brexit is delivered.
The worrying statistics were released on Monday as Democratic Unionist Party (DUP) leader Arlene Foster warned it would be "catastrophic" to create a barrier between Great Britain and Northern Ireland.
Read more: If the British repartitioned Ireland this is what it would look like
She was on her way to a Tuesday meeting in Brussels with the EU's chief Brexit negotiator Michel Barnier to warn against any attempt to "annex" Northern Ireland. The EU's proposed backstop would see Northern Ireland effectively remain in the customs union and single market while the rest of the U.K. shifts away from Brussels' rules.
The statistics also follow Foster's claim last week that the Good Friday Agreement was not sacrosanct and should not be considered untouchable in Brexit negotiations.
Release of the statistics, in a poll conducted between May 30 and June 4 and publicized in Irish newspapers this week, also follows Foster's insistence that the DUP line was "blood red" that there could not be a border down the Irish Sea separating the North from the rest of the U.K. in Brexit.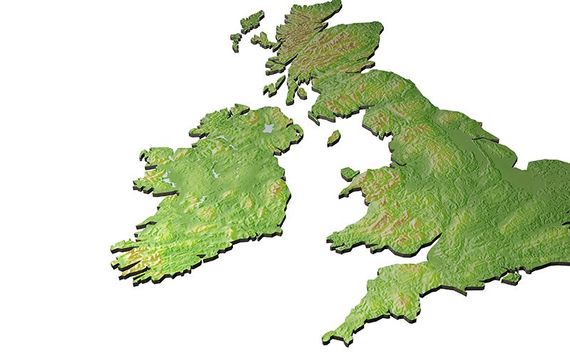 2
In 2016 Northern Ireland voted to remain in the EU by 56 percent to 44 percent. But the vote was combined into the entire U.K. returns which opted by nearly 52 percent to 48 percent to leave the EU.
The DUP was the only major party in Northern Ireland to support the vote to leave the EU. It has propped up Theresa May's Tory government since June 2017.
The poll in "The Future of England Study" for the universities of Cardiff and Edinburgh, was conducted by YouGov in England, Wales and Scotland and Lucid Talk in Northern Ireland.
It questioned 2,741 people in England, 2,016, 1,502 in Scotland and 1,089 in Northern Ireland.
Remarkably, it found that 87 percent of the North's "leave EU" voters would be willing to see the peace process collapse to deliver Brexit.
Read more: "Black 47" star Stephen Rea slams pro-Brexit politicians over Northern Ireland border shambles
Are you surprised by this survey's results? Let us know in the comments section below.