X-Men: Dark Phoenix star took part in the Rally of the Lakes in Killarney and took time to speak to local students during his vacation back home in Ireland
It was back to school in Killarney for Michael Fassbender last week.  The X-Men star has been home in Ireland these past few weeks with his wife Alicia Vikander, who's filming The Green Knight with Dev Patel and Barry Keoghan in various locations.
Michael's clearly been enjoying himself.  An avid race car driver, he took part in last weekend's Rally of the Lakes event in Killarney, where he was raised, and also took time to speak to students at his alma mater, St. Brendan's College.
Read more: Kenneth Branagh returns, this time as Shakespeare himself in All Is True
"I got a great base here. I knew I wasn't going to go on to university but what I learned here certainly stood to me in good stead," he told the students. 
"Obviously if you find something that you love doing that's the jackpot. The one thing I've learned in life is if you're going to do something, do it properly and really have pride in what you're doing."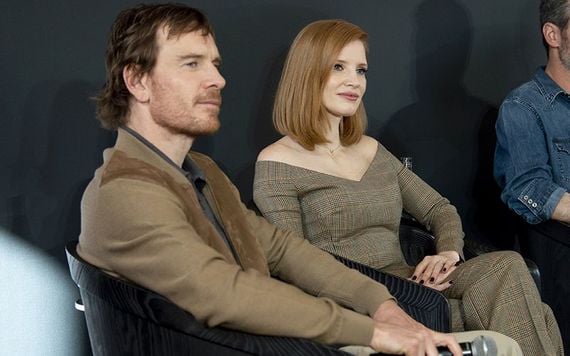 2
Fass, 41, also singled out his old mentor Donie Courtney in Killarney for his support. "It's definitely the people around you that can help and then it's about applying yourself," he said.
The German-born two-time Oscar nominee who moved to Killarney with his Irish mother and German dad when he was two, spoke to a journalist about his love of motorsports and concern about the impact on the environment.
"I fly a lot, my job requires it, and I don't feel that good about it, but we have reached a point to try to find solutions. I think hydrogen might be cleanest. Even here in Killarney, you can see it more and more the cars on the road and it becomes less pleasurable. I would be interested to see how hydrogen goes," he said.
Alicia was on hand to cheer on her hubby at the rally on Sunday. She made a quick turn-around, though, as she was one of the stars at the Met Gala in NYC on Monday.
No doubt Michael will be out and about even more in the lead-up to the June 7 release of X-Men: Dark Phoenix.
Will you be watching the latest X-Men movie? What's your favorite Michael Fassbender movie? Let us know in the comments section below. 
Read more: Colin Farrell takes on sci-fi movie Voyagers