While New IRA's attempted justification for the murder of a 29-year-old journalist in Derry have been dubbed "insanity" new cross-party political talks are scheduled to discuss Northern Ireland's future
The latest attempt by the New IRA to justify Lyra McKee's murder and its ongoing terror campaign has been described by the journalist's close friend as "absolute insanity."
As new cross-party political talks are due to start next Tuesday, called by the Irish and British governments within 48 hours of Lyra's funeral service, victims' campaigner Ann Travers condemned the New IRA which has admitted the Holy Thursday murder.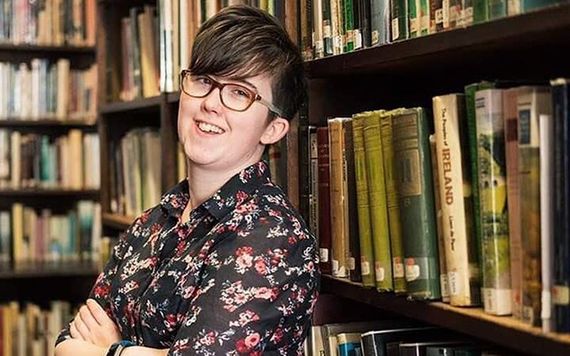 2
Travers was speaking after the New IRA army council gave a newspaper interview to Dublin-based John Mooney of The Sunday Times in which it openly admitted the killing of McKee, which it claimed was an accident, did not further its "cause."
But representatives of the Army Council also said, "We fully accept we cannot defeat the British militarily, or even drive them from Ireland, but we will continue to fight for as long as they remain here.
"The attacks are symbolic. They are propaganda. As long as you have the British in Ireland and the country remains partitioned, there will be an IRA."  
Travers, whose 22-year-old sister Mary was shot dead and her magistrate father Tom seriously injured in an IRA gun attack in 1984, said the New IRA thinking is deeply warped, particularly as it has acknowledged its deadly campaign is futile.
She said, "The fact that they can say that their actions to murder are symbolic shows the measure of their absolute insanity."
 The New IRA representatives said Brexit had given it a chance to recruit supporters as it underlined how Ireland remained partitioned. "It would be remiss of us not to capitalize on the opportunity," one of the dissident leaders told the paper.
Democratic Unionist Party MP for East Derry Gregory Campbell said, "The sick and twisted individuals making this claim are the same group which sought to minimize and excuse their cold-blooded murder of an innocent woman in Londonderry. Their actions in the days following the murder of Lyra McKee demonstrated that they are literally shameless."
Journalist and author Lyra, 29, was shot dead as she stood behind a police line during rioting in the Creggan area of Derry.
The funeral in her native Belfast heard a moving plea from Catholic priest Father Martin Magill.
As British Prime Minister Theresa May, Taoiseach Leo Varadkar, President Michael D. Higgins, DUP leader Arlene Foster, Sinn Fein leader Mary Lou McDonald, and several other leading politicians sat close to each other among the mourners, the priest asked, "'Why in God's name does it take the death of a 29 year old woman with her whole life in front of her to get us to this point?"
He received a standing ovation, footage of which went viral, and last Friday the British and Irish governments announced a new multi-party talks process aimed at restoring Stormont would begin on May 7.
Stormont, with a power-sharing administration of Sinn Fein and the DUP, collapsed in January 2017.
In addition to next Tuesday's cross-party talks, a British Irish intergovernmental conference to discuss security and the political situation in the North has been scheduled for next Wednesday.
A joint statement issued by May and Varadkar said in part, "We have agreed to establish a new process of political talks, involving all the main political parties in Northern Ireland, together with the U.K. and Irish governments, in accordance with the three-stranded process.
"The aim of these talks is quickly to re-establish to full operation the democratic institutions of the Belfast/Good Friday Agreement – the NI Executive, Assembly and North-South Ministerial Council – so that they can effectively serve all of the people for the future.
"We understand the complexity of the underlying concerns of all parties, and the need for renewed trust, mutual respect, generosity, and new thinking to resolve the issues.
"As prime minister and taoiseach, we are determined to work together to ensure this process comes to a successful conclusion.
"We will review progress at the end of May."