Liam O'Brien, the 13-year-old Irish American eighth grader who was assaulted and viciously bullied at his Long Island middle school to such an extent that he was hospitalized for an eating disorder and depression, is now home with his family, but his return to full health is not complete and he remains out of school.
Liam, the son of a prominent Irish thoroughbred racing family, was hospitalized at a New Jersey facility in September after incessant bullying for a year – which he kept secret from his parents – drove him to the brink. His case garnered national media attention after an October Facebook post by his mother Deirdre detailing her son's ordeal went viral. Liam's heartbreaking story has been covered by local TV stations, and even "Good Morning America" last month.
Liam returned to his Garden City, Long Island home the day after Thanksgiving, after spending more than two months receiving intensive treatment in New Jersey. Deirdre O'Brien told our sister publication the Irish Voice that the family – Liam's four siblings and his father, Keith – is thrilled to have him home, but progress is coming slowly.
"We're taking baby steps, taking it day by day. There's still a long road ahead," said O'Brien, a nurse at Memorial Sloan Kettering in Manhattan.
Liam has not returned to eighth grade at Garden City Middle School, where he was harassed on a daily basis during seventh grade by some soccer teammates who belittled his skills and his looks. He also endured physical assaults, including having his face shoved into a gym locker on his 13th birthday in September.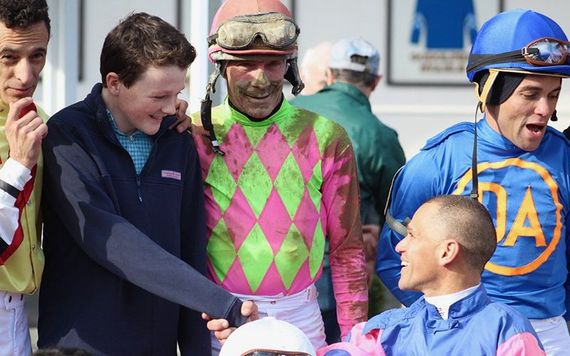 5
Liam is spending his days in therapy and receiving tutoring. The O'Briens are enormously grateful for the good wishes he has received. Liam Neeson, one of Liam's favorite actors, called the family twice to offer his support, and the New York Jets hosted the O'Briens at Sunday's game against Kansas City in MetLife Stadium.
"Liam Neeson was so nice and supportive. And our Liam was so excited to hear about the calls because he loves his movies. You could tell he genuinely cared about Liam's story," O'Brien said.
5
The Jets day out was organized by a Garden City friend who works for the National Football League. The team was happy to host the O'Briens on Sunday, and even gave the family two field passes so that Liam and his dad could meet his favorite player, Matt Forte. MetLife also lit one of its billboards with an anti-bullying message.
"It was like having the old Liam back on Sunday, he was so happy and excited," O'Brien said. "The players huddled with him and encouraged him. I can't say enough about them."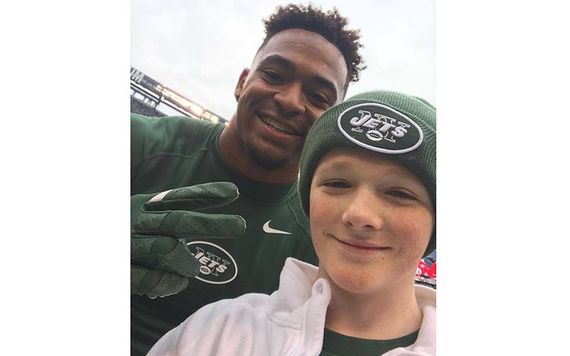 5
Last Saturday was especially meaningful for the O'Briens. The New York Racing Association honored Liam by offering the second race on the card at Aqueduct Racetrack in his honor, and all the jockeys riding on the day wore orange bands to support anti-bullying efforts.
The day was spearheaded by Liam's uncle, jockey John Velazquez, the Hall of Famer whose storied career includes two Kentucky Derby wins and 15 Breeders' Cup championships. Velazquez is married to Leona O'Brien, sister of Keith. The Dublin-born trainer Leo O'Brien is Liam's grandfather, and dozens of friends and family members were on hand in the winner's circle after the second race, holding a #WeStandWithLiam banner.
"There was a presentation organized for Liam and all the jockeys took part. They gave him great support. It was so nice to see," O'Brien said.
The support is greatly needed as Liam is far from his old self. He says he doesn't want to play soccer again because of the teammates who tormented him. Liam was always a standout athlete and Deirdre O'Brien is deeply saddened that her son no longer wants take part in a sport he's loved for years.
As far as school goes, it's uncertain if he will return to Garden City Middle School come January, or switch to somewhere else. As of now he has no desire to go back because "he's still afraid," his mother says. Should he eventually decide to head back to Garden City, the O'Briens would be fully supportive.
"He's not there yet. I've tried to explain to him that it would be great for him to go back to Garden City and show how strong he is, but we don't want to push him. Maybe in a few weeks he will feel better. Right now we're just happy that he's back home."
Liam has been uplifted by all the support from family, friends and the media. "He really has," O'Brien says. "I keep telling him how many supporters all over the place he has, and how he will hopefully be able to show the kids who bullied him that he's much stronger than they are."
Keith and Deirdre O'Brien noticed changes in their son during seventh grade, after he made the middle school's soccer team. Liam brushed off their concerns, but his lack of appetite and rapid weight loss this past summer told a different story. He finally shared his anguish with his parents a few days after he turned 13 in September, telling them about the daily harassment.
5
Liam's appetite at that point was virtually non-existent. He was checked into a local hospital where a feeding tube was inserted to boost his nutrition and was then moved to New Jersey for more intensive treatment.
The O'Briens alerted the Garden City School District about the bullying and physical abuse, but the district, after an investigation, said there was no evidence to support their claims. After Deirdre O'Brien's Facebook post gained media traction the district issued a statement which said in part, "We are jointly attempting to further improve upon the resources and programs available to move toward the elimination of all forms of bullying in our schools as quickly as possible."
The O'Briens filed a notice of claim against the district with intent to sue. The claim says the middle school failed to provide Liam "with a safe and supportive environment free from intimidation, taunting, physical abuse, harassment, and bullying."
A GoFundMe page under the #WeStandWithLiam hashtag has been created to help the family pay Liam's medical expenses. The O'Briens have insurance, but not all of the claims are covered.
"We truly cannot thank people enough for all the love and support we have received," O'Brien says. "And we're hoping for better days."
Here's a video about Liam O'Brien's case from a month ago: