John F. Kennedy would have celebrated his 100th birthday on Memorial Day, Monday, May 29, 2017. In tribute to JFK, the 35th President of the United States, and his centennial year, IrishCentral is looking back on the life and times of the charismatic and intriguing Irish-American leader; from his early years to his rise to the presidency, to his untimely assassination in November 1963 at just 46 years old. 
Here we look at the relationship between John Fitzgerald Kennedy and the British Prime Minister Winston Churchill. For more on JFK and the Kennedy family, you can visit our special topic page.
In 2014, The Irish Times reported that in 1946, former British Prime Minister Winston Churchill voiced his hopes that Ireland would one day be a united nation.
This revelation was discovered in a note Churchill wrote to Ireland's Ambassador to Britain, John W. Dulanty.
"I said a few words in Parliament the other day about your country because I still hope for a united Ireland," said Churchill. "You must get those fellows in the North in, though; you can't do it by force."
Churchill later added, "There is not, and never was, any bitterness in my heart towards your country."
It was an interesting time for this Churchill item to hit the news. Author Thomas Maier had just published a fascinating new book entitled "When Lions Roar: The Churchills and the Kennedys."
Maier, whose 2004 book "The Kennedys: America's Emerald Kings" is the authoritative look at the Kennedys and their Irishness, puts these two prominent families under the microscope in this big book and shows that unlikely as it may seem, Joe Kennedy, his sons, and Churchill were deeply intertwined.
How much so? The same year Churchill wrote to John Dulanty about the possibility of a united Ireland, Churchill's ties to the Kennedy family became a problem for a skinny young World War II veteran named John F. Kennedy, who was running for a congressional seat in Boston.
The Churchill-Kennedy connection stretches back to the 1930s, as Maier notes.
"As the oft-repeated story goes, Winston Churchill and Joseph P. Kennedy, the family patriarchs, began a visceral dislike for each other almost immediately, one that would devolve into rancor and several fateful differences leading up to World War II," writes Maier, whose "Masters of Sex" serves as the basis for the Showtime cable drama of the same name.
For all of the tension between the Churchills and the Kennedys, there were also business dealings as well as moments of admiration.
Things really heated up in 1938 when President Franklin Roosevelt appointed Joe Kennedy, one of the most prominent Irish Catholics in the U.S., as the American ambassador to the Court of St. James, basically serving as America's top official in London.
It was a plum position, but Kennedy's political views about the world situation proved too troublesome. Kennedy famously felt that the U.S. should stay out of the European war, and in 1940 added that "democracy is finished in England."
Franklin Roosevelt ultimately canned Kennedy.
But that does not mean the Kennedy family's association with the Churchills – and Britain – was over.
That's where JFK's trouble comes in.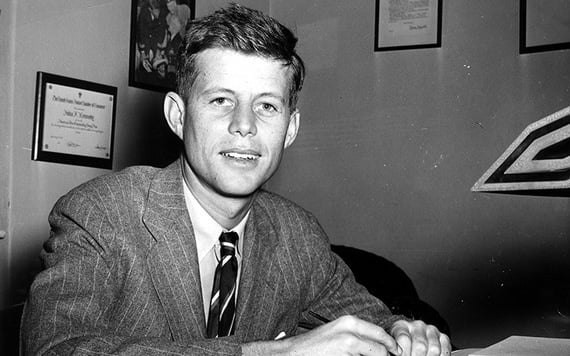 2
In 1946, after fighting in the war that took his brother's life and nearly took his own, JFK decided to run for political office. During the nasty campaign, Kennedy's sister Kathleen's ties to the British aristocracy became an issue.
After all, Kennedy was trying to win an election in the heavily Irish wards of Boston, where the British aristocracy was not quite as charming as it might have been to certain members of the Kennedys.
"A primary opponent's camp even claimed that Jack's sister Kick … had married a descendant of Oliver Cromwell, the scourge of Ireland during its centuries-long oppression by England," Maier writes.
Between Kathleen and the Churchills, Jack was compelled to write a note to family members asking them, as Maier puts it, "to be more mindful of their British connections."
Read more: The scandalous, rebellious, and tragic life of JFK's sister Kick
Recent news items featured the Kennedy women hobnobbing with British high society, and even Joseph Kennedy supporting favorable postwar loan policies towards Britain.
JFK wrote: "Let's not forget: They read papers here (in Boston) … I'm running for Congress, not Parliament."
Of course, it turned out that the Kennedys' ties to the Churchills and Britain were not fatal. But as retold by Maier in his important book, this episode is a fascinating moment in American/British/Irish history.
It's a "special relationship" indeed.
* Originally published in 2014.