Irish government representatives in the United States capitol say they're willing to work with other Irish institutions to celebrate 2019 St. Patrick's Day as after 49 years Washington DC's parade has been canceled.
The Irish Embassy in Washington, D.C. is "disappointed" that the capital city's annual St. Patrick's Day parade has been canceled for 2019, and expressed a willingness to work with other local Irish institutions to celebrate Ireland's national holiday.
"I was disappointed to learn that the St. Patrick's Day parade would not take place in Washington, D.C. this year.  The embassy has always enjoyed attending previous Washington, D.C. parades and I hope it can resume to mark its 50th anniversary in 2020," Irish Ambassador Dan Mulhall said in a statement.
"While it is unfortunate that it is not always possible to organize a parade, there are other opportunities to organize celebrations in different formats that maintain the spirit of our national day and we work closely with many local organizing committees to support their endeavors.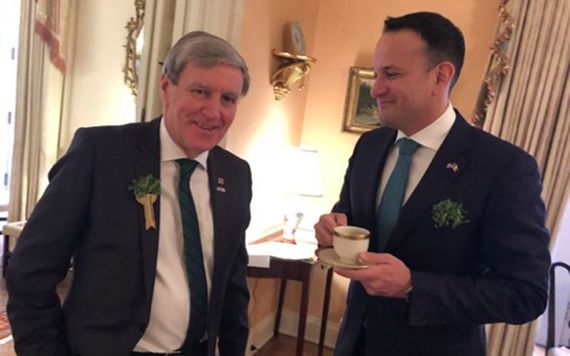 2
"Distraught" parade organizers made the decision to cancel D.C.'s march, one of the largest in the U.S., last week.  They cited increased government-related expense for security and street closures as the reason there will be no parade this year.
Read more: A gigantic potato has been added to the line-up of this St. Patrick's Day parade
On its website, the St. Patrick's Parade Committee of Washington, D.C. said it was "distraught to announce that the 2019 St. Patrick's Parade is canceled."
Over the 50 years of its existence, the committee said, the parade grew from what was once "was little more than a leisurely stroll by a few hundred participants on Massachusetts Avenue" to a mile long two-hour celebration of Irish culture on Constitution Avenue NW."
However, security issues scuttled the 2019 parade.  "After the 2016 tragedy in Nice, France, the government of the District of Columbia has significantly increased preventative security requirements for public gatherings such as the St. Patrick's Parade," organizers wrote.
"The corresponding rapid increase in overhead, in combination with relatively stagnant funding, have put the committee in a precarious financial position."
The non-profit committee added that a government grant helped to offset some of the expenses, but while costs have increased over the years, the grant has not.
The parade marched down Constitution Avenue with the reviewing stand near the Washington Monument.
The committee, which is comprised of volunteers, said it would hold fundraisers throughout this year in hopes of hosting its 50th parade in 2020.
Mulhall also paid tribute to those groups throughout the U.S. that celebrate St. Patrick's Day.
"I would like to also take this opportunity to pay tribute to the organizers of local St. Patrick's Day parades all across the United States.  They do marvelous work in organizing so many great parades in celebration of St. Patrick and of their proud Irish heritage," he said.
Read more: Could you be the next Chicago St. Patrick's Day Parade Queen?
Here are some highlights from the Washington D.C St. Patrick's Day Parade 2018: