The latest poll shows 52 percent will vote to repeal the 8th while Savita Halappanavar's parents call on Ireland's 3.2 million voters to remove Ireland's ban on abortion.
Around 3.2 million people eligible to vote in Friday's referendum in the Irish Republic have been asked by the parents of Savita Halappanavar to remove the ban on abortion.
Halappanavar, 31, a dentist, died at University Hospital Galway in October 2012 after she was refused a termination.  She died from sepsis after suffering complications in her pregnancy at 17 weeks' gestation.
In a video released last weekend, her parents appealed for a yes vote in the referendum to repeal the Eighth Amendment to the Constitution which enshrines a ban on abortion so that "what happened to us won't happen to any families."
Read more: Immigrants call for overseas vote as they travel #HomeToVote in abortion referendum
Taoiseach Leo Varadkar welcomed the Halappanavars' comments supporting the yes campaign.
"Ultimately, while in her case there were a number of failures, nobody can dispute that if she had been given the termination when she asked for it she would be alive today, probably gone on to be a mother herself and perhaps would be out with us today campaigning," Varadkar said.
3
Varadkar predicted a close vote, although he said he was heartened by opinion polls that showed a lead for the yes campaign.
"This is a once-in-a-generation opportunity to change our country and change our Constitution for the better, to give women the healthcare that they need in their own country," he said.
A Sunday Times opinion poll showed that support for repeal of the Eighth Amendment to the Constitution had risen by five points to 52 percent, with the no side falling to 24 percent.
A poll for The Sunday Business Post put voter intention at 56 percent yes and 27 percent no.
Read more: Two sides of the 8th Amendment referendum - why they're voting yes and no
There was still a large proportion of the population undecided how they will vote – 19 percent in the Sunday Times poll, 14 percent in the Business Post poll.
Backing a campaign for a no vote, the leader of the Catholic Church in Ireland, Archbishop Eamon Martin, warned that any repeal of the Eighth Amendment would pave the way for a very liberal abortion regime, including completely unrestricted access to abortion during the first three months of pregnancy.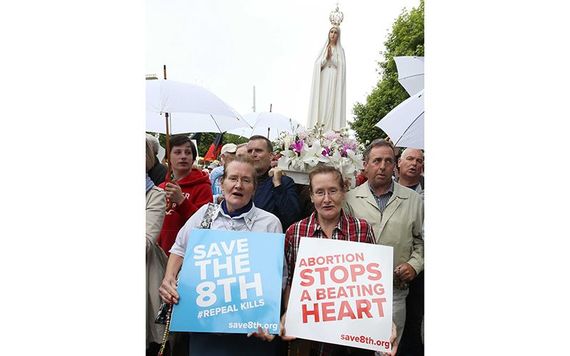 3
He reiterated his church's teaching that it was always gravely wrong to take away an innocent human life and that abortion could never be simply a matter of personal choice.
Martin, whose Armagh diocese straddles the border, said if the Eighth Amendment was repealed, unborn children in Ireland would have absolutely no constitutional rights.
Disability Voices for Life held a press conference calling for a no vote in the referendum.  One of its leaders, Anne Trainer, mother of a son with Down Syndrome, urged people to "keep Ireland a country which is bucking the trend and is a world leader in celebrating and including individuals with Down Syndrome into our lives and society."
Voters will be asked if they want to repeal article 40.3.3 of the Constitution – known as the Eighth Amendment – which since 1983 has given unborn fetuses and pregnant women an equal right to life, in effect enshrining a ban on abortion in the country's constitution.
If Ireland votes in favor of repeal, the government has said it will introduce legislation permitting unrestricted abortion during the first 12 weeks of pregnancy.
Currently, terminations are only allowed when the life of the mother is at risk.
Read more: Silent crisis pregnancies of Ireland's Repeal the Eighth debate