Ireland has rejected a call from Israel to move its embassy from Tel Aviv to Jerusalem on the same day the U.S. made the switch.
In addition, President Michel D. Higgins, resisting specifically naming President Donald Trump, described the accompanying loss of life on the Gaza border as an unacknowledged failure of diplomacy.
 Also, Foreign Affairs Minister Simon Coveney summoned the Israeli Ambassador Zeev Bokar to a meeting on Tuesday morning to express Ireland's outrage at the level of death and injury in Gaza on Monday.  Coveney also called for restraint from Israel in the hours and days ahead.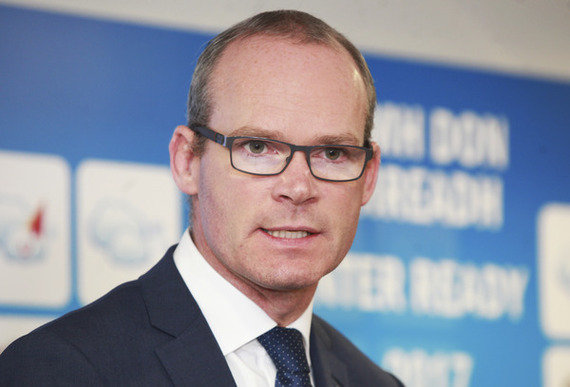 3
As U.S. officials arrived in Jerusalem on Monday for the transfer of their embassy from Tel Aviv, an Israeli government spokesperson told RTE that Ireland was invited to do the same.
Israel's Michal Maayan said, "Jerusalem is the capital of Israel. It's going to be the capital of Israel whatever future settlement we will arrive with the Palestinians."
But Ireland quickly rejected the Israel government's plea.
Within hours, Coveney said Ireland would not be moving its embassy to Jerusalem "unless and until there is a comprehensive agreement on a broader peace process."
He said that he thought it was "unwise" for the U.S. to recognize Jerusalem as the capital of Israel at this time.
"It is also unwise to move the U.S. Embassy to Jerusalem," he said. It was "inflaming an already very tense situation and relationship between Palestinians and Israelis."
The relocation of the U.S. Embassy has infuriated the Palestinians, who seek east Jerusalem as a future capital. They view the relocation of the embassy as a one-sided move that invalidates America's role as an impartial peace broker in the region.
Higgins expressed deep concern at the deaths and injuries arising from the continued violent confrontations at the Gaza border.
3
He said, "The escalating loss of life in Gaza is a tragic example of an unacknowledged failure of diplomacy. Now is the time for all of us to give voice to the yearning among our citizens for new thinking on achieving peaceful resolutions to the conflicts which challenge us all.  "What is urgently needed now are tangible steps to support a credible, internationally-led process towards peace and security in the region, which alone can bring a brighter, more inclusive future for all. 
"At this very dangerous moment in time for the Middle East, I call on all involved to return to meaningful diplomacy, to avoid escalation and show the utmost care and respect for international treaties and agreements."
Read more: Trump invited vicious anti-Catholic to bless new US Embassy in Israel