HBO's hit Game of Thrones is developing into Northern Ireland's biggest tourist attraction.
Record numbers of fans of the series traveled from all over the world to the North last year to visit their favorite locations from the TV show.
Top production sites included the Haunted Forest and the Kingsroad, and visitors spent an unprecedented £50 million sterling or €58 million euro in the North, estimates suggest.
Read more: A castle from Game of Thrones is for sale in Northern Ireland
New industry figures from Tourism NI show one in every six visitors were inspired to travel in 2018 because of Game of Thrones.
3
The Irish Times reports that fans came from every corner of the globe to see where some of the epic battles and nail-biting scenes from the series were filmed.
Latest estimates suggest that the total number of overseas Game of Thrones fans who traveled to the North last year hit a high of 350,000 visitors.
Read more: Calling Game of Thrones fans! How to travel Ireland and Westeros at the same time
John McGrillen, chief executive of Tourism NI, said Game of Thrones had dramatically "changed the perception of Northern Ireland" as a tourist destination.
He added, "It has been a phenomenal success and it has been fantastic for Northern Ireland to be associated with this worldwide success over the past 10 years."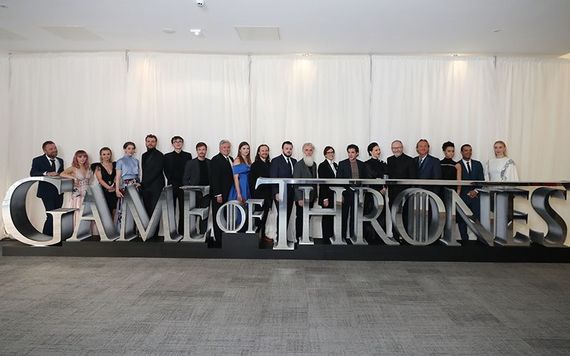 3
The Game of Thrones studio tour is due to open in spring 2020 at the Linen Mill Studios in Banbridge, Co. Down.
The 110,000 square foot interactive experience will give fans the opportunity to see behind the scenes how the series is made and feature many of the original props and costumes and sets from the show.
Tourism chiefs in Derry, meanwhile, are also hoping they can attract a new generation of screen tourists to the city by developing must-see attractions for fans of the television series Derry Girls.
Local area tourism manager Jennifer O'Donnell said the fact a huge Derry Girls mural, unveiled in the city center earlier this year, had already become an iconic picture opportunity for tourists and locals alike highlighted how the TV series, which is shown in the U.S. on Netflix, had quickly developed a cult following.
Read more: The ultimate Game of Thrones® travel guide to Northern Ireland