It's all over! Game of Thrones stars gathered in Belfast to celebrate the premiere of the final series, season 8 and there was a whole love of love in the room
Unless you've been living under a rock, you know that Game of Thrones debuted its eighth and last season on HBO last Sunday.  Two nights previous, the cast of the mega-hit converged on their Belfast home for the European premiere party. Belfast is where GOT was filmed, in Titanic Studios and also other locations throughout the North. The economic boom has obviously been massive, with fans of the show flocking to various exhibitions and sites marking the show's near decade of base camp in Belfast.
Read more: Stunning Game of Thrones stained glass windows unveiled for final season
"We feel honored and fortunate to call Belfast our home and we are forever joyful to be a member of the mighty Belfast family," said executive producer Bernadette Caulfield.
"Sadly, it is time for some of us to leave. However, we are leaving richer in spirit, richer in friendship and filled with pride for all we did here together, hand in hand with Northern Ireland.  We thank you, Northern Ireland, for the best years of our life."
Many of the show's stars were out in force for the Belfast party at Waterfront Hall. "As the drinks flowed the stars let their hair down after months of hard work on the set, joking and taking selfies," a report in The Belfast Telegraph said.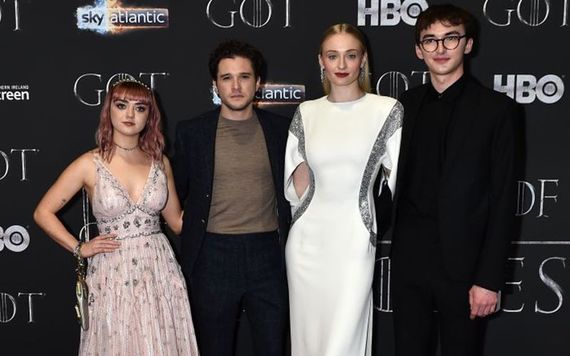 2
"At around midnight cast members departed the Waterfront for Belfast's luxury Fitzwilliam Hotel where a private function continued to 2 a.m."
Read more: 'Game of Thrones' gets the trad treatment from this Irish ceili band
The Irish Tourist Board has been all over the Game of Thrones phenomenon, naturally.  The agency unveiled a series of glass windows around Belfast on Monday to mark the show's ending.
"As season eight unfolds, six giant windows will appear around Belfast, immortalizing the show's epic battles, fire-breathing dragons, ice-blue white walkers and blood-red weddings in stained glass, giving fans from all over the world a brand-new Game of Thrones pilgrimage to visit and follow in the city where much of the hit show was filmed," a press release said.
Here's the Game of Throne's season 8 trailer: 
Read more: The ultimate Game of Thrones® travel guide to Northern Ireland