Irish American Breaking Bad star joked about his friend Farrell's antics on set of the 2012 movie, Total Recall.
Breaking Bad star Bryan Cranston and Colin Farrell definitely weren't seeing eye to eye for a while.  Cranston, who co-starred with Colin in the 2012 Total Recall redo, relayed an icky story to RTE last week about his friend Farrell, who he says probably gave him a case of pink eye when they were filming.
"We did the movie Total Recall and the fight sequence at the end of the movie was in a pool of water about 10 or 12 inches deep and we fought for two days in this thing," said Cranston, who was in Europe doing promo for his new film Isle of Dogs.
Read more: Seven things you need to know about Colin Farrell
"And I got pink eye in both of my eyes. Now the only way you get pink eye is through, how should I say this, fecal matter that gets in your eye.  Well, to this day I blame Colin Farrell for giving me pink eye. I don't know what he was doing in that pool, but it wasn't good."
That's a new and interesting theory from Cranston on how one can be infected with pink eye, right?  We're presuming he was speaking in jest, and for sure he and Colin are firm friends.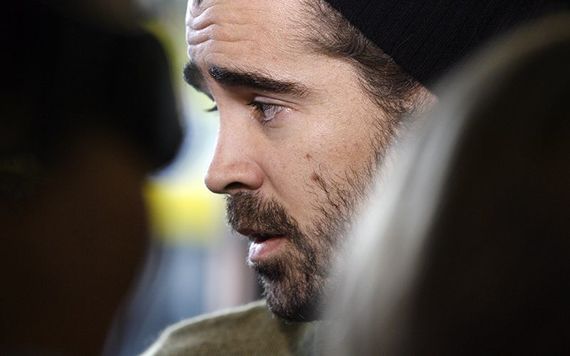 2
"I love that guy, he's a great actor and a real good dude and I would love to do a movie with him [where] we don't actually hate each other," he said.
Cranston did another Irish interview with the popular site Joe.ie, and recalled a charming pub experience he in Clare. He also revealed that some of his ancestors hail from Armagh and that he wants to plan another Irish visit to check out his roots.
O'Connell's in Doolin, Co. Clare was the setting on a Sunday afternoon for Cranston and his family. As Cranston tells it, "I kid you not, after I ordered some Guinness and had a little stew my wife says that within 20 minutes there was a child, a baby on my lap…his father was playing the skins and the band was forming…it was so trusting and so familial.  It's an experience that we don't have in the states very much.  There's an openness to it…a trust that was a very emotional experience to me."
Cranston added that, happily, the baby didn't require a nappy change during their bonding experience.
Read more: Colin Farrell checks into rehab after 12 years of sobriety
Here's the trailer for Cranston's new movie, The Isle of Dogs: