An Irishman who carried out a string of "predatory" sex attacks on women he met on Tinder has been jailed for 12 years.
"Tinder rapist" Patrick Nevin attacked three women in the space of eleven days after they had been texting each other on the dating app and by mobile phone.
Read More: Violent rape scenes in movie about Irish female convict spur controversy
The serial sex offender raped one woman and four days later subjected a second to a prolonged sexual assault in his parked BMW, after driving them down secluded "country lanes," reports the Irish Independent.
Tinder rapist Patrick Nevin used online dating scene to prey on women https://t.co/6G7C3rFPWR pic.twitter.com/YoBQcfSuH9

— Independent.ie (@Independent_ie) June 24, 2019
The 37-year-old, father-of-two pleaded guilty last year to the rape of a woman at Bellewstown, Co Meath on July 12, 2014, and to sexual assault four days later of a second woman at an unknown place in Co. Meath.
Passing sentence at Ireland's Central Criminal Court, Justice Eileen Creedon said the attacks were premeditated, predatory and callous and that "engaging in dating apps is not an invitation to rape and sexual assault."
Read More: IRA male rape victims call for government probe
Nevin is already serving a five-and-a-half year sentence imposed last year for the sexual assault of a Brazilian woman he met on Tinder.
That offense took place at the University College Dublin (UCD) campus on July 23, 2014, only weeks after she arrived in Dublin.
All three attacks took place within the space of 11 days.
First Victim
The first victim (26) said she agreed to meet Nevin after telling him she did not want to meet for sex or a "one-night stand."
Nevin picked her up at her home and drove for about 20 minutes to a remote back road in Meath. He parked up beside a graveyard and told the woman he knew this area and was known in Dundalk "and not in a good way."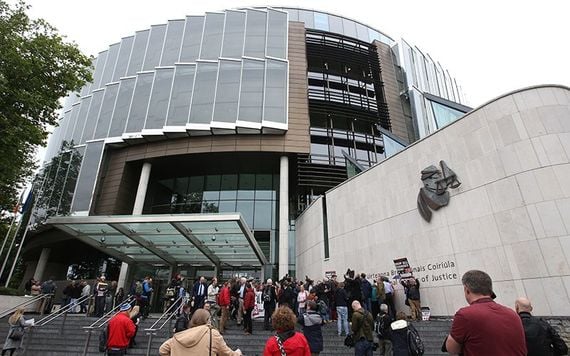 3
He mentioned the IRA and told her "don't worry I'm not going to kill you here."
After some consensual sexual activity took place the woman made it clear she didn't want to do anything else but Nevin then raped her despite her pleading with him to stop.
The woman told the court that the rape changed her life and had affected her relationship with her young son.
"To say I was terrified is an understatement. After he raped me I was convinced he was going to leave me for dead in that area beside an old graveyard."




"I had images running through my head of how he was going to kill me. He had the strength".
Afterward, he handed her tissues to clean up and drove her home. She asked him why he had done what he did, and he told her he "got carried way" because he "found her attractive."
The judge said it was clear the rape was callous and pre-meditated. It happened in a remote area, increasing the victim's vulnerability.
It was degrading, Nevin spat on the victim, and had chosen her on Tinder for his own gratification the judge said.
The fact the "cold pursuit" of the women happened within a short period of time showed a "remorseless attitude."
Second victim
Days later Nevin picked up the second victim (27) at her home having met online on July 2. He drove her to a country lane stopping near a graveyard where they kissed consensually.
After some kissing Nevin moved on top of her but the victim said she didn't want this. Nevin became extremely angry and began calling her a "mickey tease" and "c*nt" and told her she could get out and walk home if she wasn't going to have sex with him.
He told her that she "shouldn't have aroused me" and put her out of the car on a dark country road late at night and drove off.
He came back and told her to get back into the car and his mood seemed calmer.
Once back in the car he pinned her down and began to sexually assault her.
He continued his attack even after the woman suffered a panic attack and only stopped after ejaculating.
Read More: Son of leading IRA man jailed for rape
He then told her he had recorded it on his phone, which the court heard left the woman feeling embarrassed and worried about where the recording might end up.
The judge set a headline sentence of 15 years but reduced the sentence by one year to 14 years to take into considerations the guilty pleas and letters of apologies he wrote to the victims.
She suspended the final two years and ordered him to be subject to five years of post-release supervision.
As part of this supervision, she ordered that he abstain from physical performance and bodybuilding substances and refrain from using the Internet or dating sites to contact people.
Previous conviction 
Nevin has a previous conviction for assault on a former partner in 2001.
The court heard that he battered the woman's two dogs to death before punching and kicking the woman in a prolonged assault which only ended when he finally fell asleep.
3
He was jailed for seven years for this attack and released in 2007.
In April 2012 he was given a suspended four-year sentence for a firearms conviction.
The court heard that in April 2010 Nevin had failed to stop for gardaí after breaking a red light and during the garda pursuit that followed, he threw a stun gun from the car.
He was still serving this suspended sentence when he committed the sex attacks in July 2014.