How one Irish family found themselves battling addiction and fighting to stay clean in these dark days of the US opioid crisis. 
Mike Harvey and Maureen Cavanagh seemed to be living the American Dream. He was an Irish immigrant from Dublin, while she was an Irish American from New York City.
Mike had come to the U.S. with so many other Irish in the 1980s, fleeing economically-depressed Ireland. The couple ended up working at the same restaurant in Forest Hills, Queens.  
"It was like a Pogues song," Cavanagh recalled with a chuckle, in an interview with our sister publication the Irish Voice this week.
Mike turned out to be shy, but also reliable and sweet. There was just one problem. Mike liked his drink, and Maureen had survived a harrowing youth in Brooklyn and Queens because her parents - and even a grandparent - were addicts. Her parents lost custody of Maureen when she was just 16.
But Mike gave up drinking, and he and Maureen eventually married, raising two children of their own - Katie and Liam.
Read more: Irish American sister's fight to highlight opioid prescription abuse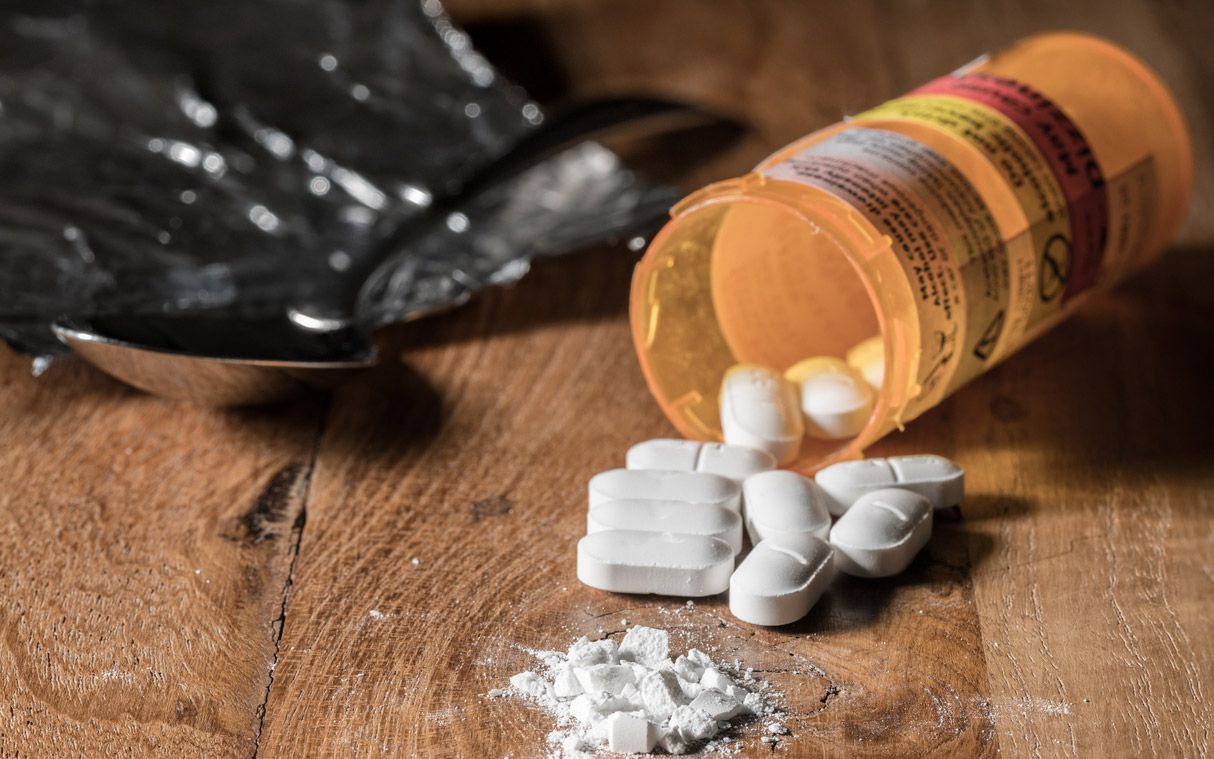 2
Fast forward two decades and Mike and Maureen are cruising dark, seedy streets in Quincy, Massachusetts, searching for Katie, who is addicted to heroin.  They are not sure she is still alive.
That frightening night in Quincy ended with Cavanagh finally making contact with her daughter - not physically, but at least on Facebook.  Yet it was one of many harrowing nights for Maureen, who chronicled her experiences in a recent book entitled "If You Love Me: A Mother's Journey Through Her Daughter's Opioid Addiction."
All in all, Cavanagh's daughter has been in and out of rehab as many as ten times. And Cavanagh's book came to a close, not with a happy ending, but with an acknowledgment that Katie, like so many Americans, was still struggling to get off drugs for good.
This week, however, Cavanagh told the Irish Voice things have gotten a whole lot better for her daughter.
"She's doing amazing.  She's got almost 18 months of sobriety. She's going to school … she's working.  She's engaged (to be married). It's pretty amazing," Cavanagh said during a phone interview from Florida.  
She travels across the country regularly now, since she founded Magnolia New Beginnings, which works closely with addicts and their families.
This is the longest stretch of sobriety Cavanagh's daughter has ever had.
"There's been nothing else even close to this," said Cavanagh, who also spent a decade working for Project Children, arranging for youths from Northern Ireland to visit the U.S.
The nature of opioid addiction is such that even an expert like Cavanagh cannot pinpoint why things finally seem to be succeeding with Katie.
"I wish I knew what it was," said Cavanagh. "I'd put it in a bottle."
In this sense, the Cavanaghs are comparatively lucky. They still have their daughter but there has been so much pain along the way.
There was the night when Cavanagh found a bent and burnt spoon at the bottom of the dishwasher.  Cavanaghconvinced herself that the kids had used the spoon to secretly fix something that had broken.
Read more: Opioid epidemic takes hold in Massachusetts - Irish pol has a plan
Then there is the time Cavanagh decided she wanted to wear her "good earrings."
Cavanagh wrote in her book: "I open my little box and look for the one really nice pair of diamond earrings I own … I pick up the top compartment and search underneath, not seeing them where they normally sit.  They're not here."
And the diamond earrings are not the only things missing. Cavanagh has to make a phone call she does not want to make. When Katie cheerfully answers the phone, Cavanagh realized "this is the last time I will ever hear her sound so innocent."
Cavanagh said: "My jewelry is gone, and I know that you took it."
Katie promises to get the jewelry back, one of many promises Cavanagh will hear.
Then there was the day in 2015 when Cavanagh clicked on a news article link reading: "Former Marblehead Honor Student Facing Prostitution Charges."
It turned out to be Katie.
More frustrating still, Cavanagh says, is there is no obvious reason why, no terrible trauma to explain, why her daughter turned to drugs in the first place.
Cavanagh says: "I think that's why it took us so long to figure it out."
Unlike Maureen, Katie was raised in a loving, stable environment, and was very close with her younger brother Liam, with whom she made several trips to Ireland.
Bloomberg said on Friday during his keynote address at The Bloomberg American Health Summit in Washington that he believes "we can turn the tide on this epidemic."
"And if we do," he said, "we can begin... https://t.co/9vMdNPZEKt


— Magnolia New Beginnings (@Magnolia01945) December 1, 2018

Katie's parents divorced, but remain "the best of friends."With things going better now, there is this question: Is Cavanagh able to let her guard down, or is she always thinking terrible news is just around the corner?
"I think I've learned an important life lesson in all this. We don't have control of what happens five minutes from now," answers Maureen.
"I just talked to (Katie) today. She was out buying Christmas presents and she sounded very happy. I've learned how to be happy at the moment."
Read more: Benefits of choosing to break an addiction
The latest grim statistics about opioid addiction and deaths do not surprise Cavanagh.  She says for too long Americans have taken a far too simplistic approach to addiction: "People give themselves every reason to believe that it can't happen to them, to their own child … But it doesn't matter. This can happen to anyone. We have to stop pointing the finger at someone else's child."
Cavanagh herself acknowledges that she once believed things were simpler - until she saw her own daughter's struggles up close.
"I thought she'd go in (to rehab) on a conveyor belt and come out the back all cured.  And it doesn't work like that."
Cavanagh adds: "The person can put in 110 percent (in treatment), but then they don't have any place to go, or they don't have a job afterward … Without that kind of support, the person can't make it … There has to be a societal shift in how we talk about addiction."
This week, Cavanagh goes from Florida to a speaking engagement in New Hampshire, before returning to her main working site in North Reading, Massachusetts.
She speaks regularly about the long-term needs of addicts, and the consequences of not offering all of the support they need. Addicts, she says, are too often set up to fail.
"And we shouldn't just write people off if they become addicted to drugs," she says.
Maureen Cavanagh, as well as her daughter, know this better than anyone else.
The Cavanaghs, of course, is just one of many families in the U.S. facing harrowing nights and constant relapses.
Last week, the U.S. Centers for Disease Control and Prevention released a devastating report noting that life expectancy in America had dropped for the second time in three years.
Three reports released by the Centers for Disease Control and Prevention last week showed that life expectancy in the U.S. has dropped for the third year in a row. https://t.co/dzm2eUYPZf


— KTAR News 92.3 (@KTAR923) December 4, 2018

CDC Director Robert Redfield said that life expectancy offers "a snapshot of the nation's overall health."
If that is the case, he added, these new statistics "are a wakeup call that we are losing too many Americans, too early and too often, to conditions that are preventable."
One factor is the drug epidemic ravaging many segments of the country, and which turned the lives of the entire Cavanagh family upside down.
"The opioid epidemic likely plays a large role in the continuing (life expectancy) decline … with a record 70,000 deaths linked to drug overdoses in 2017 alone," HealthDay reporter Dennis Thompson wrote last week.
"The age-adjusted death rate for a drug overdose in the United States increased 72 percent between 2006 and 2016, to stand at 19.8 by 2016. It then rose by another 9.6 percent in 2017, and now stands at 22 deaths per 100,000."
Maureen Cavanaugh knows how lucky she and Katie are to be not among the statistics.
Contact Sidewalks at tdeignan.blogspot.com.
What do you think needs to be done to battle to opioid addiction in the US? Let us know your thoughts in the comments section, below. 
Read more: From rock star to wreck - My life or death battle with addiction