A former member of the Defense Forces from Dundalk, County Louth, who had joined the Islamic State, in Syria, has been returned to Ireland and may face charges of membership in a terrorist organization.
Lisa Smith, a supporter of ISIS, from County Louth, could face up to seven years in prison, in Ireland, if she is charged with membership in a terrorist organization. 
The 38-year-old, former Air Corps member and mother of a two-year-old was arrested upon arrival at Dublin Airport, on Sunday (Dec 1), just after 10am.
She was brought to Kevin Street Garda (police) Station where she can be questioned for up to 72 hours. The Director of Public Prosecutions (DPP) and the Detectives from the Counter-Terrorism (International) section of the Special Branch have already compiled a large file on Smith, following months of investigation and interview. Their questioning of Smith in Dublin is the final part of the investigation. 
Smith's daughter is being cared for by her parents.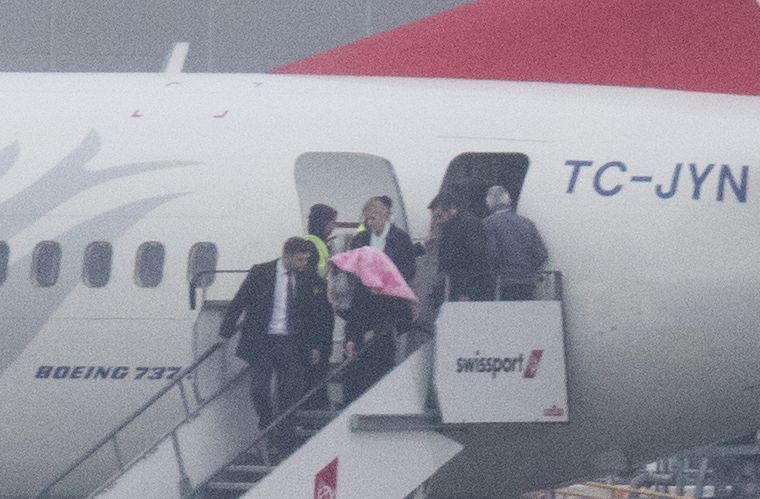 2
Charges of membership of terrorist organization
According to the Irish Times, the most likely charged that the DPP will impose will be members of an unlawful organization. This carries a maximum sentence of seven years. This charge was written up in 1939, to deal with the Irish Republican Army. In 2005 this legislation was expanded to include foreign terrorist groups. If charged Smith would be the first person in Ireland charged with membership of a foreign-based terrorist organization.
Law enforcement has also been investigating whether Smith was involved in the recruitment or training of terrorists. This could carry a sentence of up to ten years. 
Smith and her daughter were flown back to Ireland on a Turkish Airlines flight, from Istanbul. She was escorted on the flight by Department of Foreign Affairs officials and plain-clothes members of the Army Ranger Wing, along with a Turkish security officer. 
Coming up we'll be joined on the show by Lisa Smiths solicitor as she heads into her second day in Garda custody. Listen Live: https://t.co/vb7HpvKxTZ #pknt #LisaSmith pic.twitter.com/P32usGT3QQ

— Pat Kenny Newstalk (@PatKennyNT) December 2, 2019
Irish police released the following statement:
"Today, Sunday 1st December 2019, at Dublin Airport, An Garda Siochana has arrested an Irish Citizen on suspicion of terrorist offenses following her deportation from Turkey.
"She is currently being detained at a South Dublin Garda station under the provisions of Section 30 of the Offences against the State Act, 1939 as amended.
"A child, also an Irish citizen, was in the company of the female and is now being cared for by relatives."
A unique case for Ireland, prosecutors will also rely on media interviews Smith has given over the last year. 
Smith in her own words
Smith quit the Irish Defence Forces in 2011 having converted to Islam. In 2015, she traveled to Syria to join the Islamic State of Iraq and the Levant following the breakdown of her marriage in Ireland. She went on to wed a member of ISIS and gave birth to her daughter in Syria two years ago. In 2019, she was captured by the US forces in Northern Syria. 
In media interviews, Smith admitted to marrying an Islamic State fight and living under ISIS' rule. She also denied partaking in any terrorist activities. However, given Irish law, the charges against her will rely on the idea of "membership". 
Lisa Smith le ceistiú ag Gardaí arís inniu https://t.co/QnI432OJ6J

— ToghCon (@ToghCon) December 2, 2019
Earlier this year Ireland's Department of Justice said "By its nature and actions, [Islamic State] clearly qualifies as a 'terrorist group' involved in 'terrorist activity' or 'terrorist-linked activity', all as defined in section four of the Criminal Justice (Terrorist Offences) Act 2005 by reference to the EU framework decision on combating terrorism."
In spring 2019, Smith told CNN she's was "quite famous back home" and wanted to return to Ireland despite the threat of being sent to prison. 
She said "Well I know they'd strip me of my passport and stuff and I wouldn't travel and I'd be watched kinda—but prison? I don't know. I'm already in prison."
Speaking to the Irish Daily Mail in April, Smith said "I want to go back to my country.
"I wasn't a mother when I left. I came as a single person and I thought if I died here, I died, but when I had a child I became different, you know,' she said.   
"There was actually women teach[ing] their husbands like how to have classes, you know, of how to use the gun, how to do this, how to do that.
"I went to one class just to see how the woman was teaching, you know. Just to see what the woman was teaching, and she reminded me of what I used to know because I forgot everything, you know. But I didn't fight...
"My husband many times said to me, 'You want me to buy you one?' I said no. He said 'It's just for self-defense'... I said: 'I don't want, I don't want.'
 "I don't want to cause problems for anyone. I don't want to mix.
"I'm still me. I'm still like a good neighbor. I'm still a good friend. I'm just still me. I'm not, like, out to kill anyone. I don't believe in suicide attacks."
When asked if she would travel again to join such a group she insisted she would not and that is was her "biggest mistake".
Asked whether she would travel again to such a state, she insisted that she wouldn't as it was her 'biggest mistake'.      
In the event that Smith is released, police already have covert and overt surveillance plans in place. The police are also concerned that Smith and her family could be victims of vigilante actions. Officers in Dundalk, County Louth, have been ordered to up their patrols around Smith's family. 
Do you think Smith should face a prison sentence in Ireland? Let us know your thoughts in the comments section below.
Read more: Missing Irish dad feared murdered by Colombian drug cartel