The child of Irish American actor Donal Logue has gone missing and the actor, son of Irish parents, who stars in the Fox series "Gotham," is desperately looking for information.
Donal Logue took to social media on Tuesday, June 27 to ask for help in finding his 16-year-old, Jade, whom he says has gone missing.
"Missing - yesterday at 2PM Barclays Center/Fort Greene Brooklyn: my child, Jade Logue. 6'2" 180 lime green hoodie dark green military parka," he tweeted.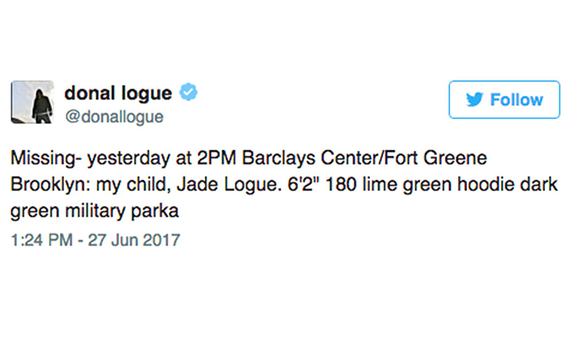 2
Logue has appeared on "Law & Order: SVU," "Vikings" and "Sons of Anarchy," is also the dad of son Finn. His ex-wife and mother of the children is Kasey Walker.
The NYPD has confirmed it is a missing person case, though there was initially some confusion about the name reported missing. Jade, previously named Arlo, came out as transgender last year and began changing her name on some social media sites to reflect this. 
Logue, 51, hasn't given out further information since his initial post.
Gossip.com reported that Actress Olivia Wilde, who worked with Logue on an episode of her medical series "House," tweeted, "Hey Brooklyn, if you've seen Jade, please let his father know." "Sons of Anarchy" creator Kurt Sutter also retweeted Logue's words, while Rosie Perez tweeted, "Hope he's found/safe," and suggested that the NYPD "contact @barclayscenter for video surveillance playback."
Logue is a veteran of stage and screen. His notable roles include starring in the film "The Tao of Steve," "Sons of Anarchy," "Vikings, the sitcom "Grounded for Life," the television series "Copper" and the detective series Terriers. He currently stars as detective Harvey Bullock in Fox's "Gotham" and had a recurring role in NBC's "Law & Order: Special Victims Unit" as Lt. Declan Murphy.
His parents are from Kerry. His father was a Carmelite missionary priest in Africa where he met his wife Elizabeth. Though born in Canada, Logue grew up in California and is an Irish citizen as well as American.
Jade is described as 6-foot-1 and 180 pounds. She was last seen wearing a green jacket, green hoodie and gray baseball cap, officials said.
Anyone with information regarding the teen's whereabouts is urged to call (800) 577-TIPS. All calls will be kept confidential.