Tánaiste and Minister for Foreign Affairs Micheál Martin spoke outside Dublin's GPO on Friday, February 24 to highlight Ireland's continued solidarity with Ukraine on the one-year anniversary of Russia's full-scale invasion. 
Martin joined the Ukrainian community group Ukraine Action at the event outside of the General Post Office (GPO) in Dublin on Friday afternoon
The event, which was supported by the Embassy of Ukraine, was marked with a minute's silence and speeches by government and parliamentary representatives present. 
Thousands attended the event, including Ukrainian Ambassador Gerasko Larysa. 
The Tánaiste, @MichealMartinTD, today addressed a commemorative event hosted by the Ukrainian community group, Ukrainian Action, and supported by the Embassy of Ukraine in Ireland, at the the GPO in Dublin.#StandWithUkraine 🇮🇪🇺🇦

Full speech 👉https://t.co/IDiTowljyX pic.twitter.com/LLyfH2gXOJ

— Irish Foreign Ministry (@dfatirl) February 24, 2023
Speaking at Friday's even, Martin described Russia's invasion of Ukraine as "unprovoked, unlawful, and unjustifiable."
"For the last 365 days, Ukraine has fought day and night to protect itself and defend its people," Martin told those gathered at the GPO. 
"In so doing, it has been exercising its inherent and solemn right of self-defense against Russian aggression in accordance with international law and the UN Charter." 
#Ukraine is part of our shared European family.

Ireland will be with you every step of the way to EU membership, and you can always count on our support.
 
Slava Ukraini! pic.twitter.com/ueNMjQLX9q

— Micheál Martin (@MichealMartinTD) February 24, 2023
"Ireland is a militarily neutral country," the Tánaiste said. "But we are not politically or morally neutral in the face of violations of international law and war crimes.
"Quite the opposite. Our position is informed by the principles that drive our foreign policy – support for international human rights, for humanitarian law and for a rules-based international order.
"The right of all countries to choose their own path.
"We are not neutral when Russia disregards all of these principles.
"No, we stand with Ukraine."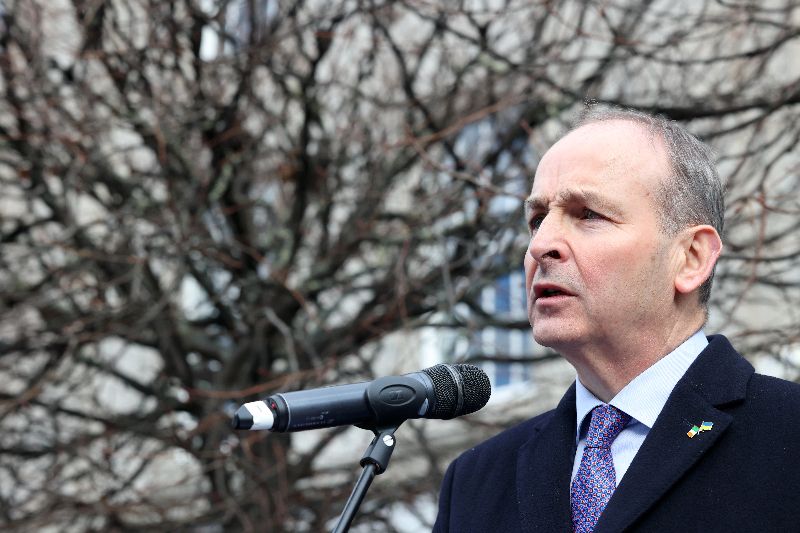 2
Martin added: "To those who have arrived here from Ukraine, I hope that you have found in Ireland safe harbour and friendship for as long as you need.
"Most of you, I know, look forward to the day when you can return to a peaceful and free Ukraine, to the family and friends you have left behind.
"That day will come.
"In the meantime, our home is your home."
On February 24, Ireland's Central Statistics Office said that there have been 74,458 arrivals from Ukraine in Ireland by February 12, 2023 of which just over 700 arrived the previous week.
Martin said he will "continue to advocate strongly" for Ukraine's membership in the European Union.
Concluding, the Tánaiste said Ukraine "can always count on our support," adding "Slava Ukraini!"
Dozens of other events will take place around Ireland to mark the first anniversary of Russia's invasion. 
On Thursday night, the Samuel Beckett Bridge in Dublin City was lit up in the blue and yellow of Ukraine's flag to show solidarity with Ukraine. 
A gathering will take place at Cork's Grand Parade National Monument at 4:30 pm on Friday, while Cavan Courthouse will be lit in blue and yellow colors on Friday night. 
A Wexford Light for Peace event will take place at Wexford Quay at 4:30 pm with the lighting of candles between the Irish and Ukrainian communities. 
Meanwhile, the Irish Government passed a motion in support of Ukraine on Wednesday, which expressed Ireland's "unwavering support for the sovereignty and territorial integrity of Ukraine."
The motion also condemned "without reservation" Russia's full-scale invasion of Ukraine on February 24, 2022.