Harland and Wolff, the iconic shipyard in Belfast, has gone into administration after "running out of money"
The historic Harland and Wolff shipyard in Belfast, famed for its construction of the ill-fated Titanic, has gone into administration after its parent company reportedly "ran out of money."
Read More: How Harland and Wolff's Belfast office is being converted into $36m Titanic Hotel
Despite being served redundancy notices on Monday, employees are continuing their round-the-clock occupation of the Belfast shipyard.
The Belfast Telegraph reports that Harland and Wolff's parent company Fred Olsen – now Dolphin Drilling — put the shipyard up for sale in December but failed to secure a buyer.
On Monday evening, trading for the 158-year-old company ceased as it went into administration under BDO Northern Ireland, who said in a statement: "Michael Jennings and Brian Murphy have been appointed as joint administrators of Harland and Wolff."
"Founded in 1861, the Belfast-based company has in recent years specialized in wind energy and marine engineering projects."
"After a long sales process, in which a buyer could not be found, the business has been unable to continue trading due to having insufficient funds following the recent insolvency of its ultimate parent."
"The team at BDO have engaged immediately with Harland and Wolff employees and other stakeholders to take all necessary steps to ensure they are supported throughout the administration process."
Read More: Titanic Belfast named top tourist attraction in Europe
Harland and Wolff's long history
Harland and Wolff was founded in 1861 by Edward James Harland and Gustav Wilhelm Wolff.
The shipyard went on to produce a number of the world's most famous ships, including most notably the ill-fated Titanic, as well as its sister ships Olympic and Britannic.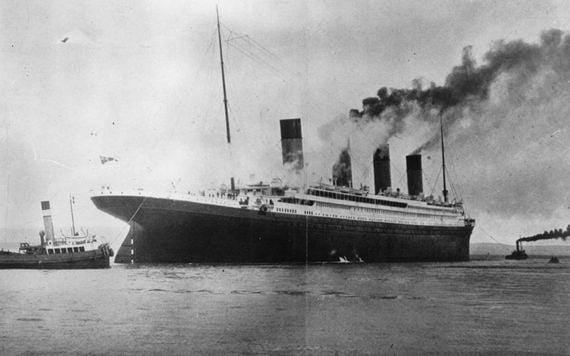 3
During its height in World War II, the shipyard employed some 30,000 people as it churned out some 150 warships during the effort.
In 1969 and 1974, respectively, twin yellow gantry cranes Samson and Goliath were erected on the Queen's Island portion of the shipyard. The duo has since come to serve as an iconic part of Belfast's skyline.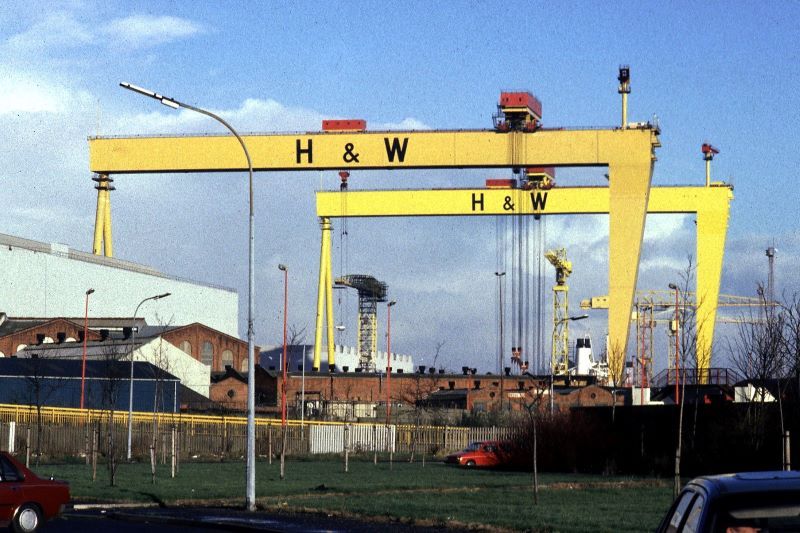 3
In March 2003, the shipyard launched its last ship, a ferry for the Ministry of Defense. Since then, the company has pivoted to "other areas of marine engineering, including oil rig refurbishment and offshore wind turbines."
Read More: Stunning decor salvaged from Titanic's sister ship for auction in Dublin
Nationalizing Harland and Wolff
Union organizers are calling for Harland and Wolff to be nationalized, insisting that it would be cheaper than going into administration.
However, BBC reports that British government officials have deemed Harland and Wolff an "ultimately a commercial issue."
Michael Mulholland, a senior representative at the GMB trade union, told Belfast Live that nationalization is not a long-term solution, but would rather be used "to stabilize the firm, not to retain it indefinitely."
He added: "I can't understand why the Government can't see that unless they have some ideological block against state intervention. But it's very shortsighted if they don't intervene as they will be left with the bill."
Susan Fitzgerald, a senior organizer at Unite union, told Belfast Live: "This isn't some socialist intervention being asked for here, this makes economic sense."
"Either the Government intervenes and keeps Harland & Wolff going, or the taxpayer will be left footing the bill. They will be the ones paying these workers' statutory redundancies, their dole."
Fitzgerald added: "And we've looked at the maths. There's going to be £10.8 million in wages taken out of the local economy, and that's before you even start looking at the supply chain. The alternative is they help these people until a contract worth £70 million is signed and see a boom in the economy as more than 1,000 people with good highly skilled jobs bring wages into the local economy. This is a very simple economic argument."
On Monday, a spokesperson for UK Secretary of State Julian Smith said he "has made it clear that he will continue to do everything he can to secure the future of this historic site and ensure workers' interests are protected during this difficult time."
Read More: Daughter of Irish immigrants survived the Titanic, Britannic, and Olympic disasters
Occupying the Belfast shipyard
Shipyard employees have been occupying the Belfast area for over a week and voted to continue to do so after they were served redundancy notices on Monday.
On Monday, shipyard employee Joe Passmore tweeted that "the fight is not over until we, the workforce, say it is:"
The fight is not over in Harland and Wolff until, we, the workforce say it is. We will not permit anyone to take our yard until they can convince us that they will provide belfast with a viable and sustainable future in shipbuilding, green energy development and heavy industry.

— Joe Passmore (@Joe63ni) August 5, 2019
Passmore repeated the sentiment in a separate tweet on Tuesday, saying "we're not finished yet:"
To my fellow workers at Harland and Wolff...Don't stop believing. Harland and Wolff is the soul of this City. We' are not finished yet! We will be re-born. Bigger, better and more powerful than ever.

— Joe Passmore (@Joe63ni) August 6, 2019
"We are a viable business," another worker told reporter Grainne Connolly:
 Harland and Wolff worker and union member Barry Reid says despite the shipyard going into administration, he still thinks it's a viable company @qnewsdesk pic.twitter.com/L1RPrn69m4

— Gráinne Connolly (@grainne555) August 6, 2019