Co Meath man Gary Reilly, 28, was found dead in California after reportedly ingesting fentanyl, one of the leading causes of overdose deaths in the US.
Reilly was found dead in an apartment in downtown Los Angeles with two other men, Jason Turnage, 47, and Mirko Salaris, 48, in the early hours of Thursday, May 5, the Los Angeles Times reports. All three men had ingested fentanyl.
Authorities did not release Reilly's name until several days after his body was discovered, according to the Los Angeles Times.
LAPD Officer Melissa Podany told the Los Angeles Times that police went to the apartment after one of the men's relatives requested a welfare check.
Neighbors in the building said they were shocked to hear about the incident. 
In recent days, Reilly's friends and family had launched an appeal across social media about the missing Irish man.
"Help bring Gary Reilly home!" the missing person poster being circulated online said.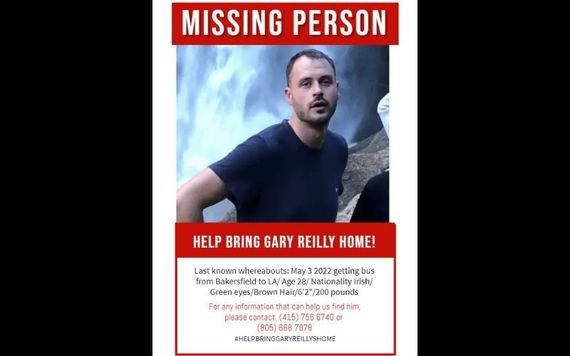 2
One Irish man wrote in his own Facebook appeal: "My friend Gary Reilly has been missing since Tuesday night 5/3/2022 he was getting the midnight bus from Bakersfield to Los Angeles and got ejected from the bus somewhere between Santa Clarita and Bakersfield."
Reilly was described as having a "thick Irish accent" and was said to be "traveling light."
"His family are distraught and would greatly appreciate your help in finding their son/brother," his friend said on Facebook.
The Irish Immigration Pastoral Center in San Francisco confirmed on Tuesday that Reilly had been located and that his family thanked all those who assisted in the search.
Gary Reilly's family has confirmed that Gary has been located. They would like to extend a huge thank you to everyone...

Posted by Irish Immigration Pastoral Center San Francisco on Tuesday, May 10, 2022
Reilly's friends remembered the Co Meath man fondly in the wake of his passing.
"Rest easy Gary Reilly, gone way too soon," one of his friends shared on Facebook on Wednesday. "Thinking of your family & friends at this sad time."
A former GAA teammate of Reilly's wrote that he felt "lucky to share the field with you for that short time. What a gent. Sleep tight big man."
Another said: "What a top bloke Gary was, it was a pleasure to meet him both at work and socially."
Reilly's friends have requested privacy for his family in the wake of his death.
Fentanyl, which is estimated to be 100 times stronger than morphine and is used to treat severe pain in medical settings, is one of the leading causes of overdose deaths in the US. 
The Centers for Disease Control and Prevention (CDC) reported on May 11 that overdose deaths associated with synthetic opioids (fentanyl) rose from 57,834 in 2020 to 71,238 in 2021.
66 percent of the estimated overdose deaths in 2021  involved synthetic opioids like fentanyl, the US Drug Enforcement Administration said.
"Fentanyl is the single deadliest drug threat our nation has ever encountered," DEA Administrator Anne Milgram said.
The New York Times notes: "Because fentanyl is a white powder, it can be easily combined with other drugs, including opioids like heroin, and stimulants like meth and cocaine, and can be stamped into counterfeit pills for anti-anxiety drugs like Xanax. Such mixtures can prove lethal if drug users are unaware they are taking fentanyl or are unsure of the dose."