Four missing women could have been buried on the grounds of the Tuam mother and baby home along with as many as nearly 800 children.
Nine women were recorded as having died in the home between 1922 and 1998 but there are no burial records for four of them, according to historian Catherine Corless.
Corless's research into the death certificates of 796 children who were at the home over a 36-year period led to the Commission of Investigation into Mother and Baby Homes confirming evidence of human remains in a mass grave at the site. She says the four missing women could also have been buried on the home's grounds.
Read More: New report says 796 Tuam babies might never be identified
Tuam Home Survivors' Network says that the cases of the women who may have been buried there must be included on any decision on the future of the grounds, The Irish Times reports.
3
The group has also said it is "very disappointed" that Minister for Children Katharine Zappone has referred responsibility to Galway County Council for stakeholder consultation on the future of the site.
Last week, Zappone published an expert group report outlining five options for the former site of the Bon Secours facility. A decision on the options, ranging from creating a memorial to continuing examinations on the site, has been deferred until after a three-month consultation led by Galway County Council.
Read More: Woman at center of Tuam babies story reveals her own sad past to NY Times
Corless along with network chair Peter Mulryan, who spent the first four years of his life in the Tuam home, have said that further investigation must be conducted.
Corless said she was concerned the government would resort to the "cheapest option," such as a memorial garden.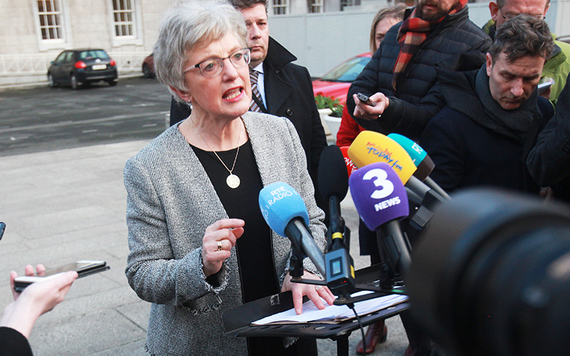 3
"I really feel there has to be further investigation, and that the Bon Secours should step in and pay for it," said Corless.
"There has to be accountability, whether these children died or were sent for illegal adoption abroad," she added.
Read More: Tuam dead babies scandal is only the tip of the iceberg
The network has also said that whereas the expert group had claimed it would be difficult to do DNA analysis on fragile newborn/children's bones, there would be no such issue with those of the adult women, if they are found to be buried there.
The four women who have no burial records were Bridget O'Reilly, mother of a son Martin Joseph, who died of measles on May 20th, 1947; Annie Roughneen, who was 42 when she died of TB on August 13th, 1941; Annie Donoghue who died in 1951; and Mary Joyce, who died of whooping cough and cardiac failure on August 25th, 1948.