Irish and American diplomats have held meetings with officials in the UAE in a bid to have Irish gangsters, senior Kinahan members, expelled from the country.
The news comes after US Ambassador to Ireland Claire Cronin claimed on Tuesday that the "noose" was tightening around senior Kinahan members. 
The Irish Mirror reports that Irish and American officials have held meetings with authorities in Dubai to have the Kinahans expelled from the emirate, with the Irish Embassy in Abu Dhabi heavily involved in proceedings. 
The Mirror further reports that authorities in Dubai have been slow to move against the Kinahans because there is no extradition agreement between Ireland and the UAE. However, officials at the Department of Foreign Affairs believe that the UAE will expel the Kinahans when they become a political problem. 
Christy Kinahan Sr. and his sons Daniel and Christy Jr. have reportedly been living in Dubai for several years and have hired Russian bodyguards to protect them. 
The US Department of State has placed a $5 million price on each of the three Kinahans, offering the reward to anyone who provides information leading to the arrest and conviction of Christy Kinahan Sr. and his two sons. 
Speaking after a meeting with Tánaiste Micheál Martin and US special envoy to Northern Ireland Joe Kennedy III, Cronin told reporters that the US remains fully committed to catching senior members of the Kinahan cartel. 
"I think we have seen since last April when we made that announcement, which was a state department-headed program, and we worked in conjunction with our partners and law enforcement, we have seen, for lack of a better word, the noose tightening a little bit around the Kinahans. There have been some recent arrests," Cronin told reporters on Tuesday. 
"I know that it has been a great example of cooperation between our governments and the multiple agencies involved. I am very pleased about the outcome to this point and optimistic as to where it will head in the future."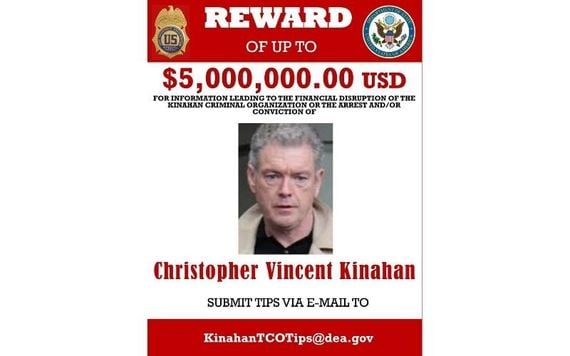 2
Irish, British, and US law enforcement recently launched a major joint action against the Kinahan cartel, releasing the addresses and passport numbers of senior Kinahan members to the public. 
Earlier this month, senior Kinahan member Liam Byrne, whose brother David was shot dead at the Regency Hotel in 2016, was arrested in Spain while eating at a restaurant with his family. 
The 42-year-old was wanted by Britain's National Crime Agency (NCA) after being connected to alleged gun-running.