Otto Skorzeny was one of Adolf Hitler's most trusted henchmen, lived as a farmer in County Kildare from 1959 following Conor Cruise O'Brien's intervention.
Following World War II, Irish politician Conor Cruise O'Brien lobbied for Otto Skorzeny, one of Adolf Hitler's trusted henchmen, to be granted an Irish visa.
The story comes as a major surprise as O'Brien has been lauded as a leading liberal figure whose anti-Sinn Fein attitude had enormous impact as he often referred to them as fascist. He was broadly praised in Israel for instance on his pro-Jewish state writings.
Skorzey was said to be Hitler's favorite SS member, a man who led several daring raids. He was tried as a war criminal but the case collapsed.
Now O'Brien's own support for the SS Nazi has become visible. It was O'Brien who introduced the notorious Section 31 of the Broadcasting Act banning Sinn Fein from the airwaves.
The Irish Times reports on the letter that O'Brien penned in which he asserted that Skorzeny should be granted a visa. The letter is included as part of the correspondence in the latest volume of 'Documents on Irish Foreign Policy 1957-1961.'
Read More: How Hitler's henchman became an Irish farmer after the war
In his June 1957 letter, O'Brien wrote: "Skorzeny, who is now stateless, resides in Spain."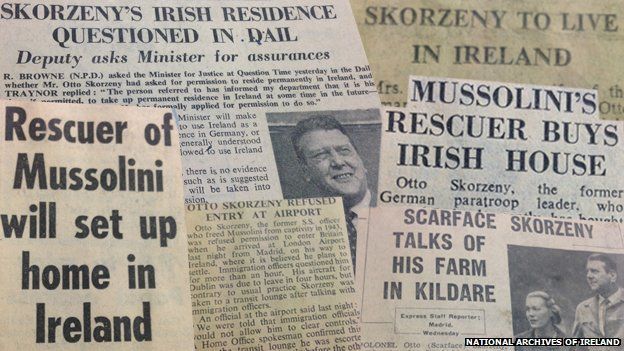 3
"He is on the UK Home Office Black List as an undesirable character. I think this means no more than that he made their faces red in the matter of Mussolini. We are not aware of any specific war crimes charges against him."
Skorzeny is perhaps best remembered for his role in rescuing Benito Mussolini after the Italian dictator was captured by Allied forces.
"I see no objection," wrote O'Brien, "either to the granting of the visa (if D/Justice assent, which they probably will on our recommendation)."
"Of course, if the Skorzenys come here there may be some adverse comment in the English popular press but I think we should be prepared to endure that with fortitude."
In response to O'Brien's note, Iveagh House official Eoin MacWhite wrote: "He [Skorzeny] is the focus of a lot of bitterness in the US for the 'werewolf' operations and whether or not guilty of 'war crimes' letting him settle here only attracts to us a part of that odium without any corresponding advantage."
Skorzeny was ultimately granted an Irish visa, and his reception in Dublin was attended by many high-profile figures, including Charles Haughey would go on to become Taoiseach.
Having his Irish visa, Skorzeny purchased a farm in Co Kildare in 1959 and began to seek permanent Irish residency.
3
Read More: Vatican priest who saved 1,000s from the Nazis died on this day in 1963
Supporting his bid for permanent Irish residency were Peter Berry from the Department of Justice's Peter Berry and Minister Oscar Traynor. However, minister of external affairs Frank Aiken strongly opposed it, and Skorzeny was ultimately denied permanent residency.
Below, a 2007 RTE documentary looks at the Nazis in Ireland. Otto Skorzney's story begins at about 38:00: