A group of Dalata volunteers set out on a 1,100km Charity Cycle around the Island of Ireland on Friday, in aid of the Marie Keating Foundation.
On Friday, September 1, a group of eight volunteers from Dalata Hotel Group, Ireland's largest hotel operator, set out on a 1,100-kilometre cycle around the island of Ireland in aid of The Marie Keating Foundation, Air Ambulance NI, and Leukaemia Care. They will be joined by other volunteers on various legs of the cycle as they aim to complete the challenge.
With a target of €30,000, the funds raised will support the early detection of cancer in Ireland, contribute to efforts that offer urgent care for individuals with serious injuries in Northern Ireland, and provide crucial assistance to patients and families in need of the Car-T treatment, a life-saving cancer immunotherapy delivered in a small number of hospitals in the UK.
Wheels turned at 7am in Dublin on Friday morning, as the cyclists set off from the Maldron Hotel Dublin Airport. The cycle will stop by several of the Group's hotels along the way, passing through Belfast, Derry, Sligo, Galway, Limerick, Cork, and Wexford before finishing on Friday, September 8 in the Clayton Hotel Burlington Road, Dublin.
"Marie Keating Foundation, Air Ambulance NI, and Leukaemia Care are charitable causes close to our hearts and we're thrilled to embark once more on this journey around Ireland in aid of our new partners," said Niall Macklin, Dalata Hotel Group Senior Manager and cycle team leader.
"This event underlines our continuous dedication to making a positive impact within the communities where our hotels are situated. It's truly wonderful to witness all our hotels engaging in fundraising efforts individually alongside the cycling initiative. We believe together, we are not just raising funds, but also inspiring positive change."
The mammoth cycle forms part of the annual Dalata Digs Deep initiative, which involves numerous fundraising activities at all 52 of the Group's hotels across Ireland, the UK and continental Europe, for the full month of September.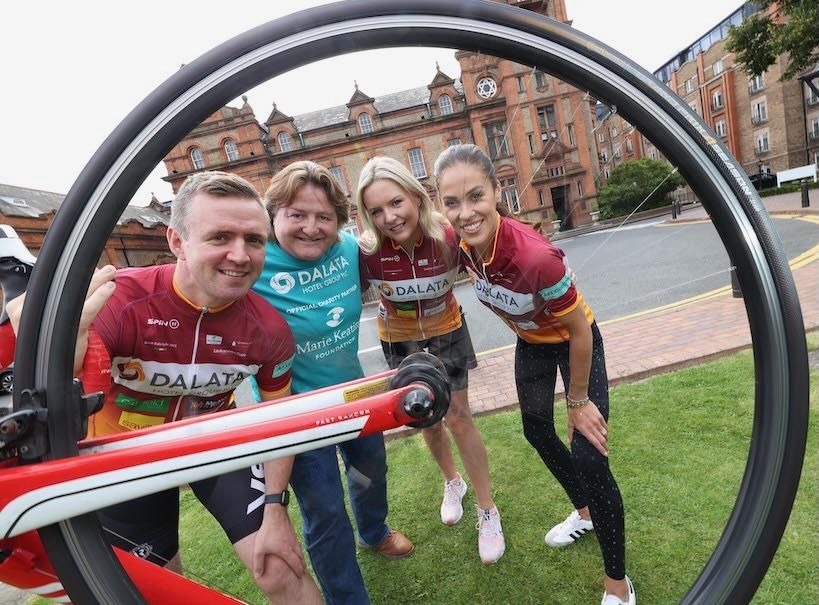 2
These fundraising activities have raised €1.77 million over the past 7 years, which also include corporate donations from Dalata Hotel Group. Previous charity partners, which have benefitted from the initiative include CHI Crumlin in Ireland and Great Ormond Street Hospital in the UK.
Linda Keating, Founder and Director of Fundraising the Marie Keating Foundation, said: "We are so incredibly grateful for the amazing support of Dalata Group and all the teams in each and every Clayton and Maldron Hotel around the country.  They are all coming up with fantastic ideas and are so dedicated to running events and raising as much money as possible for the Marie Keating Foundation.  Their support is allowing us to be there for so many people and their families at every step of their cancer journey.  They are also allowing us to reach the most underserved communities to bring vital information and advice to increase awareness and support the early detection of cancer.
"The teams in the Dalata hotels have engaged wholeheartedly in fundraising efforts and it is a privilege connecting with them through our partnership. We are so excited to support the incredible efforts of those taking part in the Great Dalata Cycle and all of the events and initiatives being organised by the amazing teams in Dalata hotels throughout the country. It is going to be a truly special Dalata Digs Deep Month."
As the cyclists embark on the Great Dalata Cycle for the fourth year, the fundraising team invites everyone to join its efforts and support these charities.
Supporters can contribute to this year's fundraising campaign online by visiting https://www.idonate.ie/event/greatdalatacycle2023.