The first Irish woman to complete a marathon in all 50 states, Rose O'Sullivan from County Offaly, has her sight set on Yonkers Marathon in October.
Rose O' Sullivan had a relatively late start to her running career – she competed in her first marathon in 1999 at 48 years of age. She certainly made up for lost time in the intervening years, running across all 50 states and five different continents. Now, aged 67, after recently completing her 100th event, has her eyes set on the Yonkers Marathon in October.
The very thought of a marathon can leave many people feeling exhausted. At over 26 miles (42.195 kilometers), a marathon is an excruciating feat of physical endurance that tests both mind and body.
For Rose O'Sullivan, who in 1999, at 48 years of age, undertook her first marathon, things are different.
Read more: Irish Yonkers community center hosts suicide and awareness prevention workshop
Now 67-years-old, Co. Offaly-born O' Sullivan's running exploits are nothing short of inspirational – having completed over a century of marathons in the intervening years.
Rose is believed to be the first Irish-born woman to have run a marathon in all 50 states of the USA. She completed her 50th state – New Mexico – which coincided with her 100th total marathon, in May 2018.
In addition to this incredible achievement, O' Sullivan, who now lives in Greenwich, Connecticut, has also competed in marathons across five continents – North America; Europe; South America, where she completed what she describes as her most difficult marathon in mounting Machu Pichu in Peru; Asia, where she ran along the Great Wall of China; and even made her way along the polar terrain of Antarctica!
She has no intention of stopping there, though, as she has now set her sights on the Yonkers Marathon, on Sunday, October 21.
The Yonkers Marathon, which began in 1907, boasts of being the second longest-running event of its kind in the USA with only the Boston Marathon (1897) being older.
It's an event that O' Sullivan is well accustomed to – having run it eight times previously - and she admits, it's not easy.
"This will be my ninth time running the Yonkers Marathon. The terrain is tough – it's hilly, but it is doable!"
O' Sullivan is running the Yonkers Marathon along with Team Aisling, a group of runners raising funds for the Aisling Irish Community Center in Yonkers, New York.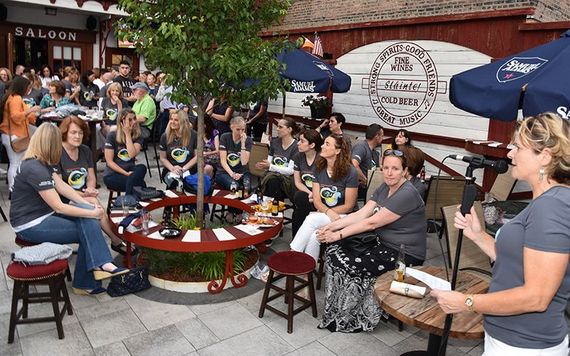 2
The Aisling Center is an invaluable resource for many people and offers assistance for those who are vulnerable due to age, mental health, immigrant status, and other factors. They hope to raise $100,000 through the marathon, and people like O' Sullivan are helping them raise these much-needed funds.
O' Sullivan's first marathon - and the one to this day she considers her favorite - was the New York City marathon in 1999.
"I was 48, and to be honest, I hated running! A friend of mine completed a marathon, and I thought it was so impressive, and I was inspired by that."

"I began training myself, and I found it to be a fantastic mental release. I completed a half marathon, and then decided to go further, and worked up to my first full marathon in November 1999."
Since then, her running has seen her travel the world. She takes a minimalistic approach when it comes to technique. "I don't listen to music, I just observe the world around me – I'm in the zone. I don't even wear a watch, I just focus on running. I find it to be a spiritual experience", she says.
Even though at this stage she's a very established runner, the mother of 5 would not like to see any of her children take part in a marathon.
"Running is HARD! I tell my kids 'don't do this'. If they were doing a marathon, I'd be very worried and upset for them, because it really isn't easy. It's not to be taken lightly as far as your training is concerned, you need to be prepared."
Long-distance running requires enormous physicality, so how does O' Sullivan prepare for marathons? It's a combination of cardio, upper-body workout and sticking to a schedule.
"I work out with a trainer in the gym and focus on my upper body as running for so long requires you to be strong all over, not just when it comes to cardio. I try to do yoga and Pilates as well – it all happens alongside the running."
You would be hard-pressed to find somebody better placed to give advice to those considering running a marathon, and Rose advises to take a sensible approach and to be aware of what your body can do.
"If you're running a marathon for the first time, don't focus on your time – instead, focus on covering the distance," she says.
"If you are a first-time marathon runner, don't put a time on yourself. You don't know how, on the day, you will feel. If you are trying to achieve a certain time, you will be applying extra stress to yourself in addition to trying to complete the distance. In future runs, you can change this, but for your first one, go out, finish, set a base time that you can build on, and enjoy yourself."
Visit the Aisling Center website at aislingcenter.org to find out more about Team Aisling and the Yonkers Marathon, as well as how to make a donation to the cause or to become part of the team.
Read more: How a young Irish immigrant got his start in America thanks to Tom Moran
This article was submitted to the IrishCentral contributors network by a member of the global Irish community. To become an IrishCentral contributor click here.