On Sunday, June 25, Irish LGBTQ group Lavender and Green Alliance Muintir Aerach na hEireann marched as part of New York Pride 2023.
Brendan Fay from Drogheda, Co. Louth, who founded the group in 1994 said, "People cheered when they saw our banner, Lavender and Green Alliance/Muintir Aerach na hEireann. 
"We held posters of Robert Rygor (1953-1994), Mark Ashton (1960-1987), Father Mychal Judge of 9/11 (1933-2001), Oscar Wilde (1854-1900) Lyra McKee (1990-2019), and others. We remembered our friend Christopher Cook who died this past March.
"We remember and celebrate those who made the road for equality here and in Ireland. We remember those whose lives were cut short by AIDS, indifference, and anti-LGBT violence." 
The group held rainbow-colored BRÓD (Gaelic for pride) signs.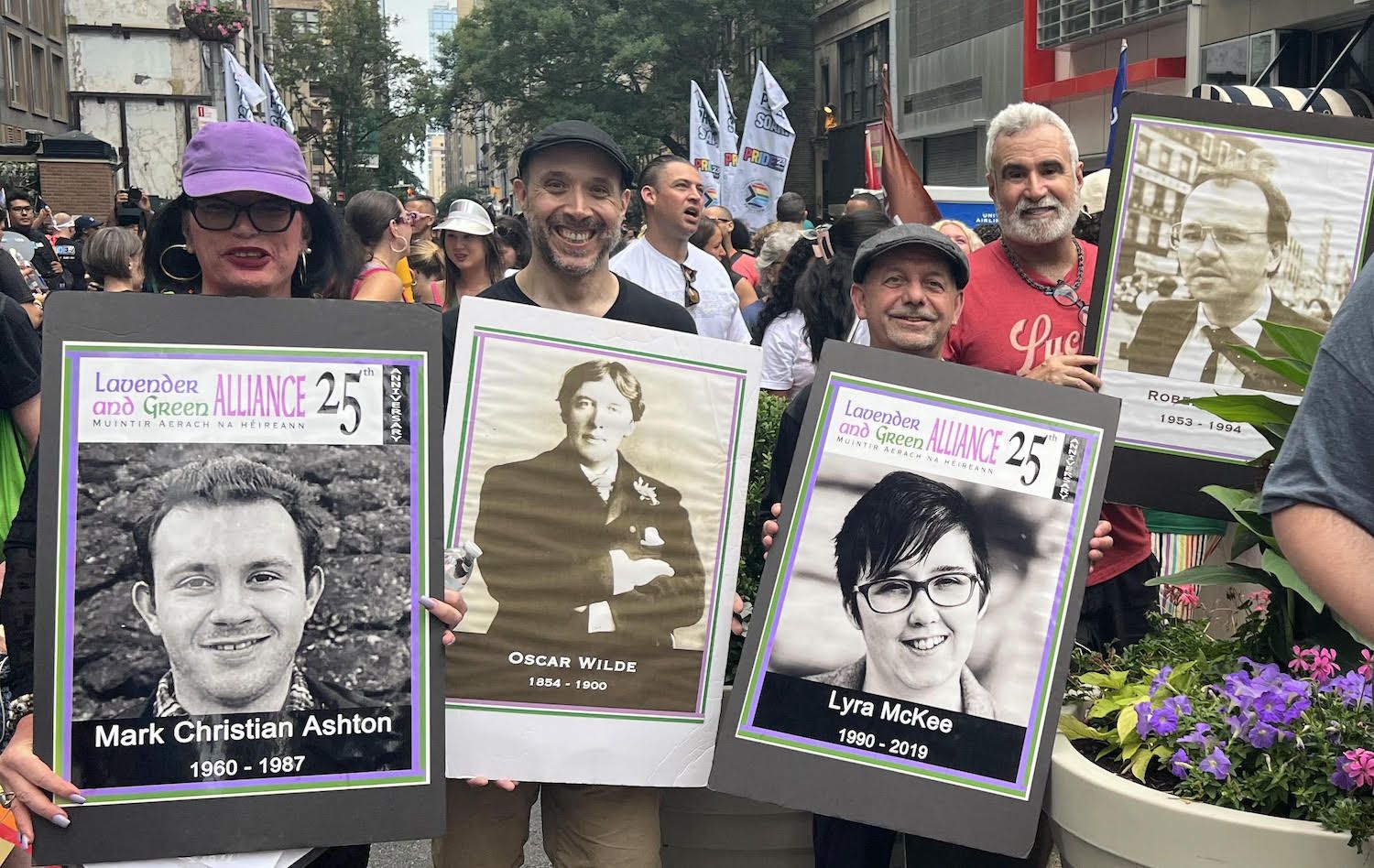 2
Joe Belfatti, thanking Lavender and Green wrote, "As soon as I saw that Oscar Wilde sign, I grabbed it! I love Oscar Wilde. His wit is legendary; his epigrams are unparalleled, his story heartbreaking and essential to any discussion of LGBT rights!"
Veteran WBAI radio journalist George D. Reilly joined and had stories of covering the early years, including the arrests of Tarlach MacNiallais (1962-2020) with  Fay at the Fifth Avenue St. Patrick's Day parade, and the AIDS advocacy of Robert Rygor and his parents Stanley and Kathleen.
Maya Milton, whose family comes from Dublin and is a transgender organizer said, "It's important to come together and be visible when our human rights and our lives are under attack. I am proud to be a transgender Irish American and feel blessed to march with my friends in Lavender and Green Alliance."
Fay said, "As with every Pride march we meet immigrants who have just arrived as well as elders and youth from across the city for whom this is their first time to be out and open. This is a huge moment and profound personal experience of relief and joy.
:In power and pride we come out together and rise together. We raise our voices in solidarity and friendship for our LGBTQ communities in New York, Ireland, Florida, Uganda, Poland, Ukraine and across the world."
The Irish Consulate in New York also had a marching unit in Sunday's Pride parade. 
"What a thrill to participate in yesterday's incredibly joyous March on 5th Ave.  Thanks to all who joined in celebrating Ireland's transformational journey on equality and our commitment to protecting and promoting LGBTI communities around the World!" the consulate posted on its Facebook page.