Only eight months into construction and the final beam has been placed on top of the Irish Arts Center's new structure. 
New York's Irish Arts Center has celebrated the topping off on its very new building in remarkable fashion.
More than a decade in the making, construction on the IAC's new home began eight months ago with the demolition of the original building and several weeks ago, the steel was brought in to begin assembling the superframe that will become the new center for all things Irish Arts in New York. 
Read more: Historic day for the Irish in New York as the Irish Arts Center breaks ground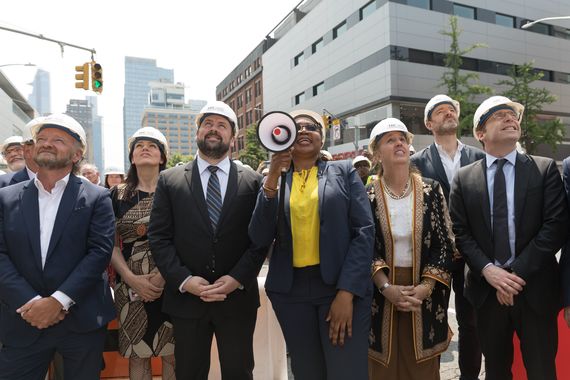 3
On June 5, the final beam was raised, as steelworkers slotted the last piece into place to applause from the expectant crowd. A major milestone in the creation of the new center, the topping off was a beautiful moment in the already important history of this New York home of Irish culture. The final beam was signed by IAC staff and board members before triumphantly taking to the skies sporting both the Irish tricolor and the Stars and Stripes.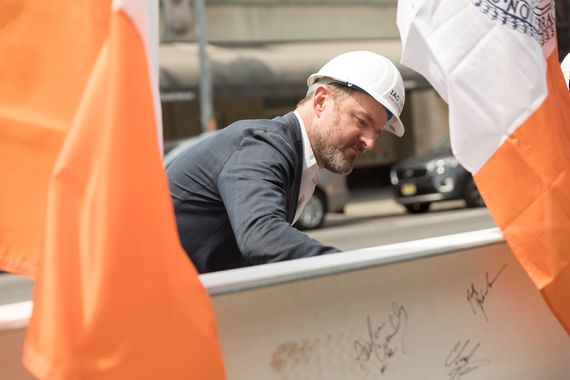 3
The historic moment was captured beautifully in the video below as IAC Executive Director Aidan Connolly paid tribute to the construction workers who have kept the project on track and on budget throughout the first eight months in the demolition, excavation and foundations phase. 
Read more: Irish leader pledges $2.5m as New York Irish Arts Center hits its funding goal
The new structure was ready just in time for a follow-up visit from Irish Minister of Culture, Heritage and the Gaeltacht Josepha Madigan who attended a site dedication alongside Consul General Ciaran Madden. 
Minister Madigan had visited the site just last January and only five short months later, was greeted with incredible progress. 
On Thursday, October 11, 2018, Irish Arts Center commenced construction on a new cultural facility at 726 11th Avenue.
The new building on 11th Avenue will house a new, state-of-the-art, flexible theatre for multidisciplinary performance, installations, residencies and special events; a ground floor café and visual arts display space; studio and library classrooms to support education and artistic development; a multi-floor atrium; four dressing rooms and back-of-house facilities; production and operations offices; an excavated basement and roof for mechanical and electrical systems and storage; and technological capability to support an expanded digital platform. 
The new building is expected to open by September 2020.  
Have you visited the Irish Arts Center? Let us know in the comments section, below.