3 Dollar Bill, the largest LGBT-owned and -operated club in New York City, is the project of Kerry woman Brenda Breathnach. 
Some Irish bars have traditionally functioned like shadow consulates. In them, you can meet influential immigrants from home who will share your cultural shorthand, some of whom can help you find a place to stay, somewhere to work, and even a sports team to play on.
Unless you're LGBT, that is. Traditionally the underground networks have been as conservative as the County Associations and Irish Pastoral Centers. You could quickly find your welcome wasn't as enthusiastic, your calls could go unreturned when the word got out - and it always got out.
Read more: Being transgender in Ireland – An explainer for those who were too afraid to ask
7
But this year, for the first time ever, there's a vast new 10,000-square-foot bar and night club called 3 Dollar Bill that really wants to LGBT Irish people experience New York City on their own terms.
As the Kerry-born owner Brenda Breathnach, 54, (who got her start at An Beal Bocht in the Bronx and who later took over the Phoenix in the East Village) says on the club's web page, "We are very proud and excited to open our doors and welcome the community into a space that represents our commitment to inclusion and the celebration of queer identity. We are a space for joy. We look forward to providing this unique outlet that will allow everyone to express themselves as their fullest, most genuine, selves."
Read more: How Brooklyn's St Patrick's Day Parade showcases the changing culture in Irish America
7
First and foremost 3 Dollar Bill, located in East Williamsburg, is simply a welcoming Irish-run LGBT venue, a place to be among your own, in the search to find friends or romance or perhaps a life partner – and, you know, a little joy. 
But it's more than that, it's also the result of Breathnach's lifelong commitment to carve a space for Irish queer experience in the wider life of the community here, and the favor is already being returned.
7
Back in April 2019, on a Friday evening the Queen of Ireland and bonafide national f***king treasure, drag queen Panti, performed her first of two shows heralding a dramatically changed Ireland and the arrival of this exciting new space – the largest LGBT-owned and -operated club in New York City - simultaneously.
A young crowd was waiting outside on a rope line on the night and Panti's show was sold out, a measure of the success of this huge Irish LGBT-owned and operated bar and club and of Breathnach's remarkable commitment to making it succeed.
Onstage Panti told her life story, with tons of extra volume and glitter, to a rapturously applauding audience, but beforehand many of the bar and night club's less flashy customers were also telling their own stories to each other with only slightly less panache.
7
That's because 3 Dollar Bill is allowing people who have long lived in isolation from their wider Irish community and each other to find a new forum, a place to truly be themselves, in a place where it's actually safe to be. For that reason alone it deserves the plaudits it's winning.
Bringing her "old lady glamor" to the night's events Panti, who championed marriage equality in Ireland for years before it became a real prospect, announced in her first show that she is herself engaged to be married this summer, though she demurred to say who to.
After a soft opening last year, 3 Dollar Bill quickly found its stride with a popular party called Sutherland. Then the legendary nightlife veteran Susanne Bartsch crossed the bridge from Manhattan to stage her monthly party Play Now to put the club on the map.
7
But first and foremost Breathnach wants the Irish LGBT community and its allies here to understand that it is their space, the place to congregate in good times and bad, for discussions, performances, rallies and of course dancing – you can even get hitched here, and some have. Think of it as your local LGBT Irish community center and understand that when they say all are welcome they mean it, she says.
Dating from the 1860s, the huge space has a lived-in feel that is offset by the refurbished interior, which boasts a concert hall and dance floor with a 50-foot ceiling and disco lights.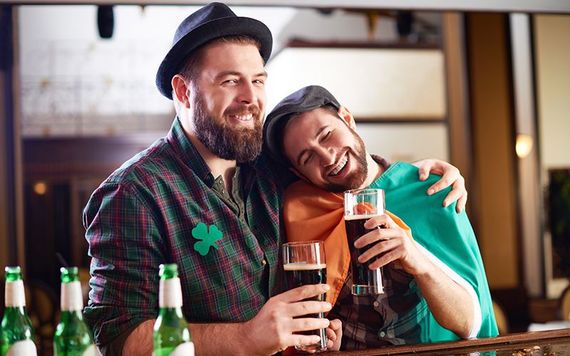 7
It was the perfect venue for the Panti, a walking mission statement of the progressive new Ireland, and a place for her to reflect on the Irish LGBT communities long journey out of exile.
"Once upon a time a man from my home town of Ballinrobe, County Mayo wrote to me and said that the women of my town would say, 'Poor Finn (short for Fionnula). She had not one but two gay sons. Poor, poor Finn,'" she told the audience in a rare moment of sincerity. "But nowadays they say, 'Lucky Finn,' she concluded.
And the audience rose to their feet.
Read more: Plan your Irish LGBT vacation or wedding here
3 Dollar Bill is located at 260 Meserole Street, in East Williamsburg, Brooklyn.
* Originally published in April 2019.