As concerns grow of a no-deal Brexit, an Irish ex-diplomat has said issues Britain would normally take seriously are "disregarded if it comes with an Irish label."
Former Irish diplomat Séan Ó hUigínn served as joint secretary of the British-Irish Secretariat in Belfast; led the Anglo-Irish division in the Department of Foreign Affairs; and served as Ireland's ambassador to five different countries, including the US.
Speaking to the Irish Times, the now retired Ó hUigínn says he views Brexit as a policy that "seems unhinged."
"The British do not engage very willingly with or about Ireland," Ó hUigínn told the Irish Times. "Burke said that the English have only one ambition in relation to Ireland, which is to hear no more about it. And that is still not a bad working maxim if you want to analyze British relations.
Read More: Brexit Boris could call election and ditch Northern Ireland Unionists
"When they have to focus on it, there is another mechanism which comes into play which I would call the Irish anomaly. Something that would be taken very seriously in another context can be disregarded if it comes with an Irish label. The Border is a classic example of this.
"Why didn't the British focus on the fact that they had an extensive land border with the European Union? The answer is that it was in Ireland. It wasn't serious."
An example, he said, comes from statements former UK Brexit secretary David Davis made just days after the signing in December 2017 of the initial Brexit joint report first containing the backstop, the deal to maintain a soft Irish border after Brexit.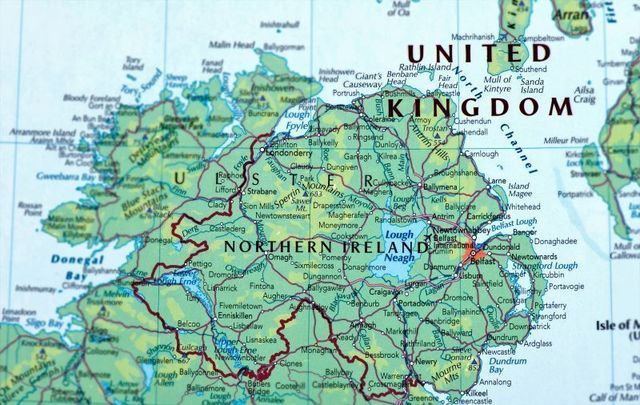 2
Davis told the BBC the backstop was "much more a statement of intent than it was a legally enforceable thing."
"He gave a very broad wink to the British public," said Ó hUigínn. "This is Irish stuff. Don't take it too seriously. And I think there's a kind of psychological shock among the Tories that the Europeans don't seem to grasp this fundamental convention."
Other diplomats agree with Ó hUigínn.
Michael Lillis, a former diplomatic adviser to Garret Fitzgerald and a negotiator of the Anglo-Irish Agreement, said there have been "numerous very difficult moments" and "a lot of obdurate, of almost blind attitudes by the British."
Lillis believe British Prime Minister Boris Johnson will lead the UK to a no-deal Brexit in October, whereas Ó Uigínn said "they will crash out or they will leave, certainly".
"I think Boris Johnson is determined that there will be no issue between himself and Brexit as he goes toward an election," he added. "And that's why he has to avoid the practical stuff which is messy and go for the Agincourt."
Paddy Teahon, who was secretary general at the department of the taoiseach between 1993 and 2000, said: "If you listen to Boris Johnson, they want out come what may. And, really, we are very much at the receiving end. So I would have thought that's that, in the sense."
If there is a crash out Brexit, Ireland and the UK will have no choice but to pickup the pieces and "reset relations."
"You still have to work through it," said Teahon. "We're obviously going to relate to Britain possibly in a different way going forward. There's relations with the EU which arguably will become even more important to us, but different."
Lillis said there is "no other possible way forward" than for both Ireland and Britain to work together.
"Will we have to work through a hard Brexit before we get down to serious business again. We will have to work with the British and they with us to get out of the present unfortunate situation."
Regarding Anglo-Irish relations, Ó hUigínn said there is "nothing for it except as patiently as we can, and as constructively as we can, try not to break any relationship that we don't have to".
Read More: Why Britain still can't treat Ireland as an equal
"Avoid any sort of provoking the beast or tweaking the tail or anything like that. And then just wait for the exaltation to subside," he told The Irish Times.
"I think the great Mr Johnson – not Boris, but Samuel – said nothing odd lasts long. And what's happening British politics now is so odd, it will not last long.
"And it's trying to be poised as best we can for what comes afterwards and I think, by instinct, both the population here and the Government would want to be as constructive as possible."