Members of Dublin City Council walked out after the Lord Mayor put forward the request to award the Freedom of Dublin City to former president Barack Obama and his wife Michelle.
Lord Mayor Brendan Carr put forward the request at the council meeting on Monday evening. His request sparked a heated debate but it was passed by a narrow margin. Once the decision was announced People-Before-Profit councilors John Lyons, Andrew Keegan, Tina MacVeigh and Hazel de Nortuin walked out of the council chamber. The vote by passed by a majority with 30 councilors supporting the proposal and 23 voting against.
Those against the decision said they believe awarding such an honor to a president who "presided over growing inequality at home, mass incarceration and deportations and ongoing wars in the Middle East" was an insult to the people of Dublin City, the Irish Independent reported.
Councilor John Lyons said "We walked out for about 30 minutes as a symbolic gesture for those who are now being targeted by a US cabinet and President that are a direct result of Obama's record.
"While he is a great user of rhetoric, the actual reality of his record is one of causing death, destruction, hardship and misery both in the US and across the world.
"The Freedom of Dublin shouldn't be so frivolously awarded to a man which such a bad record."
Anti-Austerity Alliance Councilor Michael O'Brien released a statement saying "Lord Mayor of Dublin, FF, FG and Labour Councilors spit on the graves of thousands of drone victims by awarding Obama Freedom of the City of Dublin."
Mayor Carr also voiced his reasons for requesting that the honor be bestowed on the Obamas. He said "In light of the recent draconian decisions being taken by his successor President Donald Trump, I believe it is more important now than ever that I proceed with this proposal.
"In addition, I am also proposing that the City Council recognize the inspirational role on human rights played by First Lady Michelle Obama by also awarding her the highest honor we can grant – the Freedom of Dublin City.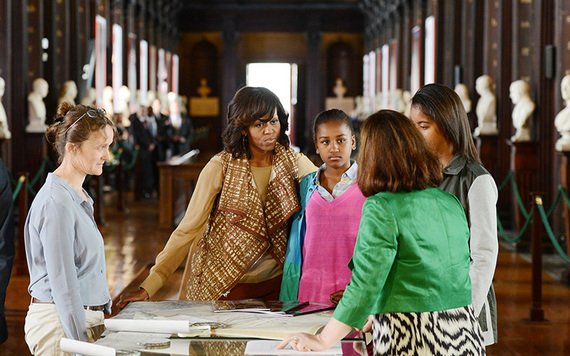 3
"While I'm aware some Councilors may have reservations over failings of US foreign policy during the Presidency of Barack Obama, I believe he and Michelle, through their promotion of the rights of refugees, humanitarian causes campaigning on behalf of women's rights and focus on improving international relations with several States did point American society in a progressive direction.
"I believe awarding the Obamas, a couple who consistently spoke in support of these principles, the Freedom of the City would be the most powerful way we could make a statement on their importance at this time."
Carr told the Irish Times that he was "not proposing that we canonize the Obamas, or declare Barack Obama's presidency a success."
He said Obama would be remembered as a "stabilizing and moderating" influence on US foreign policy and added "a similar era, unfortunately, will not be experienced again for some time."
An official invitation will be issued to the Obamas though it is not clear if they will attend the ceremony. In recent years the Freedom of Dublin City has been awarded to figures such as the artist Louis le Brocquy, homeless campaigners Peter McVerry and Kevin Crowley and sporting heroes Brian O'Driscoll and Johnny Giles.
Nearly six years ago the Obamas were greeted by a crowed of over 60,000 at College Green in Dublin. He spoke warmly about the strong relationship between the United States and Ireland.
During his trip to Ireland he went on to visit his ancestral home of Moneygall, County Offaly, and developed a relationship with several members of his family including Henry Healy.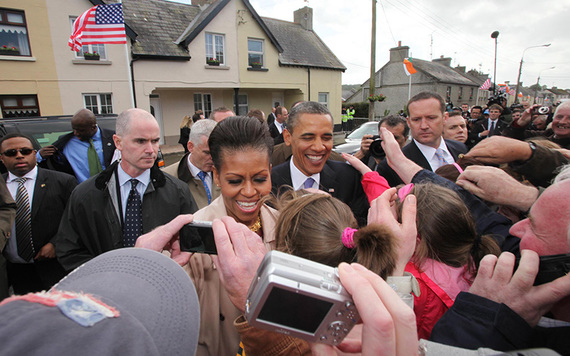 3
His cousin, Healy, told the Times that if "the president is coming back to Ireland and we would be hopeful he will pay another visit to Moneygall…He has Irish ancestry here so we're very much looking forward to having him down again."
Recently the former United States Ambassador to Ireland Kevin O'Malley said Obama was planning a trip to Ireland in 2017. No details have been released.
Read more: "Tell them I'm coming" - President Obama planning Ireland visit