Nancy McCarrick, Annie McCarrick's mother, said she still desperately wants to know what happened to her only child and she would like her remains brought home to New York.
Annie McCarrick disappeared without a trace in Dublin nearly 30 years ago on March 26, 1993.
The 27-year-old, who arrived in Ireland six years earlier to study, was last seen on a day trip to Enniskerry at the foot of the Dublin-Wicklow Mountains.
"I couldn't imagine that she could still be alive," Nancy McCarrick, who will be 80 later this year, told the Sunday Times from her home in Bayport, Long Island.
"I did for a very, very long time, but not unless something had happened to her where she had no idea who she was ... but that just doesn't seem possible at this point."
She added: "If anyone knew the slightest thing, it would be so kind of them to share it with the gardai. I have no desire for justice — all I'd like to know is what happened and to bring her back home."
She said that Annie was a "really happy" child growing up in America who dreamt of being a school teacher. "She was a good child and as a young adult, she just seemed very happy with life.
"She loved being in school and she never, ever complained about it. She loved being over in Ireland and was always busy. She was either going to school or working. She loved cooking and she loved music.
"In Ireland, she was taking a beekeeping course; she was taking a reel dancing class and was hoping to qualify as a secondary school teacher."
Annie is one of eight young women who went missing in Ireland between 1993 and 1998 who have not been found despite large-scale searches.
Nancy and her husband, John McCarrick, who died in 2009, traveled to Ireland shortly after Annie's disappearance and remained there for six months.
She said, "Police told us that if there were two people involved, some day, one of them would talk to someone, but they said if it's only one person, we'll probably never know."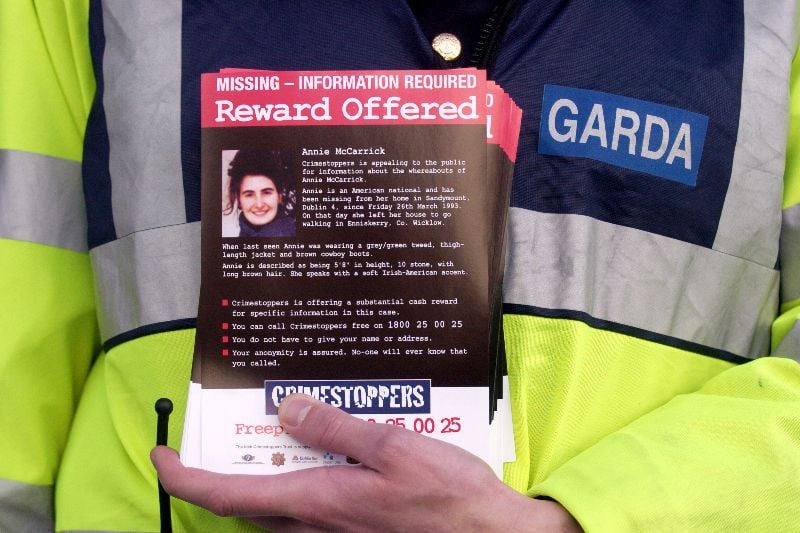 2
Larry Murphy, a 56-year-old who has convictions for rape and attempted murder of one woman and who fled Ireland in 2010 after serving 10 years of a 15-year sentence, is considered one of the prime suspects in Annie's disappearance and many of the eight still missing.
"You can't rule out [the suspect] Larry Murphy or a serial killer," Nancy said, "but I have a different feeling of what may have happened to her.
"To gain any peace of mind at this point, with regard to those thoughts, would be a gift."
*This column first appeared in the March 8 edition of the weekly Irish Voice newspaper, sister publication to IrishCentral.