Irish community support to get candidates to attend the Irish Presidential Forum and Malachy McAllister's personal battle to remain in America among discussion at the New York State AOH Freedom for All Ireland assembly.
New York State Assemblyman John Dearie and Malachy McAllister will be keynote speakers at the New York State AOH Freedom for All Ireland on Wednesday, January 15, at O'Lunney's Times Square Pub, 145 West 45th Street, from 6-9 p.m. 
Dearie will talk about the vital need for Irish community support to get candidates to attend the Irish Presidential Forum on April 26 at Fordham University School of Law and address Irish issues. 
Read more: US Presidential candidates invited to Irish American Forum 2020
The 1992 Presidential Forum was historic for Irish America because of pledges given by future President Bill Clinton about a visa for Gerry Adams, a special envoy which became George Mitchell, and the question about Joe Doherty and political asylum which led to deferred action for Irish political deportees like Matt Morrison, Gabriel Megahey and Brian Pearson, etc.
"The most important step in any Irish political forum is guaranteeing a big enough crowd so that presidential candidates feel it worthwhile to make time to come and speak to our Irish issues. John Dearie will brief us about how the AOH and other Irish community groups can help make this forum another historic event," a press release about the January 15 stated.
It continued, "Malachy McAllister will be providing up to the minute details of his battle to remain in America. Despite the optimism which followed the administration's six month stay, Malachy is rapidly approaching a new deadline for deportation. Just as the Joe Doherty question in 1992 led to victory for some Irish political deportees, the presidential forum would be an opportunity to help Malachy and others."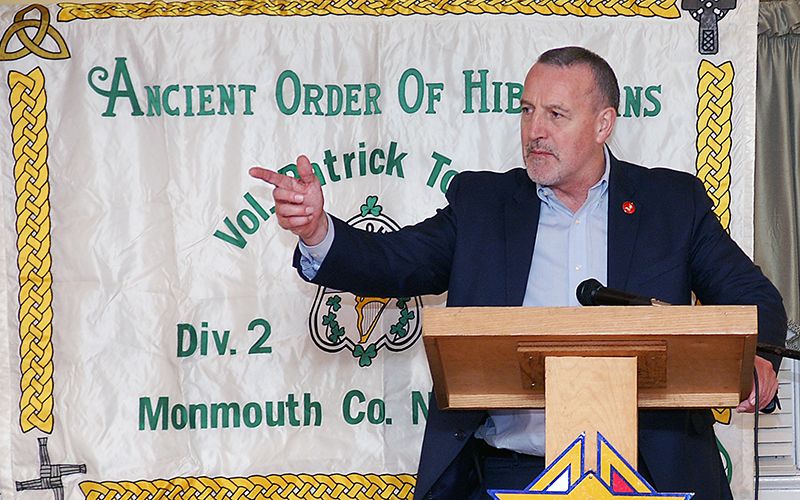 2
Funds raised will be contributed to Relatives for Justice through the AOH Christmas Appeal.    
AOH Freedom for All Ireland Chair Martin Galvin stated, "At one time it was commonplace at Irish events to hear speakers ask why American presidents did not address Irish issues the way they took up the issues of other countries. That ended in 1992 because of the work done by John Dearie and the pledges given by candidate Bill Clinton, which changed politics in Ireland so dramatically. 
"We now have a newly elected British Prime Minister Boris Johnson, who is no friend of Ireland or Irish justice. Ireland will soon have Brexit no matter what Brexit means for Ireland. 
"He intends to deny truth and justice to the families of victims murdered by the crown or loyalist agents by doing away with the human rights acts protections formally agreed in the Good Friday Agreement. We may see cuts in funding that will bring greater hardship in the six counties. 
"It is crucial for Irish America to again show presidential candidates how important Irish issues are to Irish American voters."
Read more: Irish New York bar brawl killer gets six months prison sentence