Columbus Day, for many, is nothing more than a three-day weekend in October but for Italian Americans, it's been over 500 years in the making.
In 1492, Columbus sailed the ocean blue and on October 9th, 525 years later, banks are closed and there's no mail.
Read More: The Irishman who sailed to America with Christopher Columbus
To many, Christopher Columbus Day is nothing more than the cap on a three-day weekend in October. But to the Italian-American community, this holiday has been a 500-year fight to get recognized. Everyone knows that in 1492 Columbus first felt the soil of the New World, but there are not nearly as many people that realize the history of the holiday since that fateful landing.
It is believed that the anniversary (Oct. 12) of Columbus reaching San Salvador in Central America was first formally celebrated by the Society of St. Tammany (also known as the Colombian Order) in New York City in 1792, when they held a dinner in his honor. At that time, New York was the first place to erect a statue of Columbus.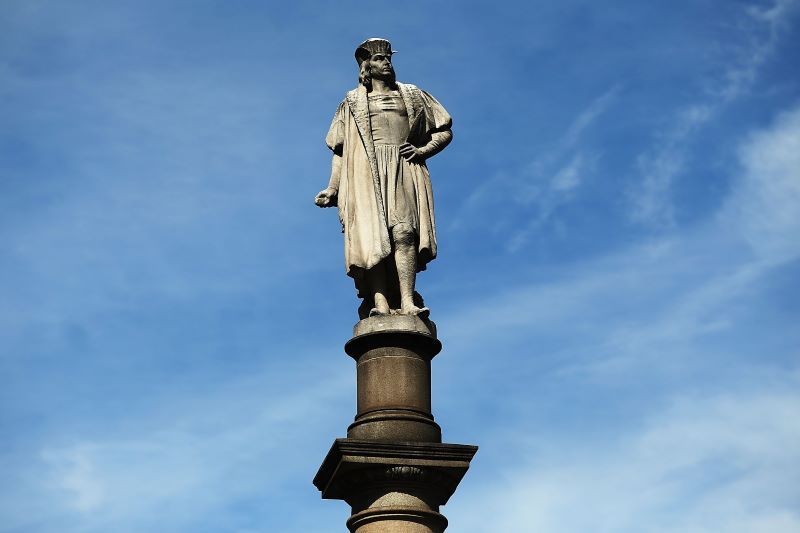 2
Read More: Did St. Brendan arrive to America before Christopher Columbus?
It was about this time that the name of Columbus was becoming heralded throughout America. Many institutions began changing their name out of respect to the explorer. New York's King's College changed its name to Columbia and the nation's capital was named the District of Columbia.
In 1866, the Italian population of New York organized the first mass celebration. Growing efforts were being made by groups to have Columbus Day declared a national holiday, most notably by the first Catholic fraternal order, the Knights of Columbus, which was organized in 1882.
The Knights of Columbus, who have been involved in Jersey City's Columbus Day parade since its beginnings in 1950, is now an international society with 1.5 million members and more than 10,000 councils. Their motto is to uphold the ideals of Columbianism: "charity, unity, fraternity, and patriotism."
The quadricentennial of Columbus' arrival did the most to raise the awareness of Columbus Day around the country. President Benjamin Harrison issued a proclamation appointing that day as "... a holiday for the people of the United States ... to express honor to the discoverer, and their appreciation of the great achievements of four completed centuries of American life."
This anniversary also brought about the building of Columbus Circle at the southwest corner of Central Park in New York, accompanied by a statue.
The Knights of Columbus kept lobbying states to make it a legal holiday, and in 1909 New York was the first state to sign it into law. The first government-supported Columbus Day was celebrated with a massive parade in Columbus Circle and had replicas of Columbus' ships sailing in New York Harbor. It was that year that New Jersey joined in by legalizing the holiday.
In 1934, President Franklin Roosevelt urged a nationwide observance of Columbus Day, and in 1937, he proclaimed every Oct. 12 as Columbus Day. In 1971, President Nixon declared it a federal public holiday on the second Monday in October.
Columbus Day is now observed in all but nine states. In three states it is known as Discovery Day and in Michigan, it is known as Landing Day. Oct. 12 is also celebrated as Columbus Day in some parts of Canada, in Puerto Rico, in Central and South American countries and in Italy and Spain.
We are going to make Veal Piccata to celebrate.
Read More: Sausage, cheese, and basil lasagna recipe for Columbus Day
Chef Gilligan's veal piccata recipe
Makes 4 servings.
Ingredients
½ cup all-purpose flour
2 teaspoons salt
½ teaspoons freshly ground black pepper
4 veal scallops, about 3/4 pound, pounded to a thickness of 1/8-inch
1 ½ tablespoons vegetable oil
5 tablespoons butter
1 cup dry white wine
½ cup chicken stock
1 garlic clove, chopped
1 lemon, juiced, or more to taste, (about 2 tablespoons)
2 tablespoon capers, drained
1 tablespoon chopped parsley leaves, optional, plus sprigs for garnish
Method
In a shallow bowl or plate combine the flour, 1 1/2 teaspoons of the salt and pepper and stir to combine thoroughly. Quickly dredge the veal scallops in the seasoned flour mixture, shaking to remove any excess flour.
Heat the oil in a large skillet over medium-high heat until very hot but not smoking.
Add 1 1/2 tablespoons of the butter and, working quickly and in batches if necessary, cook the veal until golden brown on both sides, about 1 minute per side. Transfer to a plate and set aside.
Deglaze the pan with wine and bring to a boil, scraping to remove any browned bits from the bottom of the pan. When the wine has reduced by half, add the chicken stock, chopped garlic, lemon juice, and capers and cook for 5 minutes or until the sauce has thickened slightly.
Whisk in the remaining 1/2 teaspoon of salt, remaining 3 1/2 tablespoons of butter and the chopped parsley.
When the butter has melted, return the veal scallops to the pan and cook until heated through and the sauce has thickened about 1 minute.
Garnish with parsley sprigs and serve immediately.
AND FINALLY…
How did Christopher Columbus finance his trip to America?
With the Discover Card of course!
Read More: Ten similarities between Italians and Irish for Columbus Day
* Originally published in 2010.