The Cranberries release the first single from the final album "In The End" today to mark the first-year anniversary of the passing of their lead singer, Dolores O'Riordan.
Marking the untimely death of their lead singer Dolores O'Riordan, who died a year ago today on January 15, 2018, The Cranberries has released the first single from their eighth and final album.
"All Over Now" is the first opportunity for fans to hear from "All Over Now" which was written and demoed by O'Riordan and her bandmates by the winter of 2017, just weeks before her death.
Read more: Remembering the demons that lingered for Dolores O'Riordan on anniversary of her death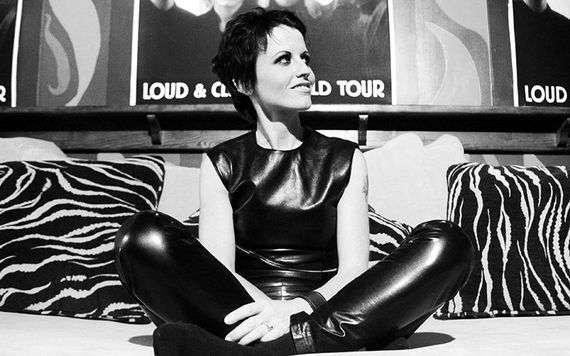 3
Speaking about the single and the album Dolores' mother said, "I miss her awfully, especially today, as does the entire family. That said I can't think of a more fitting way to commemorate the first anniversary of her passing and to celebrate her life than to announce to the world the release of her final album with the band. She was very excited about this new album and was really looking forward to its release. I have no doubt that she is happy now and would be delighted with today's announcement."
Today's release was first announced by band members Noel Hogan, Fergal Lawler and Mike Hogan on the band's official Facebook page.
"As time passed, we began to think about how we might best honour our close friend and bandmate. This was a very painful process. We remembered how Dolores had been so energised by the prospect of making this record and getting back out on the road to play the songs live, and realised that the most meaningful thing to do was to finish the album we had started with her. We felt that this is what she would want. We spoke with Dolores' family and they agreed," said the band.
Read more: Grieving Dolores O'Riordan fans travel to Limerick on first anniversary of her death
3
"It was a very emotional process for us. Knowing that we would never get to play these songs live made it even more difficult. There was also an overwhelming sense of finality knowing that this was the last time that we would be in the same studio together working on a Cranberries album.
"We would like to take the chance to thank ours and Dolores' family and friends and all those who worked with the band over the years. To our fans, who have stood by us for almost 30 years; thank you, without you, none of this would have been possible. It has been an incredible journey," they added.
"We dedicate this album to our dear friend and bandmate Dolores. She will always be with us in her music."
The album "In The End" will be released on April 26.
Read more: Dolores O'Riordan's inquest results reveal sad end to tragic Cranberries star
Dolores O'Riordan's death sent shock waves around the world as the first death of a major cultural figure in 2018. Ireland, in particular, mourned the loss of one of its most prized singers and performers. O'Riordan had catapulted from Co. Limerick to international mega-stardom in the 1990s.
On Monday, January 15, 2018, police were called to a hotel on Park Lane in London where O'Riordan was pronounced dead at the scene.
Her death was confirmed by a publicist in a statement shortly afterward: "Irish and international singer Dolores O'Riordan has died suddenly in London today. She was 46 years old. The lead singer with the Irish band The Cranberries was in London for a short recording session. No further details are available at this time.
"Family members are devastated to hear the breaking news and have requested privacy at this very difficult time."
How will you remember Dolores O'Riordan today? Let us know in the comments section, below.