Pagans have begun to prepare for St. Brigid's Day, also known as Imbolc, which is this Friday, February 1.
Read More: The enduring traditions of St. Brigid's Day
The Covenant of Unitarian Universalist Pagans (CUUPS) chapter in Denton, Texas hosted a workshop and celebratory event to prepare for St. Brigid's Day, which typically falls around the beginning of February to mark the halfway point between the winter solstice and the spring equinox.
To prepare for St. Brigid's Day, the Denton CUUPS offered a 'make and take' class where participants could make their own Brigid's cross, corn husk dolly or yarn dolly to aid in their own prayers and devotional practices.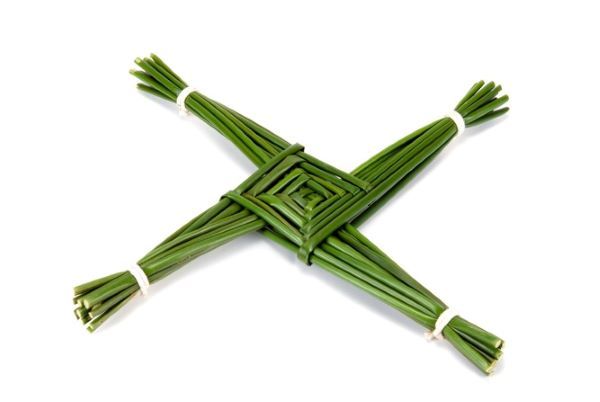 2
For their celebratory event, Denton CUUPS invited people to "Join us as we honor the goddess Brigid and all of her many names and forms in observance of Imbolc. We will learn about the many aspects and stories of Brigid and the values that she holds most dear."
Read More: Why Irish women should follow St. Brigid, not just St. Patrick
Speaking with the Denton Chronicle-Record, Cynthia 'Cyn' Talbot, the coordinating officer for the Denton CUUPs, said of St. Brigid:  "Her role has changed a little bit throughout history."
"She was originally one of the Tuatha De Danann, which is a group of Irish gods. They also served the role of folk heroes and in some cases are claimed as like hereditary ancestors of Irish Kings."
Throughout the course of history, the idea of Brigid has taken on many different forms; the Roman Catholic Church's Saint Brigid is just one iteration.
"St. Brigid may or may not have been a real person who lived in Ireland around the ninth century," Talbot said.
"She is credited as performing many of the same miracles that the goddess Brigid is credited within earlier stories. So it may just be that there was a real Brigid, and her story got embellished by some of the goddess's stories because of the similarities of names."
Talbot explained that pagans celebrate Brigid more so for the deeds she has inspired and that Brigid "is symbolized by or is the patron of poetry, creativity, smithing, fire, fertility and the coming of spring."
Read More: How is St. Brigid connected with the great Celtic goddess?
Talbot does acknowledge St. Brigid of Kildare was most likely an actual person because the monastery she founded was well documented in Irish church records.
Morgan Milburn, an expert on St. Brigid and Imbolc, said "Imbolc is basically the season to welcome her. [Brigid] brings spring with her."
Have you done any preparations for St. Brigid's Day / Imbolc? Let us know in the comments!