In the coming weeks and months, Kirwan and IrishCentral will look back album by album on the history of Black 47 and their rise to fame. Below is the second installment of the series about the creation of "Black 47." You can read back on the first article here.  
Black 47 Independent sold by the bucketful.
And why not – it was brash, melodious, political, passionate, and it reeked of New York. We weren't following any trend or template. We were doing it our way.
We had a great ally, the late lamented recording engineer Johnny Byrne who had been in the trenches with us, watching the live shows and visualizing how it should sound in the studio. Everyone loved Johnny and I still miss him.
The CD spread like wildfire around the country, picking up play on college and Indy radio so that when we'd hit a town, people would be chanting the songs. Fans would drive hundreds of miles to see the shows in Reilly's then sleep off the drinking in their cars, before heading home in the bleary dawn.
When we did our first major gig in Boston, one of the reviewers commented, "How
do people know these songs?"
They were in the air. And we were only beginning.
Read more: Black 47 lead singer Larry Kirwan looks back on the band's history: "Home of the Brave"
"Black 47" Independent - How Paddy Reilly's became our home and we recorded the song that would change our lives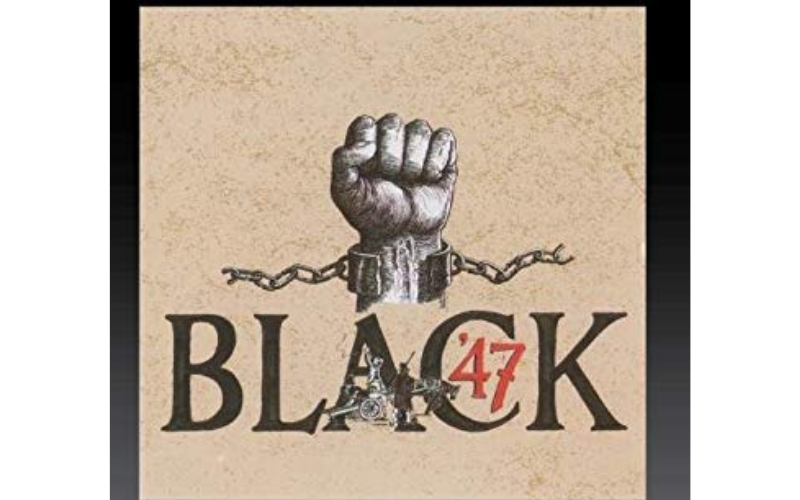 4
I suppose we must have started recording Black 47 Independent in the summer of 1990. We were having a problem with "Home of the Brave," as radio stations (with the exception of Radio Free Éireann and a few DJs on WBAI) wouldn't touch cassettes. As far as I remember, we didn't set out to make a CD but to get as many new songs down on tape as possible.
I know Funky Céilí was one of the first we did after "Home of the Brave." As a matter of fact, that song was released as a single 45rpm in Ireland and, of course, did nothing. 45s too were going out of style. And yet, I believe that's how Vin Scelsa came to play the band. But more of that later!
I remember the first time we did Funky Céilí. It was in the Irish Arts Center on W 51st Street. We had given it a run through immediately after setting up the PA. It sounded pretty good to me and I was keen to see how the audience would respond. They never even noticed the song that would soon change our lives but kept on dancing.
I suppose that, in itself, was good. None of us had any idea that within a few years so many baby girls would be given so many versions of the name - Ceili, Kaylee, K-Lee, K-leigh, Kayleigh, Kayleey, Quaylee and others.
Read more: Black 47 lead singer Larry Kirwan looks back on the band's history - Do you have any memorabilia?
The recording of Black 47 took a long time, mainly because of money. Chris and I would pool our resources every couple of months and I would attempt to record three or four songs at a time. We were back in Joe Johnston's but he had now moved to new quarters on Broadway and 20th Street. This very spacious studio was also being utilized as a rehearsal room.
To my awe, Keith Richard was rehearsing his band, The Expensive Winos, at odd hours of the night, so I had to work around him and his equipment. As we were still working with drum machines, I would program the beats at home and later use Keef's amplifiers - without permission - for my strat. By this time the band had expanded and both Geoff and Hammy would come in later and lay down their parts.
Roundabout then, an old friend of mine reappeared in my life - the one and only Johnny Byrne.
When I played him some of the recordings, he said, "I think I know how to get what you're looking for. Let's make a CD."
And so, Johnny came aboard as engineer. Johnny was a master at recording acoustic instruments, having cut his teeth with the Bothy Band, etc in Ireland - or so he said. We all bullshitted a lot in those days. Whatever! The main thing was Johnny could walk the walk as easily as talkin' the talk.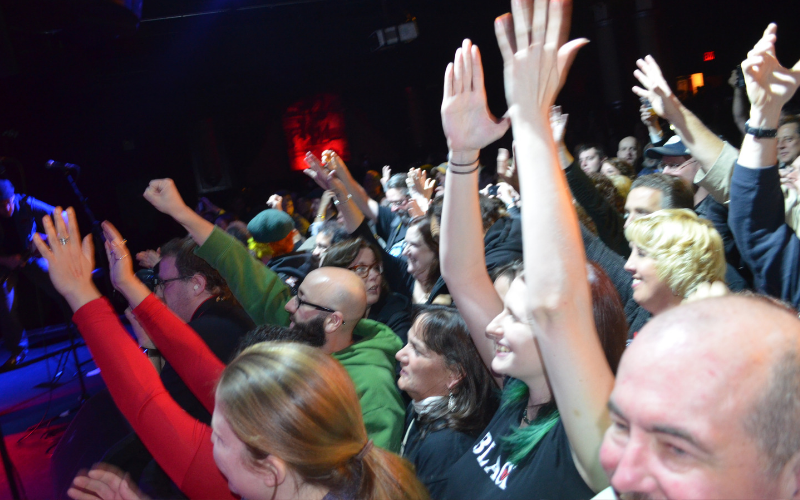 4
And so Chris and I worked every gig we could get to piece together this now projected CD. Back then, there was music seven nights a week up on the Bainbridge Avenue/ 204th Street area of the Bronx. There had been a boom in the construction business in the mid-to-late 80s and it seemed as though every chippy and bartender were opening their own bars.
Now it wasn't that they had any great love for Black 47 but we were beginning to attract a bit of an audience - so, as soon as we'd get fired from one place, the joint down the corner would hire us.
We were working five to seven nights a week, with a benefit or two thrown in on a Saturday or Sunday afternoon. This was the finale of the roarin' 80s - the recession was setting in but up on Bainbridge, it was drink, drink, and be merry, for tomorrow we can always go home!
Black 47 had found its niche. The mood was ugly, we had attitude to burn, new songs arriving every week and as a result of the constant playing, we were starting to happen as a band.
Much of my memory of the recording of Black 47 Independent is pretty hazy. We were playing constantly, rearing young children and imbibing a lot of alcohol. We were now refusing to do more than two sets a night but they were long 2-hour steamy sets.
We played Paddy Reilly's Wednesdays and Saturdays for Monsignor Steve Duggan. It seemed like the place never closed. What had been just another hole in the wall was now turning into a great scene. Madam Dympna ran Reilly's with a velvet fist and was a friend to many of the musicians and fans who hung out there - Joe Hurley and various Rogues, Patrick Maguire and Speir Mor's, Seamus Egan in pre-Solas days, Eileen Ivers, Joanie Madden and all those Ladies we Cherished so fervently along with regulars like Frank McCourt, Paul Hill, various Kennedys and so many more. Reilly's was the place to be and Black 47 ruled Reilly's.
I do remember recording Fanatic Heart and the look on Johnny Byrne's face when we finally mixed it. Not that I was blase at the time, but my mind was always on to the next song. He said nothing. Just stood up, turned off the lights and reran the tape. Then he turned to me in the soft glow of the mixing board and murmured, "that's something special, boy." Yeah, it was Johnny and you were something special too, man.
Another memory that sticks is the first night we performed James Connolly in Reilly's. Now remember, we did very little rehearsing back then and still don't. When you play so much, just the thought of rehearsing can be a drag. I was writing furiously at the time and we would piece together the songs, sometimes a couple at a time, in a few hours in some back room, then perform them that night.
We were usually glad if we got through a new song without making too much of a balls of it. That was the goal. The good songs would take care of themselves, the others would just fade away.
But somewhere in the middle of Connolly the audience stopped dead - even drinks were left untouched. It was a strange moment. When we finally finished, there was a hush. Oftentimes, I still hear that hush during Connolly and I remember that first wonderful night.
Another one that sticks is of being in a joint downtown on Third Avenue. Joe Hurley actually promoted the gig. Joe was an appreciator of Irish music and a general bon vivant around town before he formed the Rogues (now Rogues March). It was one of those hot humid summer nights and during Land of DeValera, Chris leaped from the stage, microphone in hand and began rapping and thus was born what would later become Seanchaí.
Wild, wild nights and the crowds were getting bigger. Right from the get-go, because of our political stance, we had attracted activists. The campaign to Free Joe Doherty was in full swing and we were doing benefits to help Joe, The Guilford Four, the Birmingham Six and many others. We became friends with Paul Hill, Gerry Conlon and Paddy Armstrong - friends to this day.
Read more: "Go back to Cuba!" Larry Kirwan on his first trip there
4
Remember, back then, Sinn Féin was still a bunch of pariahs and Gerry Adams had not achieved his current superstardom. To be Republican was to often stand alone - beyond the pale - but the Free Joe Doherty Committee brought activists of all types together. The issue was more than just one man's liberty - there was a greater principle involved - should Britain be allowed to interfere in the affairs of the USA? Black 47 was at the forefront of that movement and Chris' song Free Joe Now galvanized many the audience.
But the band was growing by the day. Fred and Geoff's horns were doing things I never heard before from a brass section. Instead of the conventional R&B style, they were playing more like two interlocking soloists and when you added the pipes to the mix, it was all a glorious swirling cacophony. Hammy was using an array of percussion, African and otherwise, (my favorite was a Foster's Can partially filled up with rice) which gelled mightily with the pounding drum machine.
Right from the start, there was an underlying confidence. After all, most of us had been up and down the pike with other bands, made records, played big shows. We were getting offers to play the major venues around New York City but we wouldn't budge. We felt the world should come to us and it did.
We'd found our Cavern in Reilly's and Black 47 Independent came out around Christmas '91 and began selling by the bucketful. And why shouldn't it? There was nothing quite like that CD - raw, melodious and uncompromising - full of attitude and good songs and everyone knew it!
— Larry Kirwan
Black 47 song list 
Banks of the Hudson (Kirwan) - 4:55
Rockin' the Bronx (Kirwan) - 4:32
Desperate (Kirwan) - 4:23
Funky Céilí (Bridie's Song) (Kirwan) - 4:01
Fanatic Heart (Kirwan) - 6:27
Free Joe Now (Kirwan/Byrne) - 3:35
40 Shades of Blue (For Kevin Wherever You Are) (Kirwan) - 5:44
James Connolly (Kirwan) - :5:52
Blind Mary (O'Carolan)  Her Dear Old Donegal/Sleep Tight in New York City (Kirwan) - 8:42
Livin' in America (Kirwan) - 5:30
Land of DeValera (Kirwan) - 4:23
Paddy's Got A Brand New Reel (Kirwan) - 3:30
Black 47 lineup 
Chris Byrne Uilleann Pipes, Tin Whistle, Bodhrán, Vocals
Geoffrey Blythe Tenor Soprano & Baritone Saxophones
Larry Kirwan Lead Vocals, Guitar, Synthesizer, Percussion
Fred Parcells Trombone, Tin Whistle, Vocals
Thomas Hamlin Drums, Percussion
David Conrad Bass
Mike 'Il Duce' Fazio Severely Effected Guitar
Paddy Higgins Bodhrán
Mark Blandori Rivington Street Percussion
Tony DiMarco Fiddle
Carmel Johnston Fiddle
Margie Mulvihill Tin Whistle
Deborah Berg, Sherryl Marshall, Emily Bindinger Backing Vocals
'Livin' in America' was recorded with Morning Star - Mary Courtney (Lead Vocals), Margie Mulvihill & Carmel Johnston
Eamonn DeValera Guest Vocalist
Do you have any photos of going to see Black 47 or any memories of their shows that you'd like to share with us? Send them to editors@irishcentral.com with "Black 47" in the subject and we'll include them in Larry Kirwan's collected history. 
This article was submitted to the IrishCentral contributors network by a member of the global Irish community. To become an IrishCentral contributor click here.