SUBSET, an Irish art collective, has helped develop the new Public Art Mural Bill which was recently introduced in the Dáil by Sinn Féin's Eoin Ó Broin.
SUBSET told IrishCentral that it hopes Ó Broin's bill will generate conversation among the Irish public and say they will welcome opinions for or against public art murals. 
"Conversation is good and the art of conversation has definitely been degraded. Things are just constantly just discussed as a headline or a 15-minute story on social media. We're just trying to get the long-form conversation going." 
The group says it will not push back against any negative opinions it receives. 
On February 2, Ó Broin introduced in the Dáil the Public Art Mural Bill, which would allow for large-scale murals to be painted without planning permission if the artist has the agreement of the owner of the building it is being painted on. 
Artists currently need planning permission from a local council to paint any large-scale public mural. 
We need more public art not more prosecutions of artists.

Let's hope Govt support my Public Art Planning Bill so that our artists can make our cities better places to live & visit. @SubsetDublin pic.twitter.com/WBSOYEJ1ic

— Eoin Ó Broin (@EOBroin) February 2, 2023
"I think it's very sensible, and very reasonable and what it would allow for is for the really, really high-quality artists that this city is blessed to have to continue to enhance the lives of those who live here and those who visit," Ó Broin told RTÉ News. 
"And I hope it sends a signal to cultural practitioners out there that we want more of this, that this is good for our city ... They enliven our streetscapes, help provoke people's conversations and considerations of important matters."
Ó Broin has developed the bill alongside SUBSET, which is currently involved in three separate legal disputes with Dublin City Council over the painting of three murals without planning permission in the Irish capital. 
Dublin City Council attempted to prosecute SUBSET last year over 'Think & Wonder,' a mental health awareness mural that appeared on the gable end of Granthams cafe on the southside of Dublin City in 2019, 'Horseboy,' which paid tribute to the old Smithfield Horse Market, and a David Attenborough mural painted on South Circular Road as part of Earth Day.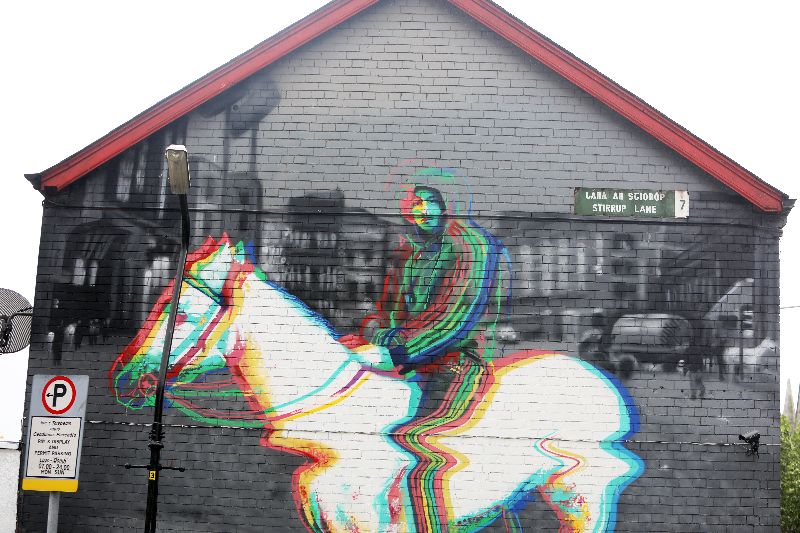 2
However, the council moved to vacate the three cases two days before they were due to be heard. 
SUBSET told IrishCentral that they wanted to "have their day in court" and objected to the motion, but the judge presiding over the case said he could not force the prosecution to prosecute, adding that he had never seen a defendant objecting to a motion to strike out a case before. 
"We wanted the legal and justice system to deal with the matter because we felt there was no other arena available to us. We wanted legal precedent to be set," a SUBSET representative told IrishCentral. 
The group's representative said SUBSET is currently "on its knees" due to the cost of three separate legal cases in the middle of the Covid-19 pandemic and said they will not exist by the time any decision is taken on the Public Art Mural Bill. 
Instead, they hope to pass on their knowledge and experience to the next generation of artists and hope to watch any debate on public art as members of the public. 
"We'll be spectators by the time it passes or fails as opposed to being on the pitch or in the game. We'll be looking at it as members of the public."