"The Gathered Table," a collaboration between Gather & Gather Ireland and 55 Irish food industry contributors, will be published on March 30, with all proceeds going to Peter McVerry Trust.

The gorgeous, 160-page hardback cookbook, with photography by award-winning photographer Katie Quinn, features a collection of 55 recipes from across Ireland's food world, with contributions from bakers and butchers, farmers and food champions, producers, shopkeepers and chefs.
Each contributor has supplied their favorite recipe to cook at home, the one that takes them back to happy times and celebrates the relationship between nurturing food and the community of home, wherever your home may be.
The list of contributors includes chefs Anna Haugh, Aishling Moore, Gaz Smith, Kwanghi Chan, Darina Allen, Neven Maguire, Domini Kemp, JP McMahon, Danni Barry, Aoife Noonan and more.
You'll also find recipes from John and Sally McKenna, Georgina Campbell, broadcaster and writer Suzanne Campbell, as well as Gráinne Mullins from Grá Chocolates, Siobhán Ní Gharbhith from St Tola, Pat Whelan from James Whelan Butchers, Aisling and Michael Flanagan from Velvet Cloud and Eva Pau from Asia Market among others.
Recipes include a classic beef and Guinness pie, comforting stews and casseroles, a decadent sticky coffee pudding, treacle tart, porridge bread and a simple but delicious mac 'n' cheese.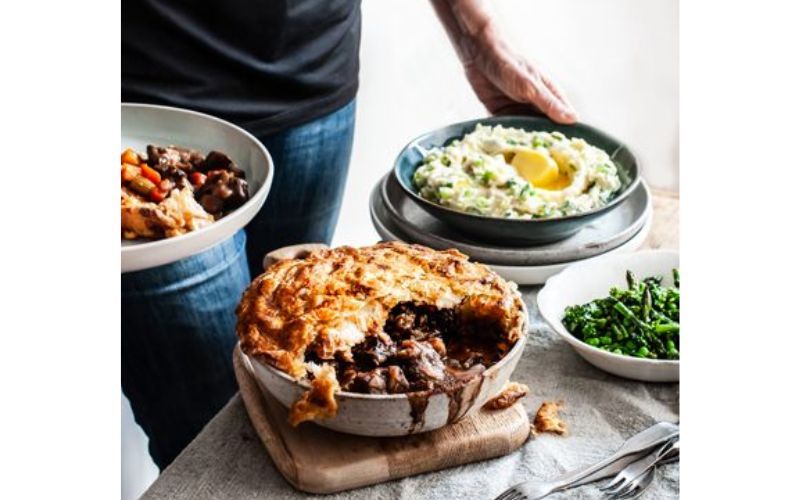 2
"The Gathered Table" also features inspirational stories directly from those who Peter McVerry has helped out of homelessness.
The book's publication coincides with the fortieth anniversary of the Peter McVerry Trust, a national housing and homeless charity committed to reducing homelessness and the harm caused by substance misuse and social disadvantage.
Last year, Peter McVerry Trust supported over 12,000 people in towns and cities across the country and gave over 900 people the key to their own homes. 
"Peter McVerry Trust is honored to be part of this fantastic project. Gather & Gather are long-standing supporters of our organization and we cannot thank them enough. Home means something special to many of us. For the people we work with in Peter McVerry Trust, home means safety, security and independence," said Pat Doyle, CEO of Peter McVerry Trust.
"Included in this book, alongside the wonderful recipes, are stories from some of the people we have supported out of homelessness – what their new home means to them and how it has changed their lives. Buying this book – for yourself or as a gift – is a fantastic way to help people impacted by homelessness across Ireland."
Pauline Cox, Managing Director of Gather & Gather Ireland, said, "While a cookbook's role in raising awareness of homelessness may not be apparent at first glance, it becomes more evident when you consider the relationship between our food and our security and comfort. For me, a great cookbook should do more than teach you how to cook a dish – it should carry real meaning, reflecting memories of people or places. "The Gathered Table: A Taste of Home" does all these things, in aid of a very good cause. We hope you enjoy reading and using the book just as much as we enjoyed compiling it."
The book was originated and compiled by Gather & Gather Ireland and edited by  Kristin Jensen from boutique Irish publishing house Nine Bean Rows.
Jensen, from Nine Bean Rows, said: "There are a few things that connect everyone, everywhere. Food is one of them. Home is another. This is powerfully illustrated in The Gathered Table, which we are proud to be publishing for such a good cause." 
"The Gathered Table: A Taste of Home" is priced at €30. The cookbook will be available from March 30th in bookshops and independent retailers across Ireland and online at ninebeanrowsbooks.com.