Jack Lenards, from Mews Restaurant in Baltimore, County Cork has been named the Euro-Toques Young Chef of the Year.
The 2018 Euro-Toques Young Chef of the Year was awarded to Jack Lenards, of Mews Restaurant in Baltimore, County Cork, on Sunday evening. The coveted award was presented by La Rousse Foods, after a stellar final cook-off in the Dublin Cookery School.    
Mews Restaurant was one of three Irish restaurants who was awarded a Michelin star for the first time at the beginning of October and now, their youngest chef, Jack Lenards, has won the highly-coveted and respected Euro-Toques Young Chef of the Year competition, and just as the restaurant closes its doors for 2018, they can truly celebrate a great year! 
6
Announced at a gala dinner at the Intercontinental Hotel in Dublin yesterday evening, here's the reaction from winner and others at the event.
Jack Lenards, 2018 Euro-Toques Young Chef of the Year
"I am exhausted and my legs are pretty tired, but it was definitely worth it! It does mean a lot to me to win this, I've worked really hard, but it's not even so much what it means to me, it's more also to be able to celebrate the people around me who have helped and supported me. My suppliers, Mary Stout, all the producers, the guys from West Cork, Ahmet and everyone who works in the restaurant… a competition like this isn't just about one guy on the stage; it's about everyone working together, including La Rousse Foods, Euro-Toques and Manuela (Spinelli), to make this possible.
After losing last year, I had no intention of entering this year, but Manuela contacted me before the deadline and asked why I wasn't entering and she managed to hook me back in! Then I got hooked on doing it again. I really enjoyed this year. The events that Euro-Toques put on for us were amazing.
I've worked with some really inspirational chefs and had amazing mentors. In The Ritz-Carlton, Chapter One, L'Écrivain, Restaurant Patrick Guilbaud, and I went to Japan at the start of this year. Each one and the experiences changes you and changes how you think and act. It's important to have people like that to mentor you. They force you to change your thought process for a time and actually understand what these guys are doing. In your own head you make your own decisions, every month I change my mind, so it is important for me to have these people to help with that.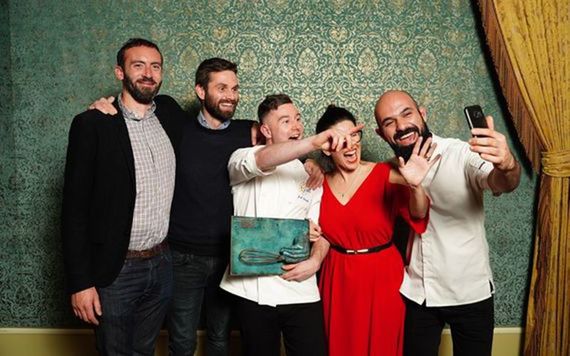 6
The team in Mews are like a family. We even shared the same house for a few months. We all lived in one house together, we worked together, ate together… we are a team. For example, I hate cheese – please mention that! Well, I don't like blue cheese or really strong cheeses. When I saw raw milk cheese, I thought, 'oh no, I'm done!' But I had Rémi, Marina, and Ahmet who love cheese and they ate it and talked to me about it and that's how I was able to come up with my dish. It's important to have people like that, and a team like that, otherwise I wouldn't have got this far. They like cheese and I don't!
Read more: Dining with Guinness - what great food to eat with your perfect pint
I did two pairings today; the first was a Douglas Fir, which was made by the Hellfire Brewing Co. That beer was designed to be used in Heron&Grey and we did a pop-up with Damien Grey in Mews and we served this beer and had a few bottles left over after the event. When I got the email from Manuela with the ingredients I knew immediately that it was going to use it and it would go well together. I created that whole dish, based on the beer and the venison and how it combines.
The second was using Tawny cider from Skibbereen; it is such an amazing product. When the guys were talking to me about apples and blue cheese and acidics, I knew it would marry together really well. This year I wanted to push and do something that no one had done before and it was doing the pairings. If you didn't have the pairings with the dishes, they wouldn't make sense so that's the way I created it and wanted it to be served. That's what I wanted to get across, the importance of producers, supplier, and ingredients."
Ahmet Dede, Head Chef, Mews Restaurant and Jack's mentor 
"Mentoring Jack for this was really important because he wanted to win. He did this last year, and he came very close from what I heard, and we made sure he was ready this year. I was there today watching him and he executed it very well.
The dish development and everything, it's all him, I just told him what I thought, but that was it. We practiced and tasted together and obviously, I gave him my opinion, and not just me but Rémi (sous chef) and Marina (sommelier) also, we all did this process together. I think that was key. We cooked it together and tried it, five times maybe and we tweaked and changed until we were all happy. He decided to serve the two dishes with a pairing, so I think that made it stand out too.
6
I told Jack, 'this is our year; I got my star and you will get this award too'. It's turned out better than we imagined.
For me, mentoring is very important. You are a role model to a young guy and he's looking at you and you want to be a good one. I've known Jack since he was 15 years old. He worked with me in Chapter One seven years ago while he was on a stage for three months. That's how we met and then we stayed in touch and a year ago we both started in Mews in West Cork."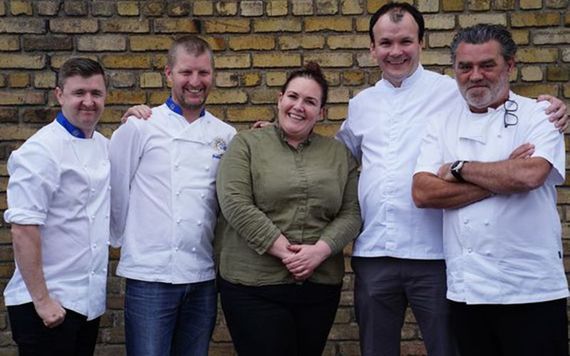 6
Graham Neville, Dax Restaurant and Commissioner General of Euro-Toques Ireland
"Jack worked methodically, precisely and he was meticulous in the detail. His cooking was, for someone of his age, was fairly flawless. He was a joy to watch. He was really, really good. In everything – when we spoke to him, how he plated, how he seasoned and tasted, how he described it, he was breathtaking to be perfectly honest. He brings you along the journey without filling you full of nonsense.
The standard was very high this year. In saying that the six of them were very close, but there was a standout winner on all of the judges scorecards, so it was easy to pick from that perspective.
He was there last year and experience definitely helps. It is a craft and in a craft industry, experience helps."
Gareth Mullins, The Marker Hotel and incoming Commissioner General of Euro-Toques Ireland
"It's how precise, how clean and how accurate he is in his work practices, but also in his flavour profiles. He put up a venison course today served with a beer and it was just so well thought out. The execution and presentation were faultless. I think it is his understanding of the competition, from last year to this one, he understands that is only the elevated dishes and a bit of theatre are going to win it. There were no straightforward dishes today.
6
We asked them to showcase the venison and cheese and with the latter, he served a fermented cider… there was so much flavour going on. He had a nervous energy going on when he was with us giving us the food, but when he was in the kitchen he had just clinical precision. We all said it, you could literally just stand and watch Jack working, in the same way, that you would watch a painter or a really good footballer, when it's good it's good. It's because of his schooling and the experience he has and the mentors he has had.
I think the real respect he showed tonight was that he mentioned all of those people tonight when he won. And when his name was announced, he broke into tears and that just shows how much it means to him."
Read more: 10 trendy Irish-owned bars to try out in NYC
* This article was originally published on our sister website FOOD&WINE.ie.