This the second book in the planned series (the first was "The Library at the Edge of the World") by bestselling author Felicity Hayes-McCoy, set in the fictional but still utterly recognizable Finfarran peninsula in the west coast of Ireland.
"Summer At The Garden Cafe" contains all the elements that made her first book a bestseller, including four generations of remarkable Irish women (each of them a novel in themselves).
Hanna (who uproots her London life after her 25-year marriage ends with the discovery of her husband's long affair) the librarian at the center of the first book returns, but this time it's her 21-year-old daughter Jazz whose story is central.
Read more: How Ireland has attracted American mystery writers to grace its shores
4
Still recovering from a "stupid" car crash the previous year, Jazz is prevented by recuperation from returning to her old job as a cabin crew member, so she's grounded in the truest sense.
Landlocked in her mother's old hometown, she has had ample time to brood upon her family's shocking implosion and to start to take a few halting steps toward the rest of her life.
What becomes clear early on is that Hayes-McCoy knows and clearly loves the Irish landscape in all its natural (and sometimes supernatural) beauty but she also knows all about the life-changing temptations and dangers that can lie in wait for anyone in any small Irish town.
Traumatic injury can really take the wind out of people's sails in a host of unexpected ways and that's what Jazz is facing into because it's not just her physical health that has taken a beating, a good bit of her spirit seems to have been damaged by the crash too.
Read more: America and Donegal reconsidered in two new books for fall
Not that most people can see it. Grappling quietly with the post-traumatic stress that has been quietly stalking her, Jazz secretly falls prey to terrible nightmares and Hayes-McCoy makes you understand the toll it is taking on her.
In particular, though Jazz is learning about the painful difference between how things looked and how things were, particularity when it comes to her now broken up parents. Unsurprisingly she alternates between anger and acceptance in a way that looks utterly believable and adds greater richness to this already absorbing tale.
What we owe to others and what we owe to ourselves in one of Hayes-McCoy's themes and so quite quickly Hanna begins to worry if her separation has harmed her daughter far more deeply than she even suspected.
4
What's often hidden in plain sight is one of Hayes-McCoy's most Irish themes and so this story skillfully stretches back generations to the era of the Irish War of Independence and the Civil War, where with the aid of one character she takes us on a deep dive into the inherited narratives that have helped shape and define the women in this novel and the country they inhabit.
The author understands that unraveling Irish history is the most illuminating route toward unraveling the Irish character and her ambition in this regard needs to be acknowledged.
Some reviewers refer to "Summer At The Garden Cafe" as escapist, feel-good fare, but that is to miss the distinctly hard-edged sacrifices and generational confrontations that occur in the book.
This is clear-eyed storytelling in a romantic setting, but it's doing far more than weaving a beguiling tale, it reminding us how linked we are by struggle and story across years and succeeding generations, and that it is foolish to overlook or dismiss the lessons of that profoundly linked exchange.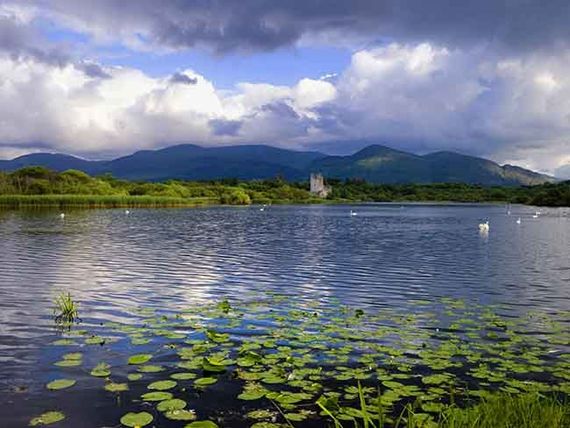 4
What gets buried finds a way to literally come to the surface in Hayes-McCoy's latest novel and so the challenge to her characters is to find a way to contend with whats disinterred and to absorb the lessons that must be learned.
Hayes-McCoy's is among an exciting generation of Irish women writers who quietly set themselves the task of unraveling the hard lessons and lived experience of Irish women (and men) throughout the 20 century.
But she's just as familiar with the landscape of Google and Skype, so this book and this journey spill across generations and the result is a deeper meditation on what divides us and what restores us to ourselves and each other.
Harper, $15.99.