If you ever visit Galway it's pretty easy to feel like you never want to leave and never is that feeling so consuming as when the excitement and spectacle of the world-renowned Galway International Arts Festival rolls into town for 14 days each July.
Yet while the festival's CEO John Crumlish may describe the west-coast city as "the ship that we sail in" because of its vital importance in the success of the culture-rich fortnight, New York will this year be fortunate enough to grab an early taste of the some 200 events coming to Galway in two months time, that will set the scene for a festival program sure to be the biggest and brightest in its 40-year history.
In collaboration with the Hell's Kitchen-based Irish Arts Center, Enda Walsh's "Rooms" will be presented between May 3 and May 28 at Cybert Tire, the future home of the new IAC, while throughout the same dates, the Irish playwright's "Arlington" is in co-production with St. Ann's Warehouse in Dumbo, Brooklyn.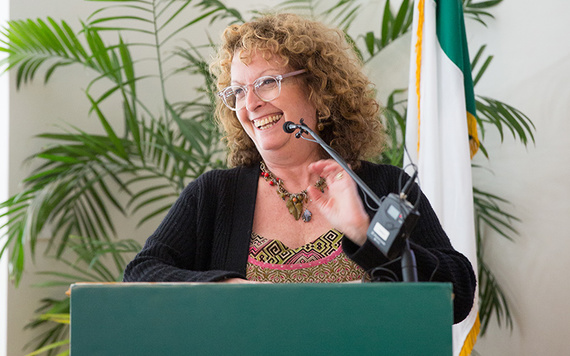 5
While a highlight of many a festival in which his work appears, for Galway International Arts Festival 2017, Walsh will provide a world premiere of "The Second Violinist" a new opera from him and Donnacha Dennehy. Other highlights will include a further world premiere of "Woyzeck in Winter", an electrifying fusion of two masterpieces - Büchner's Woyzeck and Schubert's Die Winterreise - adapted and directed by Conall Morrison with lyrics by Stephen Clark.
"For 14 days and nights, visionaries, mavericks, dreamers and schemers from all over the world will descend on our city, joining with our homegrown artists to reimagine the world and our place within it," said the Festival's Artistic Director Paul Fahy from New York, as the festival team celebrated the runs of both "Rooms" and "Arlington" and hosted New York's very first "First Thought Talk" of the festival's 2017 season.
"It is a pleasure to deliver a program of art and ideas by some of the world's most brilliant minds and we invite you to join us in Galway for this our 40th Festival."
Read more: NYC Irish Arts Center closer to new home goal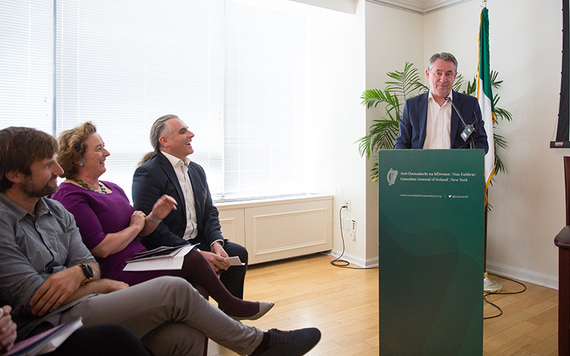 5
A series of conversations on power with academics, activists, architects, artists, and authors, "First Thought Talks 2017" made a powerful US debut at the Irish New York Consulate on May 4 featuring global adventurer Gavan Hennigan, a former addict who suffered from mental health issues. Having entered rehab aged 21, fifteen years later he now works in collaboration with Irish charities such as Jigsaw, offering support for LGBT youths by completing epic adventures that the majority of us would never dare imagine undertaking.
Hennigan recently completed a 50-day solo row across the Atlantic Ocean while in previous years he has taken on two of the longest and toughest Winter Ultras in the world - the Likeys 6633 566 km Ultra inside The Arctic Circle and The Yukon Arctic Ultra 500km.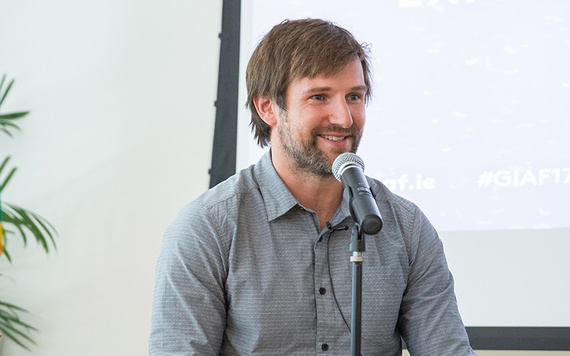 5
A Galway-native, Hennigan joked with host - award-winning author and journalist Belinda McKeon - that a winter in Ireland would set you up to survive anything and described the immense feeling of freedom he had in having no other choice but to keep on rowing while surrounded by monotonous open water and lack of human contact.
The talk series will continue throughout the July festival including contributions from Marwa Al-Sabouni, Emma Rice, Colm Tóibín, Rebecca MacKinnon, Maureen Gaffney, Tom Tomorrow, Carole Cadwalladr, Caitriona Perry and U.S. Deputy Assistant Secretary of State 1999–2001 Bennett Freeman, amongst an extensive number of leading international voices and journalists from around the world.
Read more: City of Tribes gets its groove back with the Galway International Arts Festival
As for the festival itself, it will see thousands descend on Galway on July 17 and will welcome upwards of 200,000 visitors and performers from all over the world until July 30.
"One of the basic aspects of the festival is we're both sophisticated and we're popular and we're not afraid to be either. We open the doors to as wide an audience as possible whether you're eight years of age or whether you're 80 years of age," said Fahy.
"One of the beauties of programming a multi-disciplinary festival is that somebody might love theater but hate the visual arts and vice versa. Because we have such a diverse range of art forms [at GIAF], there's something there for everybody.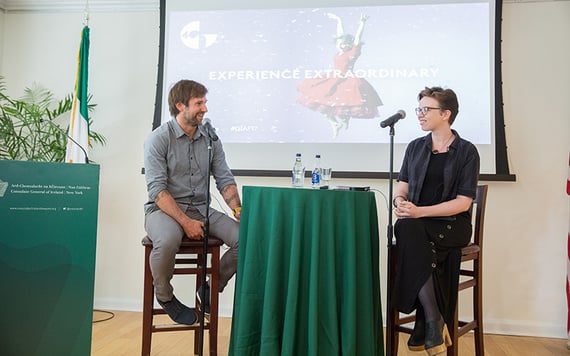 5
"I think the other thing that's beautiful about Galway and the festival is that Galway is a kind of smaller medieval town, a city in Irish terms but it's a medieval town," he continued.
"It's a beautiful physical shape to bring the festival to so you can't help but be wowed by the magic of Galway even if you're just walking down the street and not going to see an actual show.
"Something will meet you along the way. It's a really great experience for all visitors no matter who they are or where they're coming from."
You can watch the whole First Thought Talk from New York courtesy of Galway International Arts Festival below:
More information on the Galway International Arts Festival can be found here.
"Rooms" will run in Cybert Tire until May 28. More information here.
"Arlington" will also run in St. Ann's Warehouse in Dumbo until May 28. More information can be found here.