The Quiet Man's Ballyglunin station in County Galway plans to have trains stopping at the formerly abandoned stop by summer 2018.
It's full steam ahead for the iconic Irish railway station which featured in The Quiet Man, with trains once again set to stop off at the remote landmark.
Abandoned Ballyglunin station in Co. Galway had been facing almost certain collapse up until last year when a successful crowd-funding campaign, coupled with government grants, raised over $100,000 to secure the crumbling building.
Earlier this month campaign chiefs behind the ambitious project completed the first stage of the renovation, namely the building of a new roof. And now the focus will turn to restoring the interior of the famous landmark, which was re-named Castletown for its use in the opening scene of The Quiet Man, the 1952 John Ford-directed classic, starring Maureen O'Hara and John Wayne.
Read more: John Wayne's love of Ireland and "The Quiet Man"
Those behind the project are planning to open up the forgotten station, which closed in 1976 after more than a century in service, to tourists this summer. There are also plans in place to open up a cafe and set up tour guides to inform visitors about the station's rich history. But campaigners said their ultimate goal is to see trains once again using the station after a 42-year gap.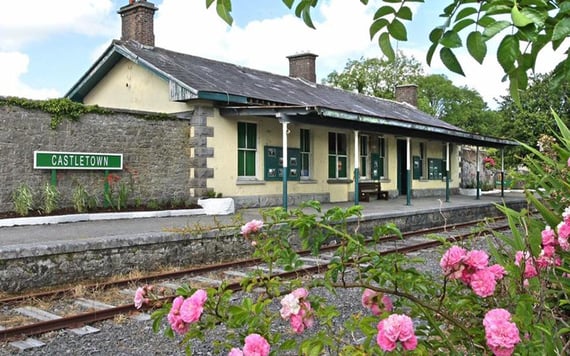 2
Campaign spokesman Mark Gibson said, "The roof was a big job and we funded that through the $35,000 we raised through the crowd-funding initiative.  But that's now done, and that was vital because it safeguards the future of the building. "We received another substantial grant from the Town and Village Renewal Scheme, so now we'll be concentrating on the interior of the building, and things like flooring and heating, and so on.
Read more: Is The Quiet Man misogynistic and outdated?
"We plan to have it open as a tourist attraction by the summer, with tours available, and then in time a coffee shop and other amenities."
He added, "The railway track needs investment and requires to be upgraded, but we have the infrastructure here for trains to stop by, and certainly people would like to see trains running through the station once again.
"There's great potential for this to be used for freight and passenger trains, and for tourism we might look at a heritage train service.  All this will be discussed with the committee in the near future, but there's definitely a renewed enthusiasm and determination to make Ballyglunin a working train station once again."