Two national Thin Lizzy stamps launched to celebrate the 50th anniversary of the iconic Irish band. 
Two commemorative stamps in tribute to Thin Lizzy and Phil Lynott are now on sale in Ireland to mark the 50th anniversary of the Irish group. 
The Thin Lizzy stamps feature the artwork of Irish artist Jim Fitzpatrick—Thin Lizzy's 1979 album "Black Rose" and a portrait of the late frontman Phil Lynott—and were designed by Steve Averill, who also designed all of U2's album covers. 
The Thin Lizzy tribute stamps are two national rate €1.00 stamps and went on sale on Thursday, October 3, in post offices around the country. 
Read more: Phil Lynott bust and plaque unveiled in Thin Lizzy star's UK birthplace
3
Iris artist Fitzpatrick, well-known for his famous two-tone portrait of Cuban revolutionary Che Guevara which was also released as a stamp in Ireland,  was a close friend of Lynott and created the artwork for many of Thin Lizzy's albums. 
 "If you cast your mind back two years ago to when I did the Che Guevara stamp, which is now Ireland's best-selling stamp of all time, that was a big moment for me but Che wasn't a personal friend - Philip was," he told RTÉ. 
"This is my friend Phillip Lynott, a very proud black Irishman on an Irish postage stamp. I just wish to hell he was around to enjoy it. It's the ultimate tribute to be on a stamp of your own nation and Philip was much more patriotic than I was.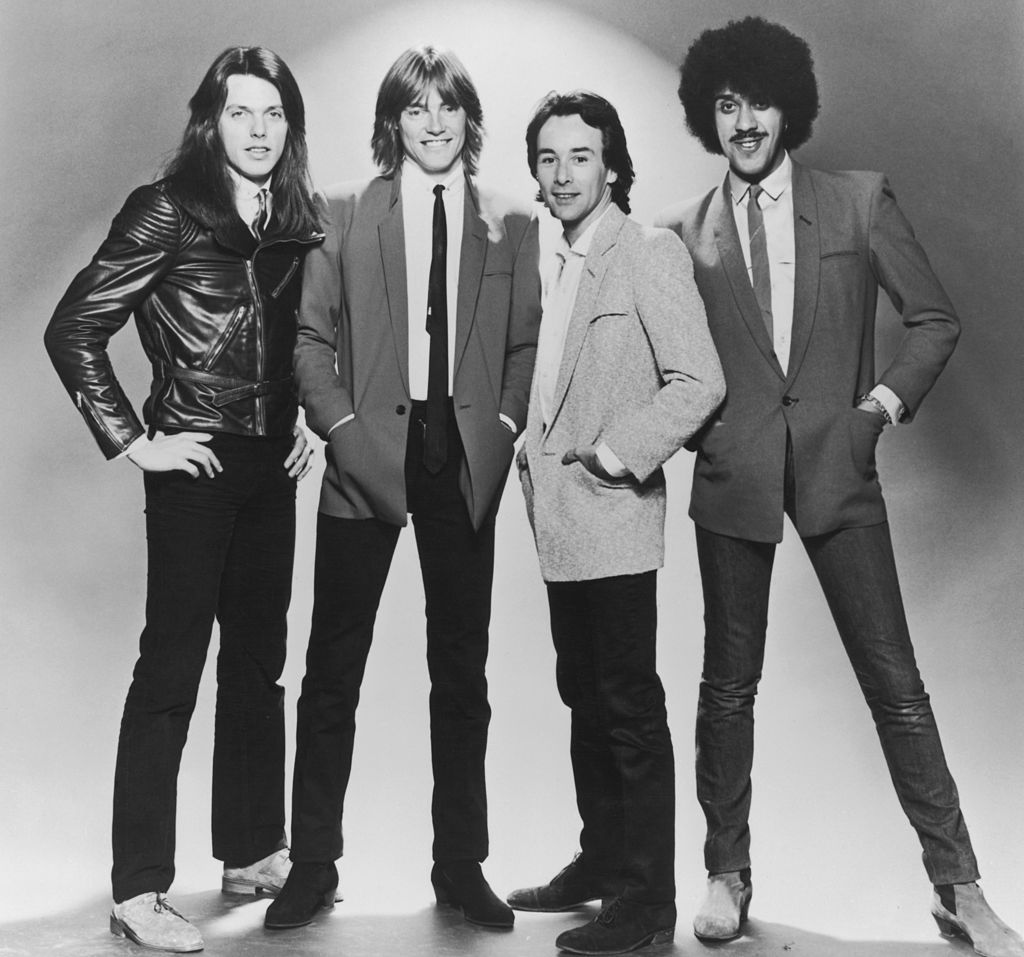 3
"He was brilliant. By the time we got to 'Black Rose,' he knew my mind. The inspiration for the album art came from the poem by James Clarence Mangan, 'The Dark Rosaleen.' Philip was heavily into the history of . . . you might say, what's a nice way to say it, our minor holocaust?
"The attempted genocide of the Irish race and he felt very strongly about this and he wanted to echo some of that without being confrontational because Thin Lizzy had a lot of fans of England and in Northern Ireland, which he respected, but he did want to say something about Ireland and this was his chance.
"That was the idea behind the album cover and to see it on an Irish stamp is like holy god! This is extraordinary.
Read more: WATCH: Metallica dedicates Whiskey in the Jar to Phil Lynott during Slane concert
Spread the word around. It's 50 years since the boys of Thin Lizzy first came together. To celebrate An Post has released two stamps featuring the iconic artwork of Jim Fitzpatrick. Buy now at your local Post Office or online at https://t.co/qEhvOw7Qlq #ThinLizzyStamps pic.twitter.com/Av4fFmd9wq

— An Post (@Postvox) October 7, 2019
"If I could back to his 70th anniversary last August, there was Caroline, Sarah and Cathleen and all the Dublin Lynotts all got together for a little pub crawl and I brought the them to Nearys pub," Fitzpatrick added.
"I brought Sarah and Cathleen down to the bottom couch beside the jacks where Philip used to make an easy escape; he used to say I'm going to the jacks, I'll see you in a minute and that was his code word for follow me down to the Bailey.
"The family are immensely proud of his and of course I am too but it's great that the family are involved."  
The Thin Lizzy stamps were launched last Thursday where Fitzpatrick gathered with Thin Lizzy fans at the Phil Lynott statue on Harry Street, just off Grafton Street in Dublin.