A plaque and bust of the Thin Lizzy frontman Phil Lynott will be unveiled in West Bromwich, the place of his birth.
An upcoming ceremony, in which a plaque and bust of Thin Lizzy frontman Phil Lynott will be unveiled at his U.K. birthplace, is to be dedicated to the memory of his late mother.
Philomena Lynott, who died last month after battling cancer, had planned to travel to West Bromwich next month as the guest of honor for the event, it has emerged.
Despite her failing health, the devoted 88-year-old had told friends it was her dream to travel back to the West Midlands English town one final time to see her late rock star son honored in the place of his birth.
3
The Phil Lynott Convention, formed to raise funds to pay for and subsequently maintain the memorials, said they will now dedicate next month's event to Philomena.
Read more: Check out this Irish man's amazing tattoo of Thin Lizzy's Phil Lynott
The ceremony, which takes place on August 23, will see an emerald green plaque being unveiled at the town's Hallam Hospital, where the famed musician was born.  Later that day a bust of the rocker is due to be mounted on a steel plinth in West Bromwich town center.
The event is being timed to coincide with what would have been the rock legend's 70th birthday on August 20.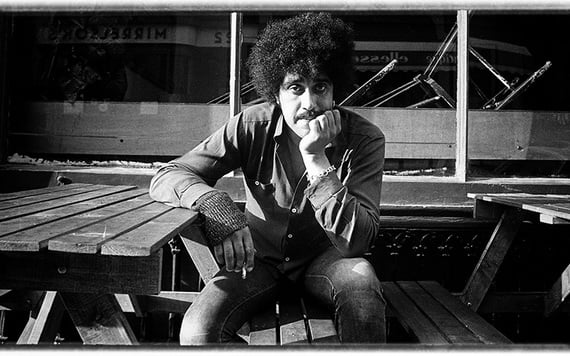 3
But speaking ahead of the unveiling ceremony, campaign founder Sean Meaney said plans are already underway for further monuments in the form a life-sized statue of both Phil and his mother in the town.
And Meaney, a Dubliner who was a close friend of Philomena, said the rocker's beloved mother didn't just give her consent, but "loved the idea" of being immortalized in the town alongside Phil.
He said, "As difficult as it would have been, Philomena was determined to get over to West Bromwich, where of course she would have been our guest of honor.  She felt very emotional that her son was going to be remembered in the place where he was born.
"Of course there's the bronze, life-sized sculpture of him in Dublin where he grew up, but it was just as important to Philomena that a fitting memorial be put up in West Bromwich.
"And for her, to have been present at the unveiling ceremony would have been especially poignant and important, because it would have brought her back to the place where she began her now historic journey, and it would have joined the circle of her life, as it were."
Meaney said he expects the life-sized statues to be unveiled in two years in the local Sandwell Park, an amenity which he also hopes will host a regular music festival dedicated to the Thin Lizzy legend.
He added, "We are planning to have a statue of Philomena holding Phil's hand as a child on one side, and looking at an adult Phil on the other side of her as a rock star.  So that's the basic idea.  She'll be in the middle of a young Phil and an adult Phil.
"It's a pity Philomena won't be here to see this, but we'd spoken to her about it and she loved the idea."
Phil, famed singer-songwriter and bassist moved to Ireland when he turned five, where he was raised by his grandmother in Crumlin, south Dublin.  He was 37 at the time of his death in 1986.
Read more: Celebrating Irish rockstar Phil Lynott